Follow iMore on Twitter, YouTube, Facebook, and Google... and WIN fantastic prizes!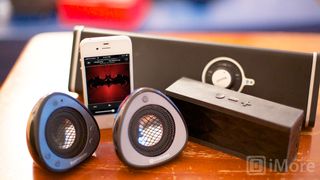 We know our loyal readers already visit iMore.com daily, subscribe to our RSS feeds and get the iMore Podcast on iTunes, but we wanted to do something a little extra to reward our loyal fans and grow our audience in some of the off-iMore social networking and content sharing sites that iPhone owners hang out and visit.
It's easy! All you have to do is follow iMore on Youtube, Twitter, Google+ and Facebook and as a thank you for doing so we're going to pick a lucky winner each month from among our iMore followers / subscribers / fans on each of these sites to win some great iPhone prizes! That's four winners each month - one picked at random from each site. All you need to do is click the links below to follow us on each site, and just keep following us! We'll pick our four winners on the last day of each month and announce them around the first day of the new month along with the prizes to be won for the new month. You can subscribe to all of Youtube, Twitter, Google+ and Facebook to maximize your chances of winning.
This month we're going to help you keep rocking til the end of summer with awesome Bluetooth speakers! See the list below for links to the sites and the prize you could win on each one.
And don't forget to follow our sensational staff -- they often have extra accessories and apps so you never know when they'll surprise you with something special -- @imore, @reneritchie, @GeorgiaTiPb, @llofte, @iMuggle, @chrisoldroyd, @bla1ze, @phishgirl3!
We'll send out a reminder each week with ways to earn extra entries, so make sure to watch the blogs! Thanks for following, spread the word and good luck!!
Follow iMore and Win Contest FAQ/Details
Eligibility - Open worldwide. In order to participate as a follower /subscriber / fan of the iMore accounts in this contest you must have an account with Youtube, Twitter, Google+ and Facebook. We'd love you to follow on us in all four locations (that maximizes your chances of winning) but it's not required. One, two or all four is fine. If you're already following us when this contest starts, don't worry, you're entered automatically!! You must also be a registered member of iMore to be eligible.
Announcing Winners - Winners will be chosen randomly each month. Winning usernames will be posted to the iMore blogs within the first few days of each new month. Winners will be contacted via the respective sites (Twitter, Facebook, Google+, Youtube) and once initially contacted the follow-up will be conducted via email to work out details (address for shipping, etc.) on getting the prize. There is no rule against being able to win more than once.
There you have it! Be sure to tune into the blogs around the first day of each month for the winners' announcement and to see what can be won next month. If you have any questions, you can email me at michelle @ iMore.com - be sure to make the subject Follow iMore and Win Contest!
Get more iMore in your inbox!
Our news, reviews, opinions, and easy to follow guides can turn any iPhone owner into an Apple aficionado