YouTube 2.0 for iOS brings picture-in-picture video and better playlist support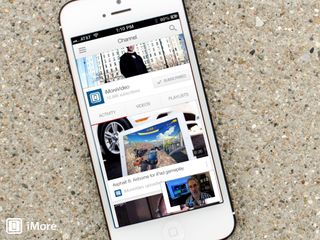 The YouTube app for both iPhone and iPad has just been updated to version 2.0 and brings with it the ability to watch videos while searching at the same time. You can compare it to looking at a guide on a TV while viewing what's currently playing on TV. The update also supports searching playlists and a play all option to play all the videos in the selected playlist.
To use the picture-in-picture feature of YouTube 2.0, you can tap on the arrow in the upper left hand corner of a video or swipe down on it. The video will move to the bottom right of the screen and allow you to continue to search and navigate through YouTube while the video continues to play. To get rid of the video, just swipe it away to the left.
The play all feature is available for any playlist you have in your account or saved in the app. Underneath the playlist title and description you now have a Play All button that can be tapped to automatically play all the videos in that playlist back to back.
If you notice anything else new, let us know in the comments!
iMore senior editor from 2011 to 2015.
New icon for the app Sent from the iMore App

Google just updated the Android version as well with the same features. Love how I can now switch between the two leading platforms and not miss any features.

New icon looks great on iOS 7!

I was wondering if the new icon might be in part to reflect the new look of iOS 7. Kind of like twitter did. Does it look the same on Android? Sent from the iMore App

Does the picture in picture on the YouTube 2.0 app work with AirPlay? That would be nice for queuing up videos while watching on tv.

No, it doesn't.
And you can't queue videos, playing a video replaces the previous one.

Downloaded it just before checking iMore. These tweaks are pretty sweet. Like the new swipe down for PiP and toss away left or right. That tossing away reminds me of webOS. Sent from the iMore App

Did they fix the issue (assuming it isn't just me) that clicking a link in Mail opens the app, but not the actual video the link is? I deleted the app because of this annoyance.

I have this same glitch! It happens on web links too. I've found I have to click link a second time then it works. Sent from the iMore App

Good to here. Maybe I'll give it another go. Sent from the iMore App

Hopefully next update allows you to do it in landscape. Right now it only works in Portrait mode.

Hopefully next update lets you use the feature outside of the app while using another app

Still not allowed to play HD videos over regular data, must be on a wifi connection. I just don't understand that, other YouTube apps can play HD videos over a regular data connection not this app. Moderators on forum have said that IOS won't allow this because they are trying to save bandwith. I could see if they were paying for my data but not. Netflix plays HD content over my regular dat connection without any buffering, this just isn't computing. Does anyone know a sneaky way to get this done over regular data connection??
Thanks

The update it dope you can watch a video and slide to the right and the video will play at bottom right such as multitasking Sent from the iMore App

Man, Google is taking over iOS, so awesome. The usability of the app is so much better. Beam to other devices is better. Just beamed a video to my Xbox, queuing up more videos and sending text messages. So nice. Video keeps on playing.

Does it looks like a bigger screen in the next iPhone? Sent from the iMore App
Get the best of iMore in in your inbox, every day!
Thank you for signing up to iMore. You will receive a verification email shortly.
There was a problem. Please refresh the page and try again.