Best Charging Docks for iPhone 7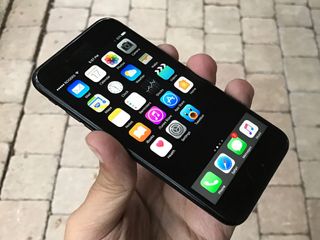 (Image credit: iMore)
Whether you prefer something that just charges your iPhone 7 or something that can power multiple devices at once, there are quite a number of dock options available out there. Here are some of the best charging docks for you and your iPhone 7!
Ziku Aluminum Charging Dock
Why you can trust iMore Our expert reviewers spend hours testing and comparing products and services so you can choose the best for you. Find out more about how we test.
If you're looking for a simple iPhone stand that you can rely on to charge your iPhone 7, then take a peek at the highly rated Ziku Aluminum Charging Dock!
Simply plug your iPhone 7 into the metal pedestal, and your phone will start charging in an instant. This stand can even make eye-level FaceTime calls even easier, and it makes catching your on-screen alerts as convenient as possible.
The stand can even fit the majority of iPhone cases, although there are obviously exceptions to the rule if you're using something like a massive Lumee or Prynt case.
See at Amazon (opens in new tab)
Spigen wood stand
If you prefer your stand to have a bit more of the hipster kind of feel to it, and if you don't want to break the bank, then we recommend looking at Spigen's wood stand.
Not only are you able to charge your iPhone 7, but you also have the option to charge your Apple Watch, making this a sort of 2-in-1 wonder-dock! The only downside is that you have to provide all your own charging cables and cords.
At the bottom of the dock, secure silicone pads stop the thing from sliding around your desk, making it the perfect work accessory for fast-charging throughout the day.
See at Amazon (opens in new tab)
Marcase aluminum charging stand
Futuristic, stylish, and supremely cool to look at, the Marcase aluminum charging stand has your iPhone 7 and your Apple Watch's battery's back!
Designed from aircraft-grade aluminum and a scratch-free TPU, the Marcase aluminum charging stand is a sleek and modern looking accessory to pair with your iPhone 7. The lower portion of the stand keeps your phone fully charged, while the upper level displays your Apple Watch's face for easy screen-reading — even when it's charging!
You can pick up this particular charging dock in space gray or rose gold, but there's no word on whether there will be a silver or a gold option in the future to perfectly match your iPhone 7.
See at Amazon (opens in new tab)
Megadream 3-in-1 charging station
Keep the modern, fashionable wood look with all of the reliable charging capabilities of a regular dock with the handcrafted Megadream 3-in-1 charging station.
Made from a high-quality rosewood, this dock has charging options for your iPhone, iPad, Apple Watch, and so much more. Because the Megadream charges your Apple tech at an angle, it's also the perfect stand for watching movies or presentations.
This 3-in-1 charging dock isn't only eye catching, it's beautifully designed and a great accessory for any home or office.
See at Amazon (opens in new tab)
Satechi 7-Port USB dock
If you're looking to charge a plethora of Apple devices while still keeping things in line and organized, then we suggest taking a closer look at the Satechi 7-Port USB dock!
With the Satechi 7-Port USB dock, you can easily charge your iPhone 7, your iPad, your iPod, and so much more. You can even pick from a black or white model to better match your style of iPhone/Apple tech!
However, if you don't have a ton of tech to charge, the price tag might not be as worth it as some of the other options on this list.
See at Amazon (opens in new tab)
What's your pick?
Do you have an iPhone 7 charging dock that you simply cannot live without? Let us know what it is in the comments below and we'll be sure to check it out!
Get the best of iMore in your inbox, every day!
Cella writes for iMore on social and photography. She's a true crime enthusiast, bestselling horror author, lipstick collector, buzzkill, and Sicilian. Follow her on Twitter and Instagram: @hellorousseau
Except for one, all of these stands require you to plug in your charging cable to the phone, meaning your cable falls out of the stand when you unplug it (usually falling to the floor) or the cord is left dangling there. Not to mention the phone has to balance on the connector, in some cases, when it's plugged in. That's hardly convenient or good for the cable. Sent from the iMore App

Title is so misleading. These aren't the best charging docks! They are different charging solutions for your electronics. If you want to talk charging docks, the best one by far on the market now for the iPhone 7 is the ElevationDock. I have been using them for years. Solid construction and a true docking solution. https://www.elevationlab.com/products/elevation-dock-3

Gravitas by Henge Docks is the best in my opinion. The dock is very heavy so you can pull your phone off of it without the dock coming off the desk. Also, it has an audio out port so you can connect the dock to a table radio using an audio cable. So I dock my phone at night and play it through my (old but still great) Cambridge Soundworks clock radio. The audio goes though the lightning port out the audio port. I also have an older Bose Soundwave and do the same thing (connect the dock to the Bose thru the audio out port) with a second Henge Dock I have. I couldn't be happier with these docks.

I have an Oittm desktop charging dock. Great quality Sent from the iMore App

everdock by Fūz Designs. I have the Duo and love it. http://fuzdesigns.com/index

I love my Bellingham Powerhouse charging dock. It doesn't require the charging cables for my iPhone or Apple Watch since they're built into the dock. I wish it was a little heavier though because it's a little difficult to take my phone out one handed. Outside of that it's great. Sent from the iMore App

I meant to say Belkin. Didn't pay attention to the autocorrect. Sent from the iMore App

I found it best to turn off autocorrect and utilize spell check.