Best iPhone videography gear bags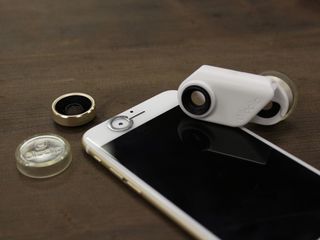 There's a ton of gear to help shoot great iPhone video, or at least it feels like a ton when you have to lug it all around. What can help with all the accessories, lenses, tripods, and more, is a great gear bag to keep and carry it in. Here are a few options for iPhone videography gear bags that'll keep all of your equipment safe and secure!
Leaper canvas backpack
Why you can trust iMore Our expert reviewers spend hours testing and comparing products and services so you can choose the best for you. Find out more about how we test.
Stylish, modern, and big enough to store your iPhone's lenses, a small tripod, audio equipment, lighting tech, and more; Leaper's large canvas backpack is a great storage tool for every mobile videographer.
The backpack itself is made from a high-quality canvas, and while it's not super weather resistant, one neat feature this Leaper bag has is a rain cover that can be pulled from a pocket on the bottom of the bag. If you're shooting and the weather turns, just pull out the cover and cover the bag so none of your gear gets wet.
The bag is a bit bigger, but is nicely compartmentalized, so you don't have to worry about your gear bumping and scratching against each other as you carry it around. Large individual pockets are perfect for quick-access to gear, while adjustable shoulder straps ensure comfort as you find the perfect shot.
See at Amazon (opens in new tab)
Koolertron waterproof vintage shoulder bag
Not only is the Koolertron waterproof shoulder bag a great messenger bag to use if you're looking to just pack the videography essentials, but if you take out the compartmentalized liner, you have a super stylish day-to-day bag!
Made with brown faux leather on the outside and soft, cushioned fabric on the inside, Koolertron's waterproof shoulder bag can fit a good portion of your videography gear if you have a portable flexible tripod, external light source, and lenses.
The fabric insert makes organization simple as pie, and can easily be removed. But the best feature about this messenger bag? It's waterproof, so you don't have to worry about ducking for cover if you're shooting in some rain (but it wouldn't hurt to have a waterproof case on your iPhone, too).
See at Amazon (opens in new tab)
Langly Simple camera insert bag
While not technically a gear bag, Langly's Simple camera insert does an amazing job of keeping your video gear tangle-free and protected while looking modern and stylish all at once. Talk about a multitasker!
The amount of space and compartmentalization you get with this bag is pretty amazing. You can customize the shape of the eight compartments by moving them around via velcro inside the bag, so you could potentially fit a whole mess of iPhone videography equipment into one of these bags without much trouble.
Made from a high-quality, water-resistant fabric with durable metal buckles and zippers, Langly's Simple camera insert bag is a great option for people who love to shoot their breathtaking videos with their iPhones and carry their equipment around with them in style.
See at Langly (opens in new tab)
Jo Totes Bellbrook backpack
Designed with a water-resistant canvas material and a stylish leather trim, the Jo Totes Bellbrook backpack is a sleek and portable gear bag with plenty of space to safely store your iPhone's video accessories.
The backpack comes in two color options, black or gray, with two compartments and pockets. There's a zipper compartment with a 7-layered insert for maximum organization in the middle of the bag, one rear compartment that's been padded to protect your laptop, one big pocket in the front for smaller iPhone accessories, and one side pocket for easy-access.
The exterior of the camera backpack is made from a weather resistant waxed canvas, while the inside is made with a soft-touch nylon fabric. Additional padding on the inside keeps your gear cosy and protected, while the bag's exterior keeps you shooting your iPhone videos in style.
See at B& H (opens in new tab)
Peacechaos messenger bag
Made from a soft, cotton canvas and available in ton of colors to perfectly match your style, the retro-looking Peacechaos messenger bag makes storing your iPhone's video equipment simple and easy.
The insert of the Peacechaos bag is bright yellow and can be rearranged thanks to its velcro inserts to fit whatever videography gear you have. That being said, the outside of the bag comes in a bunch of different colors like navy blue, dark brown, army green, dark gray, light brown, light tan, tan, and khaki.
Though the Peacechaos bag isn't a water resistant bag, it's still a well-made tote with a thick canvas outside and soft, cotton inside made to protect your gear securely. Plus, with that yellow interior, you won't be rummaging around looking for equipment that might blend into a black bag or background.
See at Amazon (opens in new tab)
What's your favorite gear bag to use?
Is there a gear bag that you've been using for your iPhone's videography equipment that works perfectly? Let us know which one in the comments below.
Get the best of iMore in in your inbox, every day!
Cella writes for iMore on social and photography. She's a true crime enthusiast, bestselling horror author, lipstick collector, buzzkill, and Sicilian. Follow her on Twitter and Instagram: @hellorousseau
Thank you for signing up to iMore. You will receive a verification email shortly.
There was a problem. Please refresh the page and try again.