Best Lightning Headphones for iPhone 7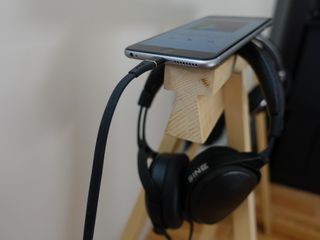 Rumor has it iPhone 7 will be losing the 3.5mm headphone jack. Don't be dismayed, though — audio through the Lightning port is purely digital and therefore crystal clear and glorious. And there are already several good options on the market for Lightning headphones!
Audeze SINE
Why you can trust iMore Our expert reviewers spend hours testing and comparing products and services so you can choose the best for you. Find out more about how we test.
Audeze's $500 SINEs are perfect for you or any other audiophile in your family. They feature planar-magnetic technology, which works similarly to dynamic drivers, but instead of the signal being sent through an ultra-thin coil, it gets spread out over the diaphragm within the driver, which can lead to better bass and distinction between all ranges.
The built-in DAC and DSP bypass what's in your iPhone 7, so that you receive pure, 24-bit audio, with next to no distortion and incredible accuracy.
Using the Audeze iOS app, you can customize your sound with a 10-band equalizer that alters your music in real time, so that you can hear each track the way it was meant to be heard or the way you choose to hear it.
At around $500, these are significantly less expensive than their upgraded brethren, then EL-8 Titanium series, but they certainly pack a wallop and will likely outmatch anything you've heard from a regular 3.5mm headphone jack.
See at Amazon (opens in new tab)
JBL Reflect Aware
If you're sporty or just prefer in-ear headphones, then JBL's Reflect Aware pair nicely with your iPhone. They stay in your ear when you're on the go and provide top-notch active noise cancellation but can mix in sound from your surroundings so that you remain aware when you need to, while blocking out the world when you don't.
The Reflect Aware headphones have an in-line mic and volume control buttons, so that you can control your music and answer calls without missing a step.
Sweatproof and featuring a tangle-free cable, these are truly the perfect earbuds for anyone who like to remain active, and they'll stand up to the wear and tear of everyday use for a long, long time.
You have your choice of blue, red, or teal. See at Amazon (opens in new tab)
Philips Fidelio M2L
Philips makes another great set of headphones for audiophiles in a much more affordable package than the Audeze set above. For around $200, you can pick up a pair of the Fidelio M2L headphones, which feature a built-in lightning connector that delivers high-resolution sound that features clear, powerful bass in an acoustically sealed environment that keeps the noise you want in the and the noise you don't out.
With their built-in DAC, the Fidelio M2Ls amplify sound on their own, which means you're not just getting what your iPhone can drive, but much, much more, which means almost zero distortion at any volume and exceptionally crisp and clear audio – you'll feel like you're in the recording studio.
If you're an audiophile but don't want to shell out $800, then the Philips Fidelio M2L headphones are an excellent, much less expensive option.
See at Amazon (opens in new tab)
Brightech
If you're an earbud fan but don't need 'em sporty or sweatproof, then Brightech has some awesome lightning in-ear headphones for you, for an easy-to-swallow $50.
Just because they aren't sweatproof doesn't mean they're not formidable – these beauties are encased in aluminum alloy, so all the audio goodness is protected, safe and sound (pun INTENDED).
With 24-bit audio capabilities, amplified bass, passive noise cancellation, and in-line volume control, the Brightech lightning headphones are easily the best for most people. They offer excellent sound, great comfort, all at a very affordable price.
See at Amazon (opens in new tab)
Audeze EL-8 Titanium
Audeze truly makes the best lightning headphones you can buy for your iPhone, but they come at a rather steep price – about $800. They feature an integrated lightning cable, complete with mic and volume control so that you can make calls with the Siri-compatible mic and control your music without having to take your iPhone out of your pocket.
From the team that created the BMW i8, you wouldn't expect anything less than innovation (especially for $800!), so you get awesome features – one being Audeze's iOS app, from which you can control your music's EQ to your heart's content.
Audeze's 24-bit Cipher cable means you get higher-resolution sound than you would through a traditional headphone jack, so you'll hear almost no distortion at any volume.
If you're a true audiophile and need your tunes to sound perfect, then the best choice is the Audeze EL-8 Titanium.You could go with the regular EL-8 (opens in new tab) for around $700, but you'll need to buy the lightning cable separately.
See at Amazon (opens in new tab)
What's got your ear?
Do you have an awesome pair of lightning headphones that you think deserves a mention? Let us know in the comments below!
Mick is a staff writer who's as frugal as they come, so he always does extensive research (much to the exhaustion of his wife) before making a purchase. If it's not worth the price, Mick ain't buying.
Does anyone have an idea how you would charge your phone and use the Lighting connected headphones at the same time?

I feel confident the aftermarket brain trusts will build a simple lightning splitter.

If it's anything like the dongle in the Moto Force Z they'll be far from elegant.

Amy adapter would be. It's a painful experience that has no justification. Posted via the iMore App for Android

An adapter allows you to use new technology with old technology, I think that's a perfect justification

I was wondering the same thing. If it had wireless charging like many windows phones, that would work but I don't think it does.

Do I understand this correctly: audio through the lightening port would be digital, obviously, so using it wouldn't use the phone's DAC. So to get decent audio out of the thing through headphones, you need to spend the dollar (over and above an already expensive iPhone whatever-they're-gonna-call-it) on headphones that have good DAC. Is that right or am I missing something?

Actually, if I'm using my thinking brain, this is what is/has been the consideration with getting good audio through Bluetooth headphones, right?

Yup, for both lightning and bluetooth. If you've already got decent headphones, it'd be better to buy a lightning or bluetooth dongle instead to hook up your current can't to. Lightning solutions can be clumsy, but more elegant variants will undoubtedly be coming soon. Bluetooth dongles are okay, most just clip on to your shirt collar (for mic use) of jeans pocket. That way, you'll only need to replace the dongle instead of the entire headphone.

Okay thanks. So from that point of view, Apple essentially absolves itself of worry about its audio quality, and shifts the problem ("problem") to the headphone manufacturers. That seems like a lot of loss of control on their end unless they're going to be more selective about who they licence lightening to.

Of course, again, that's always been the case for BT, but if they're going to try and sell lightening audio, they can't categorically say it's better because it's not within their control as such.

Lightning audio - ie: MFI certification - is indeed very selective. There have been quite a few external DACs out released this year that are very good, but aren't MFI certified, which means that, in order to get them to work with your iOS device, you'll need a Apple Camera Connection Kit to act as a go-between, which is cumbersome. The reason these DACs aren't MFI certified is because of intellectual property (IP). In order to get MFI certification, DAC manufacturers would need to open their innards to Apple. This would've been fine if Apple were the old Apple and just made iPhones, but now they own Beats, which makes them a direct competitor. You're not going to hand the keys to your IP kingdom to your competitor, are you? This has never had anything to do with the old analog cable/jack being worse then Lightning - it's simply not the case. Audio will always be analog since the human ears cannot hear digital. The has to be conversion somewhere along the chain, and there's always be an analog element to carry that converted audio. MFI royalty money and sucking up competitors' DAC/DSP tech for free are what this really is about, along with possible DRM elements if the new MQA streaming standard gets adopted by labels, though that's another can of worms which Apple bloggers will again attempt to convice us is a healthy thing if it ever gets passed.

Oh of course, Beats. I didn't consider that. The penny's dropped now. I realise there always gonna need to be conversion to analogue (because sound) but in other less considerate circles I've been shouted down for even entertaining the notion that lightening might not be better, so I thought I must be missing something. I've definitely learned something though, so thank you :)

The SINE is really all about the DSP stuff going on in the Cypher cable's DAC. Plug in into a different DAC (whether budget or uber-expensive) and it's just grainy midrange city without any bottom-end whatsoever. A very mediocre driver by Audeze's standards. Almost feels like the entire SINE line was made to misinform people into thinking that Lightning audio was superior when all they're hearing is DSP and not the transducer. Their new iSINE line of in ear monitors - possibly the fugliest things you'll ever see, btw - is also the same. Can't believe how low this company has fallen. No wonder one of their founders left.

Why even bother using the Lightning charge port? Just go wireless. Plenty of outstanding options available, and at more reasonable prices. Sent from the iMore App

I don't want to have to worry about something else that needs to be charged. I use my headphones during my breaks and my lunch and throughout the day. Using the 3.5 mm jack is more convenient. My phone battery lasts all day because I don't use Bluetooth at all.

Because I keep mostly lightning cables on me and around my house. Having to find and then not lose a micro usb cable for a pair of Bluetooth headphones is annoying. Apple has let companies like Steel Series put lightning ports on game controllers so I'm hoping they'll do the same with headphones soon. Sent from the iMore App

I love using batteries that die. Another hassle in my life. Posted via the iMore App for Android

I'm hoping Shure will follow suit as they have replaceable cables. Sent from the iMore App

Will these also work with iPhone 6/6s? Sent from the iMore App
Thank you for signing up to iMore. You will receive a verification email shortly.
There was a problem. Please refresh the page and try again.