Best low-cost alternatives to Otterbox for iPhone 6s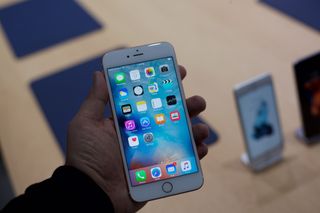 Finding the perfect protective, durable iPhone 6s case can be challenging. It's hard to find something that's rugged yet not too bulky, and stylish, but still affordable.
While Otterbox makes some amazing cases for your iPhone, sometimes their price point can be a bit high. Here are a couple of affordable – yet durable! – alternatives to that Otterbox case for your iPhone 6s.
Body Glove ShockSuit
Why you can trust iMore Our expert reviewers spend hours testing and comparing products and services so you can choose the best for you. Find out more about how we test.
If you're looking for a well-made, durable case for your iPhone 6s, then it may be worth it to take a peek at the reasonably priced Body Glove ShockSuit!
With full 360 degree coverage, easy-access to all buttons and ports, and a built-in screen protector, the ShockSuit is a relatively stylish and not overly-bulky option to protect your iPhone 6s. The case's corners are reinforced for any extra bumps and scrapes your iPhone may get, while the polymer gel sleeve fits tightly around the shape of your iPhone for extra snugness and security.
The ShockSuit comes in six different colors, so you can customize the case to fit your own personal style. The best part of the ShockSuit is that it isn't terribly gigantic, so you're not only getting additional protection, but also a good-looking iPhone 6s case.
See at Amazon (opens in new tab)
Unicorn Beetle Pro
Tough, durable, and super unique looking, the Unicorn Beetle Pro has much more than an amazing name (seriously, take a moment to Google "unicorn beetle." I'll wait ... Aren't they weird lookin'?!).
With a snug-fitting dual layer design, the Unicorn Beetle combines a hard polycarbonate shell with a flexible, easily bendable TPU layer to create a secure case for your iPhone 6s. The case comes with a screen protector, so you won't have to worry about scratching up your iPhone's screen whenever you take it out of the house.
The Unicorn Beetle provides full access to all of your iPhone's ports and buttons and comes in five different colors, including black, blue, green, pink and white. The case also comes with a belt clip attachment, so you can just attach and go!
See at Amazon (opens in new tab)
Trident Case
You won't find many durable iPhone 6s cases for less than $10, but the Trident case is a definite exception to the rule.
The Trident is made with a thin (yet tough!) layer of shock-absorbing silicone that completely wraps around your iPhone 6s, while a hard outer layer and two levels of protection stop your phone from shattering on impact.
You get full-access to all buttons and ports with the Trident, but they're protected with silicone stoppers, so even if you do drop your phone, you don't have to worry about dirt blocking up open ports.
If you're looking for a stylish and durable iPhone case, then the Trident is a great option because it comes in a variety of colors. You can choose from blue, white, gray, red, green, pink, or black when picking out the perfect Trident case for your iPhone 6s.
See at Amazon (opens in new tab)
Speck CandyShell grip case
You may not have a grip on the rest of your life (Who does, honestly?), but you can get a grip on your iPhone 6s case with the quality, funky-looking Speck CandyShell grip case.
Military-grade drop tested to survive high falls, the CandyShell grip case is formatted with a multi-layer design to absorb the most intense impacts. A raised bezel prevents screen scratches, while the case's slim 0.14 inch design takes away the bulk that some other rugged cases have.
Rubber covers protect volume and power buttons, while raised rubber ridges help keep your iPhone 6s secure in your grip.
On top of being a super durable case, the CandyShell grip case comes in a bunch of bright and fun color combinations, like green and periwinkle blue, black and slate gray, cantaloupe orange and periwinkle blue, and many more!
See at Amazon (opens in new tab)
Mineral Blue Survivor
Though the Mineral Blue Survivor looks like a strange sort of futuristic iPhone 6s cover, it's actually a durable Otterbox alternative that protects against drops as high as two meters.
The Mineral Blue is a thin, light case that will add just a bit of additional bulk to your iPhone 6s, but not much. A tight silicone layer covers the case's smooth, curved hard shell, so you don't need to worry about shattering your iPhone if you accidentally drop it.
A thin screen protector covers the glass face of your iPhone, while a non-slip texture on the case keeps it secure when you're carrying it around in your hand. A downside to the Mineral Blue? A distinct lack of color options! (Unless you love blue).
See at Amazon (opens in new tab)
What's your favorite Otterbox alternative?
Is there an iPhone 6s case you can't get enough of? One that you're totally crazy about for a bunch of other reasons? Well we'd love to hear from you!
Let us know in the comments below which rugged case you're using for your iPhone 6s.
Get the best of iMore in in your inbox, every day!
Cella writes for iMore on social and photography. She's a true crime enthusiast, bestselling horror author, lipstick collector, buzzkill, and Sicilian. Follow her on Twitter and Instagram: @hellorousseau
Speck all the way. We switched a little over a year ago when we got our iPhone 6 phones. The cases are fantastic. Slim and easy to use. Just upgraded to new ones. Even use Speck for my mini. Sent from the iMore App
Thank you for signing up to iMore. You will receive a verification email shortly.
There was a problem. Please refresh the page and try again.