Best power banks for iPhone 6s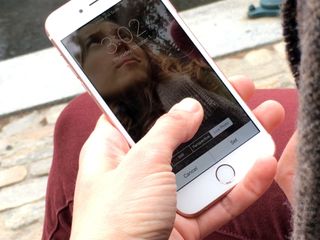 The iPhone 6s has a 1,715mAh battery, which is probably just enough to get most folks through the day or at least until the late afternoon. If you need more of a charge, especially on the go, then an external battery, A.K.A. a power bank, is the next best solution after getting a battery case.
Here are our favorites.
KMASHI 10,000mAh external battery
Why you can trust iMore Our expert reviewers spend hours testing and comparing products and services so you can choose the best for you. Find out more about how we test.
At 1,715mAh, the iPhone 6s' battery might last you most of a day. The KMASHI external battery provides an additional 10,000mAh, which can charge your iPhone 6s up to five times at 1A. This might get you through your work week or, depending on your usage, at least the weekend.
The KMASHI external battery may not be the size of a tube of lipstick, but it's a little smaller than your iPhone 6s, so it'll easily fit into just about any purse and most pockets.
With two USB ports, you can charge up to two devices at the same time, which makes this power bank excellent to share with a friend or to take on longer road trips where you might not see a power outlet for a full day.
If you're a family of four, this power bank is also cost-effective, starting around $15, so you might as well grab two. And there's no worry of frying all the devices that might be plugged in, since the KMASHI external battery features short circuit and surge protection.
The KMASHI external battery comes with its own micro USB cable for charging and features an LED indicator to let you know when it's fully charged, as well as a power button, so you can conserve energy when you're not using it.
See at Amazon (opens in new tab)
RAVPower 16,750mAh power bank
If you're not going to see a power outlet for a few days or need your iPhone 6s charged up at all times because you use it extensively, then the RAVPower power bank is the way to go. It charges your iPhone 6s up to six times and you can charge up to two devices at once, at 2A each, though you obviously won't get as many charges if you charge more devices.
The RAVPower power bank features LED indicators to let you know when it's full, as well as a power switch to conserve energy. You also have the benefit of short circuit and surge protection, so you won't brick your iPhone 6s in the event of an electrical malfunction.
Bottom line – if you need to charge your iPhone 6s for almost a week without seeing a power outlet, then the RAVPower power bank is definitely the way to go.
See at Amazon (opens in new tab)
Anker PowerCore mini 3,350mAh
The Anker PowerCore mini is about the size of a tube of lipstick, making it one of the most portable power banks money can buy. It'll only charge your iPhone 6s once, maybe one and a half times, since it only has a 3,350mAh battery, but it's perfect for emergency situations and will fit anywhere you can stick it. Anywhere.
Since you'll likely be carrying the PowerCore mini around in your pocket, why not do so in style? It comes in black, silver, pink, blue, and gold.
This aluminum power bank comes with a micro USB cable and a handy travel pouch, just in case you're not the purse-carrying type or don't want the keys in your pocket scratching off the finish.
If mini is what you need, then the Anker PowerCore mini is your bag, baby.
See at Amazon (opens in new tab)
EC Technology 22,400mAh portable charger
The EC Technology portable charger is the perfect power bank for a family road trip. It features a total of 22,400mAh, which can charge 1 iPhone 6s roughly 12 times. So, if you're headed out of town for the weekend and don't know if you'll see a power outlet until Monday, this power bank is perfect.
It's not perfect just because it can charge your iPhone so many times – it can charge three devices at once! It obviously won't charge 3 devices 12 times each, but it'll certainly get a family of 4 through the weekend if need be.
At 6 inches long and 2 inches wide, this power bank is about the size of a proper chocolate bar (none of this "mini" BS), so it's definitely pocketable, but it also won't get lost among the refuse in the back of a minivan.
If you need a lot of charge, then the EC Technology portable charger is certainly the way to go.
See at Amazon (opens in new tab)
Anker Astro E1 5,200mAh
If you're looking for great portability but need a little more juice than the Anker PowerCore mini can provide, the next best option is the Anker Astro E1, which has a 5,200mAh cell and can charge your iPhone 6s up to two times.
It's rather small, at only about 4 inches long and roughly 2 inches wide, so it's perfectly pocketable (even in the same pocket as your iPhone) but not so small that you might lose it entirely.
If you need a charge on the go and don't have the space to fumble with a power bank the size of your iPhone 6s, then the Anker Astro E1 is perfect for you.
See at Amazon (opens in new tab)
Anker Astro E3 10,000mAh
Surprise, surprise, it's another Anker product! Hey, what can I say? They make great chargers! The Astro E3 is a step above the E1, so it's a little larger (5 inches by 2.5 inches), but it has a 10,000mAh capacity, charging your iPhone 6s four or five times.
The Astro E3 features a four-LED power meter that lets you know when it's fully charged and it comes with a sweet travel pouch so that you don't scratch it all up.
Like all Anker products, this power bank comes with an 18-month warranty, so if anything goes wrong, contact Anker and they'll send you a new one!
If you need a portable power bank and are traveling or stuck without power for a while, then the Anker Astro E3 can keep you going for quite some time.
See at Amazon (opens in new tab)
What's keeping you charged?
Are you using an awesome power bank for your iPhone 6s that you think is worth mentioning here? Sound off in the comments below!
Mick is a staff writer who's as frugal as they come, so he always does extensive research (much to the exhaustion of his wife) before making a purchase. If it's not worth the price, Mick ain't buying.
I am a current anker user. I was happy till now but suddenly my external battery holds a third of a juice than it used to hold, not even charging my iPhone 6s Plus fully once. It's a 12800mah battery. The funny thing is it happened exactly after 18 months of owning it, and anker has 18 month warranty on its batteries....!

It's not a new thing. A lot of electronics are "engineered" to die just as their warranty runs out.

Why did you limit it to only a handful of batteries? None of them are rugged, and designed for some abuse. Should have added Limefuel to this review!

I bought the BatteryBox and I absolutely love it. It does not only charge my iPhone, it can also charge my MacBook Air for up to 14 additional hours! None of the batteries on your list can charge both iPhone and MacBook.

That's because it's a "best for your iPhone" not your MacBook

I have both Anker and Aukey ones on this list and the Anker is by far the better built device. It's smaller and just works well. Nothing against the Aukey, but the Aukey is just bulkier and cheaper feeling device. The flashlight is a nice option and if you can grab it for around $20, it is a steal!

I have a NewTrent I believe 12000 mAh. If not used it holds its charge a long time. I think I bought it years ago, and still no problems. It will charge my iPhone about three good times before it needs recharging. Only con is the smooth body. It can slip out of your hands. It will charge an iPad up to 95% once. Sent from the iMore App

I also have an Anker power bank and mines started holding less charge after 12 months of use. I searched the web to find other reliable power banks and found the Powergo ss 5000 from techgetgo.com. This power bank charged in exactly in 13 minutes same as it was advertised I have had it for a week now and im loving this power bank. I would recommend it to any busy traveler or anyone in general who uses a smartphone.

I have the KMASHI power pack at the top of the list. It's okay, but I don't really use it much. My 6s lasts me from the time I get up until the time I go to sleep. Though, mostly I just charge it at work. Same thing. Lasts about 20 hours. My last phone, HTC One M8, had about 1000 more mAh, but it never got the battery life my 6s does. Goes to show how much chasing specs is good for. It was also a quad core phone.
Thank you for signing up to iMore. You will receive a verification email shortly.
There was a problem. Please refresh the page and try again.