Best selling iPhone 5 accessories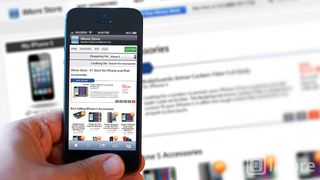 Now that you've had your brand new iPhone 5 for a while, you may be itching to deck it out in all the latest accessories. Well you're in luck, the iMore store has been stocking up on the very best iPhone 5 accessories. Carefully selected by our expert product pickers (they've been accessorizing since the Visor -- seriously!), each and every one will help you protect, extend, power, enjoy, and get more out of your iPhone 5 than ever before.
Better still, every order placed through the iMore store not only comes with free shipping on U.S. orders over $50 and faster, affordable shipping internationally, it helps support all the other iMore content you know and love! We'll be reviewing all of these accessories, and more, over the next couple of weeks but in the meantime, check out our favorites, and get your new iPhone 5 all decked out!
BodyGuardz Armor Carbon Fiber Full Body for iPhone 5
Why you can trust iMore Our expert reviewers spend hours testing and comparing products and services so you can choose the best for you. Find out more about how we test.
If you're not just worried about scratches and scuffs on your iPhone 5, but want to give the back a change from anodized aluminum to carbon-fiber, BodyGuardz has you covered -- literally! It's a strong PVC film, brilliantly textured, and adds almost no bulk. Comes in black, white, and (shipping soon) red.
Seidio ACTIVE Case for iPhone 5
The iPhone 5 is gorgeous, but if you lead an active lifestyle, you're going to need a case that can keep up with you. Enter the Seidio ACTIVE Case for iPhone 5. It's two layers for double the protection and it comes in black, royal blue, garnet red, amethyst (purple), glossy white, and sage (green), and you can even get it with an optional holster.
SGP GLAS.t Premium Tempered Glass Screen Protector for iPhone 5
If you want a screen protector but you don't want film, the SGP GLAS.t Premium Tempered Glass Screen Protector for iPhone 5 gives you almost the same feel as a naked iPhone, but with much more protection.
Griffin PowerJolt Dual Universal Micro 1 Amp for iPhone 5
The iPhone 5 comes with a new Lightning connector, which means you can pretty much kiss all your old cables goodbye. And since Apple hasn't been exactly quick to ship the adapters, a lot of us are stuck saving power on the go. Not so with the Griffin PowerJolt Dual Universal Micro 1 Amp for iPhone 5. Just plug a Lightning cable or two into the adapter, plug the adapter into your car, and you and your closest friends and family members can keep fully charged during a commute or on a road trip.
SGP kuel H12 Stylus Pen for iPhone 5
A bigger screen means more room for a stylus, and that's certainly true with the iPhone 5. Whether you're taking notes, playing games, or drawing something great, the SGP kuel H12 Stylus Pen for iPhone 5 is a good multifunction stylus to take with you where ever your iPhone goes.
Your best iPhone 5 accessory?
Have you gone shopping for your brand new iPhone 5 yet? Do you plan to? What's at the top of your shopping list?
Senior Editor at iMore and a practicing therapist specializing in stress and anxiety. She speaks everywhere from conferences to corporations, co-host of Vector and Isometric podcasts, follow her on Twitter @Georgia_Dow and check out her series at anxiety-videos.com.
I love my incipio DualPro case, and spare USB to Lightning cable for my cr-v!

i recommend my friend's store:
http://www.etradesupply.com/apple/iphone/apple-iphone-5.html

I love the Speck Candyshell Grip, light and protects. It also looks good (white with black grips)

It is a great case, but they really need a black and grey version -- they probably will eventually. For now, the only black case has a pinkish shade for the rubberized part. Compared to other cases though, the edges grip the screen just right, others seem to slide around on the bezel.

I like my bumper that I got off of Amazon. It's snug and matches the black iPhone 5 nicely!!! And for the great price of $9.95, it's the cheapest way to show off my new phone while protecting it!

I got a bling hard case on Ebay for 8.95 and the mgr at Radio Shack gave me a InvisiShield for giving them my business across from VZW.

I love the speck candy shell flip for iPhone 5. I don't have a dock yet but as soon as one is available I will be purchasing one and this case allows for easy docking. Also it provides a whole lot of protection with its snug rubbery interior and dense plastic exterior. Another favorite is the moshi iVisor anti glare screen protector. Zero bubbles andit can be removed, cleaned and reapplied over and over.

Apple has said they won't be releasing a dock for the iPhone 5.

Need a $15 lightning cable..

Amazon has the Griffin Powerjolt for $8.99. Thanks for the idea!

I have been using my Griffin Powerjolt for over a year now and it is great for charging on the go and for use when using your iPhone as a GPS map. My only problem is there are no power LEDs on the device to let you know power is working. Other than that, great tool.

Thanks for the heads up. I'm going to order a few other there with my prime account. :)

Got mine liquipelled before I got too attached to it to send it away! Now I'm waiting for a mophie.

Love the new Otterbox Defender for iPhone 5. So much better than the previous version!

+1 here ... I love the new Defender!

Loving my Spigen GLASt and my Switcheasy Nude case until Deff Japan release the Draco V.

BodyGuardz Armor Carbon Fiber Full Body is brilliantly textured. It gives me a great relief as it helps to get rid of scratches and scuffs in my iPhone 5. This is really worth enough.
http://www.convergencecatalyst.com/

the first video is using iphone 4... I'm assuming the cover works the same way on iPhone 5?

Spigen screen protector is mine. It actually offers full screen coverage unlike the Zagg ones. Oh and my rocket fish slim case. Just dropped the phone and a little scratch on the case and the phone is fine. wheeeew

Cygnett aluminum urban shield is a great case! http://us.cygnett.com/iphone/iphone-5th-gen/silver-storm-urbanshield-har... The case adds barely any bulk to the iPhone5 (approx. 1mm) and the thinness of the case is of the utmost importance to me.

I was at the theme park and wished I had wireless charging.

It is hard to confirm the best iPhone 5 Accessories, but i often buy from my friend, the quality is OK, you can just try.
http://www.etradesupply.com/apple/iphone/apple-iphone-5.html

I'm waiting on approved desktop docks. I need 2. I already have a couple of cables from Apple, and a case, but I cancelled my iPhone 5 order, and will re-order after docks are available. (I wasn't scheduled for it until last of October anyway). In the meantime, my old 4 suffices.

just as Tiffany implied I'm stunned that some one able to get paid $5098 in one month on the computer. have you seen this web link N u T t y R i C h d o t c o m

still find it not many good accessories for the iPhone 5 yet.

One of my favorites :) http://www.spigen.com/cell-phone/apple-iphone/iphone-5/iphone-5-case-sli...

Amazing!! Highly Impressive accessories. In particular, SGP GLAS.t Premium Tempered Glass Screen Protector protects my iphone5 is a great news for me.......Thanks for sharing
http://www.allwea.com/

Cooles and best iPhone accessory I ave bought is my Aktiv case from EDGE Design http://www.edge-design.com
Thank you for signing up to iMore. You will receive a verification email shortly.
There was a problem. Please refresh the page and try again.