Best Tempered Glass Screen Protectors for iPhone 8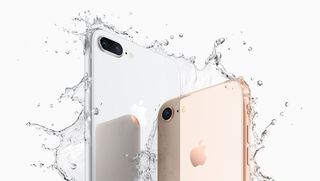 The iPhone 8 may not have the fancy OLED screen that the iPhone X does (even though that's completely ridiculous at this point), but it's still a pretty screen nonetheless and deserves protection. Tempered glass is the way to go, since it's durable and won't break into sharp pieces that could scratch up your screen.
Here are the best tempered glass screen protectors for your iPhone 8!
Note: Since the iPhone 8 and iPhone 7 are basically the same size, you can use iPhone 7 screen protectors and they'll work just fine.
(opens in new tab)
amFilm's tempered glass screen protectors are one of Amazon's best sellers, with almost 27,000 reviews, with the majority of them being 5-star ratings. This two-pack is only about $8 and will fit your iPhone 8 very well.
amFilm promises complete transparency and 0.3mm thickness, allowing for zero loss in touch sensitivity, along with a surface that's hard enough to resists scratches and dents. There's also an oil-resistant coating to help keep fingerprints to a minimum.
(opens in new tab)
JETech's two-pack is also about $6 and features many of the same features as amFilm's option (really, how different can screen protectors be from manufacturer to manufacturer?).
You'll get excellent sensitivity and transparency, and JETech's protectors also feature an oleophobic coating to help keep fingerprints at bay. JETech also promises an easy, bubble-free installation.
(opens in new tab)
Maxboost makes fine screen protectors, and while its two-pack of protectors may be $7, they come with something special — anti-spy technology! OK, so it's not that grandiose, but these protectors do come with a special film that helps to block people's view from various angles.
This film does reduce a bit of screen brightness, so keep that in mind and don't go crying to Maxboost. If you want your phone's screen to be unreadable by anyone who's not looking directly at it, you have to compromise a little bit.
(opens in new tab)
For $6, this two-pack will give you just what you need. Supershieldz is a trusted screen protector brand, and its protectors do exactly what they're supposed to.
Since the iPhone 8 screen is curved, these won't cover it edge to edge, but then you won't have it peeling off all around after a month, so that's a win in my book. There's hydrophobic and oleophobic coating to ward off liquids and fingerprints, and these protectors (like the others on this list) won't interfere with touch sensitivity.
Your favorite?
Why you can trust iMore Our expert reviewers spend hours testing and comparing products and services so you can choose the best for you. Find out more about how we test.
Got a favorite go-to screen protector for your iPhone? Sound off in the comments below!
Updated August 2018: We've updated the prices on our favorite screen protectors for the iPhone 8!
Mick is a staff writer who's as frugal as they come, so he always does extensive research (much to the exhaustion of his wife) before making a purchase. If it's not worth the price, Mick ain't buying.
I've bought Spigen Tempered glass for years and it has been my favorite with a good price and quality.
But I have not tried AmFilm. Thanks for the article, I'm going to give them a try for iPhone X.

amFilm - Not bad, but out of 3 boxes I tried, all of the screen protectors had some kind of flaw near the edge that cause it to not stick down. Maybe the result of a dull cutting tool or something. They were pretty good otherwise.
JETech - Is the winner. Oleophobic coating is very nice, they adhere without bubbles very easily, and they are high quality for a low price. I'm sold and JETech are now my absolute favorite.
Spigen are still fine, but I find JETech have a nicer surface/coating and the installation is almost effortless with JETech. Get the JETech! They are some of the best I've used next to MIME.
If you want the absolute best, https://mime-usa.com/product/iphone-x-ghost-glass-protector/ They are the absolute thinnest and high quality, but they aren't cheap. Also they may not be as protective against drops. But MIME is the one to get if you want the absolute thinnest. I never tried maxboost but I'm not in to privacy s