Best tempered glass screen protectors for iPhone SE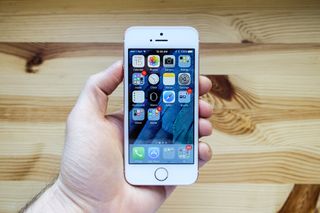 Updated April 30 2017: Anker's Xtreme makes the list as a "tried and tested" screen protector to take good care of your iPhone SE in a fall.
iPhone SE has the same 4-inch screen as iPhone 5 and 5s, so there are already a plethora of tempered glass screen protectors on the market. Here are some of our favorites!
Maxboost screen protector
Why you can trust iMore Our expert reviewers spend hours testing and comparing products and services so you can choose the best for you. Find out more about how we test.
Maxboost's product is a solid example of all the basics you need in a tempered glass screen protector. It comes with a lifetime warranty and does the job of protecting against sweat and oily residue that lives on your fingers.
As with other tempered glass versions, it tends not to be as noticeable as plastic protectors. It's less likely to bubble and more likely to come off without leaving behind all kinds of adhesive goo. Your choice of phone case won't be limited, since the glass is so thin. For a reasonable price, you're getting that little bit of extra security your iPhone deserves.
See at Amazon (opens in new tab)
UPPERCASE premium screen protector
UPPERCASE is known for making rugged cases, and their tempered glass screen protector builds on that reputation. The rounded edges make it practically invisible and extra chip-resistant.
The bubble-free adhesive is easy to apply and easy to reposition before sticking down completely (which helps if you're usually all-thumbs with this kind of stuff). The anti-shatter film is an added safety feature, and the lifetime warranty means that if the unthinkable happens, you're covered.
If you're already a fan of the brand, stick with them and you won't be disappointed.
See at Amazon (opens in new tab)
OMOTON screen protector (2-pack)
You love a deal, we love a deal, and OMOTON does too. Two for the price of one is particularly fantastic, if it's a quality product, and these screen protectors certainly are.
They've received glowing reviews for being both inexpensive and essential. Once applied, there's zero effect on the Retina display and although there's no cutout for the front-facing camera, photo and video quality aren't compromised. If (or when) you remove the screen protector, there won't be any residue stuck to your screen. At this price, get one for every phone in your household.
See at Amazon (opens in new tab)
Tech Armor ballistic screen protector
The Tech Armor brand has been a favorite for a number of years, and that's for good reason. It's not just made of ballistic tempered glass; it also offers four-way privacy, so no one can creep on your screen over your shoulder.
The camera cutout maintains photo and video quality while keeping dust and residue away from your screen. The lifetime warranty and brand reputation make this screen protector a top choice for buyers.
If you're hard on your iPhone SE, this is the insurance policy you need to invest in.
See at Amazon (opens in new tab)
Supershieldz ballistic screen protector (2-pack)
Another two-for-one comes from Supershieldz. It has a camera cutout and fits easily into most iPhone SE cases. You won't experience a rainbow-effect across your screen as interior or exterior light changes, which helps tremendously with clarity and visibility.
Fans of Supershieldz tend to buy multiple packs at once so that everyone they know can have a tempered glass protector and for the price, that's not a bad idea.
Added bonus to this brand? If you're looking for simple anti-glare protectors or even gold or pink screens, they do those too.
See at Amazon (opens in new tab)
Anker Xtreme Scratch Terminator
Put this one under the "tried and tested" banner, because this brilliant screen protector from Anker has proved it's capable of protecting the iPhone SE from a fall.
This tempered glass screen protector is a breeze to apply properly, with Anker including several stickers in the box to create a hinge. This allows you to line it up perfectly before making the final application, which then takes just a flip and a press to get perfect results.
It's very affordable, and aside from the apparent non-U.S. availability, is worth keeping a stash of. No-one likes dropping their phone but Anker's screen protector does a great job of protecting it.
See at Amazon (opens in new tab)
The bottom line
Tempered glass screen protectors are the best way to keep your display in mint condition and safe from everyday accident. For overall quality, Tech Armor is tough to beat. If you're deal-seeking and you want some color varieties, go with Supershieldz.
Don't see your favorite in our list? Tell us all about it in the comments!
Get the best of iMore in your inbox, every day!
I always get spigen Sent from the iMore App

i agree with you. Spigen screen protector and spigen case. BUT i also do like the maxboost screen protector.

Personally prefer basic anti-glare films, but the Cupert Cinder would be my top pick if I ever decided to get an edge to edge tempered glass one.

Sorry, just checked and Cupert doesn't seem to make screen protectors for the iPhone SE. In that case, I'll give a shoutout for the one I had on my old iPhone 5, the MIME Feather Glass.

I have tried both TechArmor and OMOTON, really liked both. Currently have the former on my SE.

but ... but .. the glass is actually *weaker* than the iPhone glass. And by a LOT.

And your point is? You're aware that this is a screen protector and not a screen replacement, correct? Sent from the iMore App

Who cares if it's weaker glass than the iPhone glass. It's job is to prevent scratches to the iPhone screen.

I have had screen protectors chip and crack frequently so I prefer going with a random brand. Most pitch "9H" hardness etc. I know I dont want to buy Zagg anymore, Im not too impressed with their product or their "lifetime warranty" that they still figure out how to get money out of you for..

I just took my screen protector off (it was an iHip one I got at Walmart), and either the clarity wasn't good or it's just the thickness of the protector, but man I forgot how nice the screen was on the SE. It's hard to not want to keep one off of the screen but I'm so paranoid of dropping and shattering the screen...