Best waterproof cases for iPhone 6s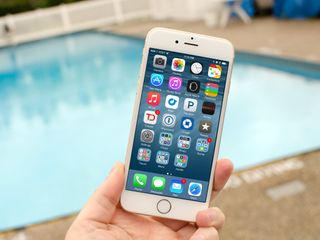 Dropping your iPhone 6s is awful, but dropping it into a puddle, your toilet, or off the dock at the lake is even worse.
Here are five waterproof iPhone 6s cases to check out if you're looking to keep your iPhone from joining the cast of The Little Mermaid under da sea.
LifeProof FRE
Why you can trust iMore Our expert reviewers spend hours testing and comparing products and services so you can choose the best for you. Find out more about how we test.
LifeProof's brand name says it all: these are cases meant to withstand all the pressure and craziness life can throw at our iPhones, and LifeProof's FRE waterproof case is no different!
Waterproof, dirtproof, snowproof and drop-proof, the FRE is a less bulky yet tough protective case with a lightweight design that makes using your iPhone 6s in almost any environment simple and stress-free. After all, this case can be fully submerged in up to 6.5 feet of water for around 1 hour and can survive a drop of up to 6.5 feet.
The FRE also comes with a sound enhancement system that amplifies your iPhone's speakers, so you can blast your tunes in rain or shine. This waterproof case comes in five different colors, including white, black, turquoise, purple, and gray, and also comes with a super thin built-in scratch protector.
See at Amazon (opens in new tab)
Optrix 6 by Body Glove
Your iPhone 6s will feel as snug as a bug in a rug – er, we mean glove – with the waterproof Optrix by Body Glove for your iPhone 6s.
This case is a bit more unique because it's designed for iPhoneographers and people looking to explore in rugged conditions, but it's a great case if you're looking for a durable, modern-looking accessory for your iPhone 6s. The Optrix 6 is actually waterproof for up to 33 feet underwater, can be dropped from up to 20 feet, and exceeds military drop test standards.
With this case, you can also pick up a few photography lenses (wide-angle or regular) that will work with the Optrix 6, so not only will you be excited to drop your iPhone in the lake, you can snap some amazing shots while you dive for it!
See at Amazon (opens in new tab)
Bessmate IP688
An affordable favorite amongst those who have had a chance to use it, the Bessmate IP688 is a waterproof case that can survive a 6.6-foot-deep plunge without flooding your iPhone 6s (iPhones are notoriously bad at swimming, after all).
The IP688's fully sealed design stops water from leaking into your iPhone 6s, while ports for your microphone, speaker, and charger can be accessed without taking off the case through small, waterproof panels.
A black rubber covering keeps your iPhone 6s dry, while its slim yet durable design is the perfect partner for your iPhone's modern flair. Bessmate's case also comes with a stand to prop up your iPhone and a built-in screen protector that keeps your iPhone working no matter how moist the environment is.
See at Amazon (opens in new tab)
Tech21 Evo Xplorer
The Tech21 Evo Xplorer is an iPhone case designed to against your iPhone 6s against the elements. Simply put, the Evo aims to make your iPhone waterproof and weather-resistant!
The Xplorer has a unique, sleek design with a clear, matte back cover and a rubber casing around the edge to keep your iPhone from drowning in a puddle. While the case itself isn't exactly the thinnest, most minimalist case out there, its simple design and less bulky build made it a clean-looking waterproof case for your iPhone 6s.
You get access to all ports and buttons with the Xplorer, thanks to a water-tight clip locking system, so you don't need to take the case off and on constantly to charge your iPhone or lock it.
See at Amazon (opens in new tab)
ZVE waterproof case
The ZVE waterproof case for the iPhone 6s isn't just a stylish-looking accessory that comes in two cool colors (black or black with a bright blue accent), it's an iPhone case that can live through a 6.6-foot drop; A.K.A., it exceeds the military grade standard.
This watertight iPhone 6s case will keep your touchscreen fully functional, while still allowing you access to all ports and controls. The case's thinner design makes it a great day-to-day option, and its built-in scratch protector prevents your screen from getting too dinged up.
Fully protecting your iPhone against snow, ice, dust, or rain, the ZVE waterproof case is a waterproof winner when it comes to saving your iPhone 6s from the elements.
See at Amazon (opens in new tab)
What's your pick?
Let us know what your favorite waterproof iPhone 6s case is and why! Do you prefer ones that are on the thinner side? Ones that specialize in photography? Something a bit more stylish and hip-looking? Let us know in the comments below!
Get the best of iMore in in your inbox, every day!
Cella writes for iMore on social and photography. She's a true crime enthusiast, bestselling horror author, lipstick collector, buzzkill, and Sicilian. Follow her on Twitter and Instagram: @hellorousseau
Hi there!
What do you think about this Waterproof case? I really liked this thin design. It reminds me those old iPhone bumpers. :-) https://www.amazon.com/dp/B01HLZO8CW?psc=1&tag=hawk-future-20&ascsubtag=...

This is my choice: MoKo Cellphone Dry Bag https://www.amazon.com/Universal-Waterproof-MoKo-Cellphone-devices/dp/B0...

No love for Catalyst waterproof cases?

How about a real world review of the case instead of just copying the description and posting Amazon affiliate links.
This article does not help me in any way decide on which to buy to protect a $700+ phone.

LifeProof all the way. Sent from the iMore App
Thank you for signing up to iMore. You will receive a verification email shortly.
There was a problem. Please refresh the page and try again.