Best wide angle lenses for iPhone photography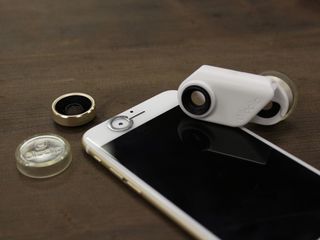 In iPhone photography or iPhoneography, wide-angle lenses are used to allow more of the background/image/subject/scene to be included in a picture due to the lens' short focal length. Focal length can get complicated, but if you can remember that the shorter the focal length, the wider the field of view, the more stuff you can fit in your frame, then you're pretty much set.
Wide-angle lenses are perfect for iPhoneography because they allow you to literally expand you point of view without whipping out a DSLR. You no longer have to struggle with fitting all your subjects conveniently into one field of vision – simply pop on your wide-angle lens, lineup your shot, and get creative!
Mobi-Lens Wide Lens
Why you can trust iMore Our expert reviewers spend hours testing and comparing products and services so you can choose the best for you. Find out more about how we test.
Simple to use, easy to install, and capable of capturing stunning pictures, the Mobi-Lens wide lens is a stunning little companion for your iPhone.
Just clamp the Mobi-Lens over your front or rear-facing iPhone camera and adjust until your image is crystal clear. You can fit up to 65% more of the background into your snapshots with your wide angle lens, and you don't have to worry about removing your bulky phone case to use it – Mobi-Lenses are designed to fit over most phone cases while still being able to take vivid photos.
Moment Wide Lens
While the overall price tag may be a bit higher for Moment's products, their lenses quality and cases are hard to compete with, especially when it comes to wide wide angle.
Moment designed their wide lens to capture detailed landscapes and tight interior shots with little to no distortion, meaning you can snap a clear photo without the subjects in the image looking like they'll melt together.
If you have your eye on this wide angle lens, keep in mind that you'll have to buy the accompanying case (opens in new tab) (between $50 to $70) or mounting plate ($10) because you'll only be able to use Moment's lenses by screwing them directly onto the mounting plate or case.
Photojojo's Magnetic Lens Series
Using a small magnetic ring that sticks directly to your iPHone with an adhesive, Photojojo's Magnetic iPhone lenses are probably the quickest type of wide angle lens to install, so you never miss that perfect moment.
Each lens is made out of solid aluminum and comes with high-clarity glass to capture the crispest pictures possible. To use the lenses, simply stick the magnet to the ring that's adhered to your phone and voilà: You are officially a wide angle wizard. Keep in mind that magnetic lenses aren't as sturdy as lenses that clamp or screw onto your phone, so be careful when you're shooting.
You can either pick up the wide angle lens on its own ($20) or get the sampler package ($49), which includes telephoto, fisheye, macro, and wide angle lenses.
Olloclip Telephoto + Wide Angle + Macro 10x
Pack an iPhoneography punch and capture the colorful world around you with Olloclip's magnificent wide angle lens attachment!
Just slide to secure your Olloclip over your iPhone's camera and snap it into place. Once it's secure, you don't have to worry about your Olloclip popping off and breaking in the middle of a photoshoot – Olloclips are durable and work well with almost every type of photography style, so feel free to hang upside down, jump, stretch, and strain for your shot!
The wide angle lens (with a hidden macro lens underneath) can be interchanged with the device's telephoto lens, so you can customize your shots to your liking.
See at Olloclip (opens in new tab)
AUKEY Super Wide Angle Lens Kit
Manufactured with superior grade glass and a durable aluminum body, the AUKEY super wide angle lens takes users' perspectives to 238 degrees of awesomeness.
Using a light clamp with a rubber stopper, the AUKEY is able to fit over most devices and cases effortlessly. Feel free to shoot with your iPhone and then switch to your iPad or any other device without losing image quality or distorting your shots.
The 0.2x zoom also creates a soft fisheye effect without the dreaded black border most fisheye lenses produce.
See at Amazon (opens in new tab)
Your favorite wide angle?
What kind of wide angle lens are you using to hone your iPhoneography skills? Sound off in the comments below!
Get the best of iMore in in your inbox, every day!
Cella writes for iMore on social and photography. She's a true crime enthusiast, bestselling horror author, lipstick collector, buzzkill, and Sicilian. Follow her on Twitter and Instagram: @hellorousseau
I purchased the ztylus Prime lens kit and have been pretty happy with the wide angle lens.

Click-bait article - no info on 'best' - iMore is usually much better than this!

Moondog labs' animorphic wide angle lens should be on this list, for sure. Sent from the iMore App

looking to purchase that in the next couple of weeks

Need more prices for all the products Sent from the iMore App

No reviews, no sample photos, no way of knowing what to consider. I need those 2 minutes of my life back please. Oh, I have the Olloclip, it sucks.
Thank you for signing up to iMore. You will receive a verification email shortly.
There was a problem. Please refresh the page and try again.