Don't fall for these fake Pokémon Go apps if you're in the UK, Canada or Europe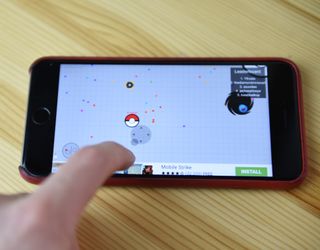 We've been talking about Pokemon Go a lot over the past few days, but that's not just because we're playing it and enjoying it immensely. It's also because there are so many people, like you, interested in it!
But Niantic Labs and The Pokémon Company, the team behind the smash hit, hasn't made the game available to everyone yet. As of this writing, it's only available in the U.S., Australia, and New Zealand, largely because expanding it would put too much strain on their servers.
That hasn't stopped some developers from trying to capitalize on the commotion, though.
Avoid these titles
This app isn't fake, per se, but it certainly isn't the game you're looking for. Instead, it's an app that indexes all of the known Pokémon across the entire franchise. Right now, according to author Akshat Jagga, there are "over 700+ Pokémon and counting" in the database, which is quite an extensive list. Each Pokémon listing includes detail, type, and attack information. Unfortunately, it looks like the app was merely adapted from being a generic Pokédex, since Pokémon Go only has 133 creatures in the game so far. Even some commenters appear to be revolting, saying that the app has no Pokémon Go-specific information in it at all.
Pokedex for Pokémon Go costs $0.99 ($1.39 CAD) and, while useful, is probably worth not worth the money since there are free alternatives. Amazingly, though, right now it is the number one paid app on the Canadian App Store — which speaks to the huge demand for the real thing!
Go Catch Em All! Hungry Monster.IO
This free "game" is currently the number one free app in many App Stores around the world, including Canada. Not only does it have nothing to do with Pokémon, but it blatantly rips off another hugely popular free game that made waves a few months ago, Agar.io.
The app is full of intrusive ads, and steals assets directly from Pokémon, so it's surprising that after four days on the App Store it hasn't been removed due to copyright violations.
Another existing game trying to capitalize on the Pokémon Go maelstrom, Catch Em! for Pokemon Go is, yes, Flappy Bird with a couple Pokemon assets. Probably avoid it, unless you are adamant about re-enacting the summer of 2013.
What to do in the meantime
Pokémon Go may not be available in your country right now, but on iOS it's pretty easy to switch regions in order to download it. If you're clambering to start catching 'em all as soon as possible, hit up our guide.
Get the best of iMore in in your inbox, every day!
Daniel Bader is a Senior Editor at iMore, offering his Canadian analysis on Apple and its awesome products. In addition to writing and producing, Daniel regularly appears on Canadian networks CBC and CTV as a technology analyst.
This highlights the major thing that's "wrong" with the App store and *always* has been wrong, and something that Apple seems to not care about nor be interested in stopping. I always run into this problem where you search the App store for a new app you've heard about, you use the *exact* string of the new Apps name, and what you actually get are a dozens of hits from *other* apps that are illegally copying the IP of the original. Sometimes you don't even get the new app, just the clones, copies and "accessory apps." I will never understand this. Apple has 100% control over the app store, they could stop this happening in a second, but here we are 10 years later and it's still happening every day. None of these apps add *anything* to the user experience. Why are they there? Why Apple, why?

It's worse in Google Play app store.. far worse. Apple's job isn't to censor or sue or anything on behalf of any programmer.. if the company complains, then they act.. Thats actually the way its supposed to be. If it wasn't, it would put Apple in an awkward position as judge/jury. While they do prohibit certain apps, and keep a COD they enforce.. It's best they stay out of judging if someone is copying others..

the quality of the Google Play app store has no effect on the Apple App store. You may as well compare it to the quality of apps at Alibaba. And yes, Apples job is to censor the app store. Hence why it's a private store.

There's nothing wrong with the app store. The problem is people's inability to check things online.

Victim blaming is always fun, right?

The Pokémon Go craze with be over in a week or two anyway. I'm not playing.

Good luck with that, people are crazy over Pokémon, the craze will be here for a while. Gotta catch 'em all first, anyway

My family has run into a bunch of other families who are taking walks after dinner who are playing also. I hope this is a good fad that lasts quite a while.
Thank you for signing up to iMore. You will receive a verification email shortly.
There was a problem. Please refresh the page and try again.