External iPhone Keyboard Hack Now 100% Jailbreak Free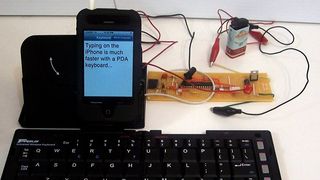 Turns out all you need is an old PDA keyboard, the iPhone 2.0 SDK, and a dream. Okay, that, plus tons of smarts and hackery. Hey, at least this one isn't as hard as the previous workaround we saw. Says Ars Technica:
The work is built on a 1200 baud modem that connects to the iPhone via the headphone port. This allows two-way transmission of data using frequency shift keying, the same method used in early modems. This modem was modified to accept input from infrared and USB connected devices, allowing the use of a keyboard. Further, a 2.0 SDK-compliant terminal app enables text input.
Will Apple ever open up the iPhone to real Bluetooth keyboard support? They did just announce A2DP Stereo, P2P, and SDK access for peripherals at the iPhone 3.0 Sneak Peek event, but not keyboards... Are we waiting on a special Apple designed iPhone keyboard to make an appearance at WWDC perhaps? Or will hacking continue to be the only game in town?
Rene Ritchie is one of the most respected Apple analysts in the business, reaching a combined audience of over 40 million readers a month. His YouTube channel, Vector, has over 90 thousand subscribers and 14 million views and his podcasts, including Debug, have been downloaded over 20 million times. He also regularly co-hosts MacBreak Weekly for the TWiT network and co-hosted CES Live! and Talk Mobile. Based in Montreal, Rene is a former director of product marketing, web developer, and graphic designer. He's authored several books and appeared on numerous television and radio segments to discuss Apple and the technology industry. When not working, he likes to cook, grapple, and spend time with his friends and family.
this spam. If you not wont recive it just remove this post. and i not return.

Not even a little bit interested in an external keyboard. But the implications of this workaround are intriqueing. 

Now we can toss our MacBooks in the garbage. :roll:

If you have the time and space to set up and external keyboard, use a MacBook!

And for those who prefer even MORE of a mess and inconvenience, you could use a potato instead of a battery.

It could actually look quite smart... a nice apple-made external keyboard. "All nice and smooth-liiiike..."
That said... iPhones are everything IN ONE. They offer convergence across all media - So, I don't want my pockets full of add-ons. "Solving lifes little problems one ADD-ON at a time" doesn't quite have the same ring as "APP".
I agree with Al... thats what Macs are for (though the feedback form the keyboard is sorely missing on the iPhone).

So all we need is an audio-bluetooth-dongle and apps can use real bluetooth with any iphone/ipodtouch? Why has nobody thought of that before? ;-)

i don´t see why a bt keyboard can´t work with 3.0 sdk...problem is, it will only work with custom made apps...well, imagine it working with Docs to go...should be enough

I just saw a new iphone AP , "Lightning Remarks", it speeds up keyboard use by 5-10X. Its cool, it has 1000's of pre stored remarks that , when replying to emails/texts (or creating new ones) you select categories and sub categories and you have available list of neat replies or messages. In 2-3 keystrokes you get 2-3 sentences remarks.Beauty is, it paste right back in emails. This is a cool idea for iphone users who want to speed up the keyboard use.
You can also add your own categories and remarks, this is limitless!

The first step that you will need to take when you're thinking of starting a business, would be to set the right price for your service. But using the passage of time, it is now certainly one of one of the most critical tools in demand, globally. There are as many options for the tiny to medium-sized business inside the managed services area as you will find for giant business. [url=http://www.zumtek.com ]www.zumtek.com [/url] Such online PC vendors likewise have an alternative choice of providing the computer support over the phone which can take greater resolution time. Computers aren't only the source of information but they are the cheapest and the fastest method of communication for us. Another most important feature is the very fact that these businesses will first diagnose the situation and when they can fix the issue then only they are going to charge you. Why Can They Need Services?. [url=http://www.scuba-vision.com/forum/memberlist.php?mode=viewprofile&u=128928 ]wordpress designs [/url]
Local Area Network is usually termed as LAN also it allows computers within a limited area to communicate with each other. Except any hardware issue you can find many tools and utilities in every later versions of windows that actually work like charm. They are extremely fragile machines and require the proper knowledge and guidance being successful. But Repairs Cost Money.
If you're encountering this error problem you can examine whether any alternative party applications is creating the memory conflicts or not. This way, he can eliminate the potential risks of experimentation in performing adjustments towards the hardware or software, which heightens the risks of messing up the computer. The person doing the task can generally fix the product. Conclusion:.
If you're getting the error message when you might be attempting to run the program on your own system, make sure your Windows operating product is compatible with the particular program that you might be running. There are numerous service suppliers that have been in the business for a lot of years now. This facility causes it to be easy for that customer as they does not have to mail towards the technicians or explain to him orally what the error is.
The key reason behind which services from the corporation is being preferred from the PC users is it's very easy availability. Most top rated repair services have full faith within their service quality and that is why they offer certain warranties also as guarantees. Nobody is ready to bear the troubles that generally exist in PC for any extended period as our day to day work has being completed in time. Your computer is constructed of sensitive components that are easily damaged. Moreover, these resources are for sale to 24x7, a factor which eliminates any requirement for you to definitely haul your PC to any outside resource.
Thank you for signing up to iMore. You will receive a verification email shortly.
There was a problem. Please refresh the page and try again.