Google Music now available for iPhone and iPad as an HTML 5 web app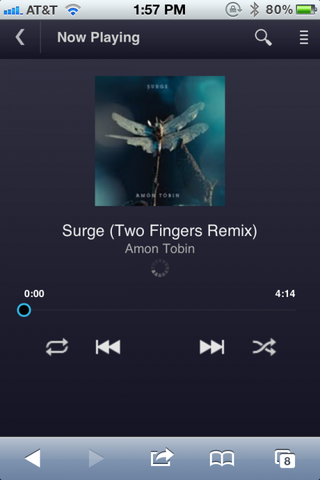 Google has announced via twitter that it now has an HTML 5 iOS optimized web app for its Google Music service. Google Music is currently a beta only service available solely in the U.S. If you already have an account, you can try it out and get access to all your content in this well designed web app. The web app works on the iPhone, iPad and iPod touch running iOS 4.
The web app is solely a music consumption interface and does not offer any uploading or managing of your content. You can browse songs by artist, album, genre or playlist. The app plays in the background while you do other tasks too.
Do any of our readers use Google Music? Have you tried out the HTML 5 web app? Let us know what you think!
Get the best of iMore in in your inbox, every day!
UK editor at iMore, mobile technology lover and air conditioning design engineer.
Hmm will this work in Canada through VPN? (don't care about licenses and all that just want to use it so please no "it's illegal" bull thx)

You only need to use a vpn or proxy to signup.

I just started using it on my iPad and it seems to Be working well. Once you sign in, populating your playlist and artist is a breeze. Playback doesn't take long to start. My only problem was the first song I tried to play, it quit half way through and skipped to the next song on my playlist. I was closing another app when this happened. Not sure if I lost data for a second or if this is a bug. Other than that, all is great. Safari does ask you to expand the memory limit to 25gb when you first open the page.

Did that say 25gb or 25mb?

Works well, though since my wife is the designated "music account" in our family I have to log out of my account and into hers to use it, which is irritating.
(Related question:, does anybody have any idea if iCloud will allow you to listen to music from somebody else's locker, when you have been authorized on their account?)

Beautiful html5 design honestly

Very nice! If you slide over to the "Songs" header, you can start one song, then hit shuffle at the bottom to shuffle all your music.

send me your email address. i will send you an invite to both.

There is an unofficial Google Music app for iphone in App store.
GoMusic
http://itunes.apple.com/us/app/gomusic/id457883228?ls=1&mt=8

yes the app is not bad but you are missing a few functionality like being able to rate a song or to add a song to a playlist and create new playlists. Too bad other than that it is pretty cool and very close to the native app.

It is truly a nice and helpful piece of info. I'm happy that you just shared this helpful info with us. Please keep us up to date like this. Thanks for sharing.
Thank you for signing up to iMore. You will receive a verification email shortly.
There was a problem. Please refresh the page and try again.