Hands on with the Griffin Helo TC Assault iPhone controlled helicopter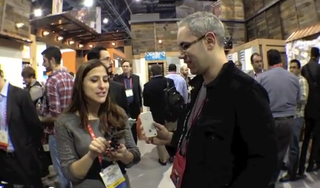 Live from CES 2012, we take a look at the newer, better, missile-shooting Griffin Helo TC Assault iPhone and Android controlled helicopter. Need we say more?
The Griffin Helo TC Assault will be available in the Spring for $59.99.
Get the best of iMore in in your inbox, every day!
Former app and photography editor at iMore, Leanna has since moved on to other endeavors. Mother, wife, mathamagician, even though she no longer writes for iMore you can still follow her on Twitter @llofte.
Yes. Yes you DO need to say more. For starters: when will it be available? Price? On board cameras? One type of model? What else makes this version "better"? What's the "missile" look like? How many can fly at a shot? Does Android's signals conflict with iOS devices?
This has got to be the crappiest reporting I've seen thus far. Stop drooling over the chick and with the stupid "wow, the company made something fun!" comments.
DO YOUR JOB!

Most likely it will be the same price as the current one and be overall similar accept for the missile launcher. No cameras, probably a stronger build possibly. As for signal conflict, the current one has 3 channels of infrared, so they wont interfere with each other.

All speculation. None of that(but the 3 flying at time) is reported and I could speculate on my own, thanks. Secondly, the 3-flying is not what I as asking. I was asking if you can have 3 iOS and 3 Androids or just 3 total.

Steve, while constructive criticism is welcome, there's really no need to be rude.
And please keep in mind we all had a ton of ground to cover in a few short days. 20 minute interviews with each booth is very unrealistic.

Added that it will be available in the spring for $59.99 to the post.

It's just Griffin's version of the same missile firing helicopter that's been available elsewhere for a while now. It's new for them, not new in general. We've got one in for review and we'll put it through its paces.
Pricing and availability are a press release. When I'm at a booth I want to know what the company is thinking and doing, I just just want them to rehash the press release. I want the next ten words.
Otherwise why bother going there?

I want to see the ultimate Battle between Phil and Rene. Come guys make it happen.:)

Does anyone else think this sight is broke? A lot of the other websites even lone youtubers have much better cameras and actual mics
Not saying u guys are doing a bad job, its just something I noticed.

We're getting a mic for Macworld!

Music Will Change... Foreverwww.musicwillchangeforever.com

Did u guys use the olloclip for the lens on the iPhone?
Thank you for signing up to iMore. You will receive a verification email shortly.
There was a problem. Please refresh the page and try again.