How to download and sign up for Pokémon Go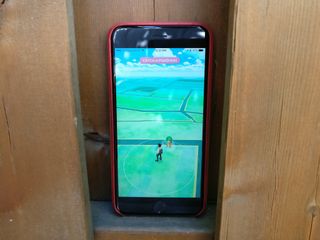 Pokémon Go is everywhere right now. It's in our pockets and on our minds, in shops, gyms, and old converted churches. But in order to join the Poké-lution, you have to sign up for Pokémon Go! Here's how to do it.
How to download and sign up for Pokémon Go
Open the App Store from your home screen.
Tap Top Charts on the bottom tab. (Alternatively, tap Search and enter 'Pokémon Go').
Navigate to Free tab.
Tap Get and then Install.
Authorize with Touch ID or enter your password.
Return to your home screen.
Tap the Pokémon Go icon.
On the sign up screen, tap the Google icon.
Enter your Google username. (Alternatively, tap Create account and follow instructions).
Enter your Google password.
If applicable, follow two-factor authentication procedure.
From there, you can learn about Pokémon Go from Professor Willow, and choose your starter Pokémon.
Why use a Google account over Pokémon Trainer Club?
At the moment, it seems that signing up for a Pokémon Go account is easier and more reliable with a Google account, as the option for Pokémon Trainer Club is often overloaded or — on some devices — entirely disabled.
If you don't have a Google account already, it may be a good idea to create one while signing up for Pokémon Go since it may be useful in the future. Signing up for a Google account is only available to those over 13 years old in the U.S. and all other countries (16 in the Netherlands, and 14 in Spain and South Korea). If you are under 13, please talk to a parent before signing up.
Questions? There's lot of help in our forums!
We're just getting started with Pokémon Go, but if you have any burning questions, or just want to talk about how amazing (and addictive) the game is, head to our forums!
Daniel Bader is a Senior Editor at iMore, offering his Canadian analysis on Apple and its awesome products. In addition to writing and producing, Daniel regularly appears on Canadian networks CBC and CTV as a technology analyst.
I signed up with my Google account. It seems like every couple of hours after I have not used the app, I have to re-log in with my whole login process again. This is annoying because I have both 2-factor authentication on my Google account, but also a bloody hard password that I cannot type (random character generated with 1Password). Is anyone else having the same issue of being booted off and having to relog in? Is this something I need to get use to?

There's no google account icon on My screen can someone help me

I don't have tha Google sign in button

I have no Google sign in icon

How to get the Google icon for it?

I don't have a Google option on mine

what how can I not use Google I tryd but no google told me to make anouther account so I did but still diddent work I'm not happy

This is dumb how I can't sign up with Google the creators should make this a thing because I can't play without signing up with Google plz plz make a opchion to sign up with Google please please creators make a updated that dose that please

Guys to get the Google icon you need to be 13 or over so when you put in your birth date make sure it's at least 13 then the icon will come up

When i use Google sign in, it tells me "Our servers are humbled by your incredible response. We are working to resolve the issue. Please try agian soon!" Is it because i already have a trainer account? Help!?

Can somebody help me log into it without a google account cause i unistalled it and now i cant log in with google ?
Thank you for signing up to iMore. You will receive a verification email shortly.
There was a problem. Please refresh the page and try again.