iMore Editors' Choice for October 7, 2012 [Giveaway]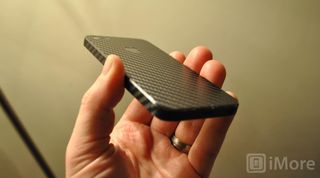 Every week, the editors at iMore carefully select some of our favorite, most useful, most extraordinary apps, accessories, gadgets, and websites. This week's selections include a collectable card game, a TV show, a new App.net client for the iPhone, a passbook compatible app, and an iPhone 5 case that we're actually giving away to 12 UK readers!
Carbon Fibre Vinyl Skin - Chris
This week I have gone for some minimalistic protection for my iPhone 5 in the shape of a carbon fibre vinyl skin. If you are concerned about scratching or scuffing your iPhone and hate using a case then there are other options and this one is a great one.
I bought a carbon fibre skin from UK supplier Carbon Fibre Skins and it is a full body skin that covers the back, sides, top, bottom and front (except the screen) of your iPhone without bulking it up at all. Fitting the skin was really easy and the final result was excellent. There is no need to apply any glue and the skin can be removed as easily as it is fitted without leaving any leftover residue.
Best of all, you can now stop worrying about scratching your iPhone when you put it down on hard surfaces or anywhere else that it may come into contact with something that can scratch it. The skins are available in many different colors and designs like an alligator skin look, wood look and white, black and silver carbon fibre look. They are really nice and come in sizes to suit the iPhone 5, iPhone 4 and 4S and many other tablets.
The good news is that the guys at Carbon Fibre Skins have given us twelve full body skins for the iPhone 5 to give away to the iMore readers. So if you fancy winning a skin for your iPhone 5, make sure you enter. To qualify, you must be from the UK with a UK postal address. Simply make sure you are following [@imore] (https://twitter.com/iMore) and @carbonfibreskins on twitter then visit the giveaway forum thread and leave a post confirming you are from the UK and following both twitter accounts. Good luck!
£6.95 - Carbon Fibre Skins
I got sucked back into Magic: The Gathering this week on the iPad. They recently released a new expansion with multicolored decks, so I just had to finish up the campaign and work on unlocking a few more. For those that aren't familiar with the classic fantasy card game, Magic: The Gathering pits players against one another as interdimensional sorcerers that tap into the natural power of the lands under their control to summon powerful creatures to their command, acquire timeless artifacts, and sling arcane spells all willy-nilly. The nice thing about a digital version of a card game like Magic is that all of the fine details of the rules are quickly accessible, and when you're playing against AI, you can always pause to guiltlessly take your time with your next move. There's also online multiplayer if you're feeling especially competitive.
You can get a trial of the core game for free, but it's $9.99 to unlock the full thing, and $4.99 for the new expansio (plus a buck for each deck that you can't be bothered to unlock through regular gameplay).
Forget the politics. Forget the era. The West Wing is one of the finest programs ever to grace the airwaves. Phenomenal actors matched with pitch-perfect dialog combines create texture and gravitas and drama and exultation rarely seen in any medium. It's not perfect. There's Mandy, but she disappears after the first season. So do other characters. So does the show runner, Aaron Sorkin (The Social Network, Sports Night, The Newsroom), after all to few seasons.
When it's firing on all cylinders, however, when it's asking us to expect more, to debate and argue better, to consider the consequences, and to prepare answers deeper than just ten words, it's untouchable. And, funny.
The pilot (s01e01) is free on iTunes (in the U.S. only) so download it and give it a try. You won't regret it.
If you've ever used Tweetbot for iPhone or iPad, you'll be right at home with Netbot for the App.net service. Netbot's look, feel, and functionality are exactly the same as its Twitter counterpart, which is what I love about it. I always value consistency and appreciate that there wasn't anything to learn or re-teach myself.
I've always gotten bored when it came to Twitter clients until Tweetbot came out. I'd jump from one to the next never really caring for any of them enough to stick with them. Tweetbot solved that problem and I'm glad that I have an App.net counterpart to use so I don't go through the same issue when it comes to choosing a client. Netbot is available as separate downloads for both iPhone and iPad.
Starbucks
The Starbucks app was finally updated earlier this week to support Passbook and it's so awesome! Now you can select your favorite locations and add your Starbucks card to your Passbook. When you arrive at one of your favorite locations, a notification will appear on your lock screen at that gives you quick access to your Starbucks card. This notification will stay there, even if you view your card, so that it's conveniently available the entire time you're at Starbucks. Although it sticks to the Lock screen, I was disappointed when there wasn't a notification in Notification Center that I could swipe down and access. Instead, I have to lock my phone, then turn it back on to see the notification. Hopefully that gets fixed soon. My other gripe is that the actual Starbucks app still doesn't support the iPhone 5's bigger display.
Your choice?
Now that we've chosen our favorites for the week, we want to hear yours! Did you pick up a killer app, accessory, or game this week? Let us know in the comments below!
And if you're in the UK, don't forget to enter for a chance to win a Carbon Fibre Vinyl Skin!
Get more iMore in your inbox!
Our news, reviews, opinions, and easy to follow guides can turn any iPhone owner into an Apple aficionado
Former app and photography editor at iMore, Leanna has since moved on to other endeavors. Mother, wife, mathamagician, even though she no longer writes for iMore you can still follow her on Twitter @llofte.