InvisibleShield Glass+ 360: How much clarity does your iPhone deserve?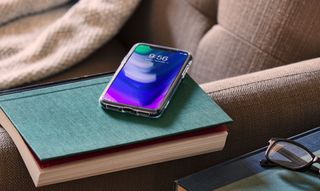 Phones used to be nothing more than blocky devices to accomplish tasks. Now, they're statements of beauty, an extension of ourselves. They're how we express our inner-most talents and desires. So the idea of hiding a gorgeous new device under a bulky case and a cheap, cloudy screen protector? That's just feels wrong on a fundamental level.
Fortunately, InvisibleShield lets the iPhone's natural lines take center stage with sleek, discreet, 360-degree protection. The painted glass border coordinates perfectly with the color of your iPhone, and the beveled edges of the screen protector seem to disappear onto your screen.
Like its name suggests, Glass+ 360 covers the iPhone X, iPhone 8 or iPhone 8 Plus from every angle. It has smooth tempered glass on the front, a powerful hybrid glass on the back, and a clear, durable bumper to protect the edges and corners. Tests have proven that an iPhone with Glass+ 360 installed has 3X the shatter protection of an unprotected screen.
Even the clearest images lose their impact if viewed through cloudy screen protection. Glass+ 360 screen protection has 100 percent clarity which means it works flawlessly with the enhanced optics of your iPhone's screen to deliver sharp, vibrant images and video. The meticulously designed composition of Glass+ preserves touch sensitivity so your phone responds to every tap and swipe.
Oil and smudges on a new phone? No thanks! Glass+ 360 screen protection is also oil and smudge resistant, so you don't have to worry about greasy fingerprints clouding up your screen. And it resists scratches, so your car keys won't ruin your precious phone in your pocket or bag.
Having an immaculate, clear screen is important, but it won't mean much if your phone can't survive a drop. That's why the raised edges of the Glass+ 360 bumpers are so important. When a phone drops, its corners are usually the first thing to take the hit, but Glass+ 360 cradles the edges of your phone perfectly. They also prevent your camera from touching flat surfaces when you set your phone down, so you never have to worry about your lens getting scuffed.
As impressive as the clarity and protection of Glass+ 360 are, the best part about it is InvisibleShield's limited lifetime warranty. It states that they'll replace your Glass+ 360 for as long as you own your phone, meaning you can enjoy total peace of mind to go confidently anywhere life takes you.
Get more iMore in your inbox!
Our news, reviews, opinions, and easy to follow guides can turn any iPhone owner into an Apple aficionado