iPad 2 installed in the dash of an F-150 [video]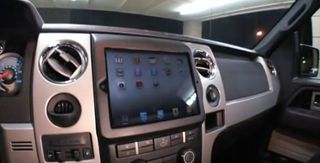 Car audio systems have improved dramatically recently but you have to take a look at an iPad 2 that has been installed within the dashboard of an F-150. The clever guys from SoundMan Car Audio go way beyond a simple car mount. They strip out the centre console and rebuild it to fit the iPad 2 perfectly. This was all done on the day the iPad 2 launch which makes the whole thing even more impressive!
The iPad 2 is the perfect car audio and entertainment system, the way these guys have installed it, complete with charging, video out to rear screens and the perfect fit and finish has really got us thinking. Car manufacturers really need to stop doing customised LCD panel audio and sat-nav systems and just adopt the iPad 2. This should be an extra in any good car manufacturer's price list! It makes so much sense and offers so much more.
Take a look at the video after the break, and then let us know what you think in the comments!
[Sound Man Car Audio via TUAW]
Get the best of iMore in in your inbox, every day!
UK editor at iMore, mobile technology lover and air conditioning design engineer.
The iPad's dependence on iTunes sounds like a deal-breaker, when it comes to permanent dash installations.
Obviously, some people have laptops they could bring to the car, but it still sounds a mass market impediment.

In the video, it's obvious that the iPad can be removed at any time. Fairly easily.

goose2goose2 on January 26, 2011 @tsport100 know much about wind tbeniurs> ?maybe do just a few minutes searching around, before shoot your mouth off and showing everyonewhat we already knew..that you don't have a clue.the gen-set alone cost over 700 dollars try looking up the cost of an axial flux gen-set,then you might consider even finding out just what , exactly that is .

Any way you slice it, that is bad a$$

Well, it slides out. Plus, you have 3G connection. I think it would be awesome to have one of these in my dash.

Not every iPad is a 3G model, not every 3G model has a 3G subscription all the time, and that does not eliminate the need to sync for back-up or transfer of documents.
But I agree that it is one great-looking custom installation.

At first I thought this would be crap. But he did a flipping great job on it and it looks truly awesome.
Now ima mount me one on my bmx!

I've wanted to do since the first iPad in my Jeep, but it's far too much work. Great work. Wish they made kits for this and I might finally be sold on an iPad.

If yourin Ohio I know a great guy who would probably give you one hell of a deal on the fabrication

mdruerkid200 on March 1, 2011 @Cargo1273 Cheaper brother???? You dont need to take a look at one to realize that they are made in the same factory wit hthe same parts of the same quality, the Escalade just has a couple more options and more bling. And really not everyone needs an Escalade??? I mean if i were to go off-roading, the navigator would be a better choice than an escalade due to the fact that it has higher clearence, less overhang, and 4X4 rather than just AWD.

atbee on October 14, 2010 Its a good wind tinubre design and i have many like it myself. I think it is basically a cowled wind tinubre but you should still go ahead and get it made and sell it, IMO

Talk about distracted driving.

You could always Jailbreak it, and buy WiFi Sync - most people that can get one/two bars in their driveway, can still sync it over WiFi.
Also, you could always use the PowerMat Charge Station behind it to keep it fully charged up whenever the car is running.

This is sweet, sweet, sweet!!!

You've got great ighsnits about weight, fat, toned, losslearn, foods, gym, speed, lost, youve, people, loss, burning, book, twelve, top, keep up the good work!

It would stick out slightly further, but he needs to figure out a slight swivel method so that facetime and viewing by either driver or passenger is improved

That is pretty damn sweet. He did a great job on putting it in. I though wouldn't do it. Distracting it would be.

Why use an iPad 2 when you hide it away like that? ...Just use an iPad 1...

How is anybody gonna watch you crash without facetime?

Does it control all of the audio, phone, climate control, etc. within the vehicle? Does this do voice recognition to enable this control (as well as touchscreen)? Does it interface to the built-in controls in the steering wheel (where your hands naturally rest)? Does it block video displays to the driver while the vehicle is in motion?(Recall we are supposed to be driving not interfacing with a tablet?) Does it do all of this without requiring an additional data plan beyond your phone? Ford's MyTouch does all of these.

They did a hell of a job makes the iPad that much better..

I want this! Incorporating technology that people ALREADY have versus trying to sell you yet another gps/media gadget...what a GREAT idea!

Awesome job. I wanna take my 89 bronco and have it done.

How is volume controlled?

They should put some external webcam in front.

neokdemon145 on June 18, 2007 The reason it wasn't presevered as well. They had to move it when they remodeled down town tulsa.
Thank you for signing up to iMore. You will receive a verification email shortly.
There was a problem. Please refresh the page and try again.