iPhone marimba alarm tone stops New York Philharmonic performance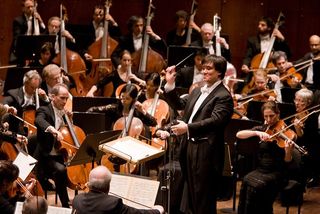 An iPhone Marimba alarm tone brought a total halt to a performance by the New York Philharmonic whilst playing Mahler's Symphony No. 9. The orchestra conductor Alan Gilbert, stopped the performance but the Marimba tone kept on playing. After a few words from Mr. Gilbert, the owner of the iPhone finally managed to turn it off and the concert was resumed. The man responsible for the stoppage has since apologized and asked to remain anonymous.
Mr Gilbert stated that the incident happened during one of music's most sublime moments and it did not stop even after a few seconds had passed. Mr. Gilbert has now accepted an apology from the anonymous man by telephone.
Source: New York Times Image: WSJ
Get the best of iMore in in your inbox, every day!
UK editor at iMore, mobile technology lover and air conditioning design engineer.
this, and Tri-tone are the most horrific tones the iPhone has to offer.. well, pretty much all of them now that i think about it

I totally agree, Tri-tone is hideous!

OK, they STOPPED the concert? Get real!

Yeah. He should've kept the orchestra going so oblivious, selfish, inconsiderate morons will continue being annoying and inconveniencing others in public.
The iPhone owner should be shot, thrown into a landfill, and covered with garbage. People will then make sure their phones don't interrupt performances.
Problem solved.

Look, it's bad that the alarm went off, no question, but for Gilbert the actually stop the concert is a worse offense. It's shaming and entitled, and reflects exactly the kind of attitude that has caused tickets to classical music performances to plummet.
What a pompous twit.

You seem more like a pompous twit. It is the most frustrating and hurtful thing to be a performer for an audience who doesn't care enough to turn off their phones. These performers are not only working, but they are putting so much of themselves into these performances. This performance can never be recreated, it's not a movie. The stopping of the concert may bother you, but I can say that I believe that those performers where even more bothered.
You're right it is shaming, which is what we as a society and social web need to do to people who commit wrongs. It was over the top, but had the conductor done nothing nobody would have told that man anything. Furthermore, if that man didn't realize it was him it most likely would have gone off again. He claimed that he didn't even know that phones had alarms, then how did it get set? His company gave him a phone with an alarm set for the middle of the evening? Blackberry have alarms, in fact so have phone for the past 10 years. I believe that he is lying so that it doesn't seem as rude of him
Finally, people don't support the arts. They think that classical music and the symphony are boring. That is why the sale are falling. Not because the general public think that people at the symphony are "shaming and entitled." I honestly doubt, people were before this incident, afraid to go to symphony because the conductor might get upset at them. This attitude that you speak of may just be a yearning for respect and appreciation. I suppose that since this man had an iPhone he get a pass.

While this person should have better understood how the phone worked, I can certainly understand how someone might mute rather than turn off. Do the pre-performance instructions say to be sure to turn off any devices as muting might not catch everything? I doubt it. $*(# happens!
re: "These performers are not only working, but they are putting so much of themselves..."
Yea, I get that, but it is also where a bit of the idea of 'pompous' comes from the other poster might be talking about. I've been to few other types of events where things have come to a halt because a phone went off. I don't have a problem with them doing so... but the way this comes off (and some of the comments) is that this was somehow something more important than other events that are commonly interrupted by cell phones.
That said, people ALL need to learn how their phones work and be more careful to properly turn them off during public events where it is rude to interrupt.... whether that's at a grade-school play, a movie, or even at the Philharmonic.

Of course - we don't know how many times the symphony has been interrupted by a cell phone ringer. We are human - and perhaps at some point Mr. Gilbert "had had enough". Life does go on...

1st time the NY Philharmonic has ever stopped a performance--ever, according to news reports. Don't put the blame on the conductor--they are trying to put out the best performance possible for ALL patrons.

World Will Change... Foreverwww.musicwillchangeforever.com

Wait... iPhones DON'T wake up even with alarms on! They only ring if the phone IS ON!

Nermind, it's written silent mode after...

In every concert hall there's a sign advising to turn cell phones off. So, unless you really believe you fully know how your phone behaves in all situations, turn it off.
Mr. Gilbert did the right thing because stopping and playing the same part over gives the whole audience a chance to hear the music properly and enjoy of what they paid for.

If the NY Phil is like any other (including the one I perform in), there is a mandatory announcement before EVERY concert to TURN OFF your cell phones, pagers, and digital watches. Not to put them on mute, but to turn them off. I can understand why this conductor stopped- it happened very recently in my own orchestra, not for a cell phone, but because someone brought a baby that started crying and making a huge racket. The peaceful, tranquil mood (and intense concentration of the musicians set to deliver the very best performance they could) was completely destroyed by a crying, shrieking baby. Our music director stopped the performance and politely asked the patron to please take the baby out of the concert hall, and we started over.
Every audience member who attends a concert, movie, etc... has the right to get their money's worth and enjoy the performance without interruption. For someone to bring an iPhone to a concert without knowing how to turn it completely off (when there was probably an announcement mad asking this patron to do so) is just irresponsible and inconsiderate.

Mr Gilbert sounds like a pompous ass who thinks his music is more important that this poor guy's feelings.

What about the feelings of the hard working musicians on stage? What about the feelings of the other audience members whose enjoyment of this music was ruined because of this incomcsiderate patron? This was a concert that hundreds of people had paid good money to hear, not a tv show. The pompous individual in this case was not the conductor, it was the patron who brought a phone to a concert and didn't know how to work it completely.

what about everyone else in the audience that was considerate enough to follow the instruction to turn off their cell phones, only to have their experience interrupted by this chap?

at least sexy and i know it didnt play if he was a android owner

I bet you he now hates his iPhone and wishes he had his Blackberry back. haha RIM FTW!

Ah, words from yet another one of this generation's fine and upstanding entitled little pricks.

Pretty nice post. I simply stumbled upon your weblog and wished to mention that I have truly loved browsing your blog posts. After all I will be subscribing on your feed and I am hoping you write once more soon!

I do not even know how I stopped up here, however I thought this publish was good. I do not realize who you might be but certainly you're going to a famous blogger for those who aren't already. Cheers!
Thank you for signing up to iMore. You will receive a verification email shortly.
There was a problem. Please refresh the page and try again.