Last.fm will soon require subscription to stream to iPhone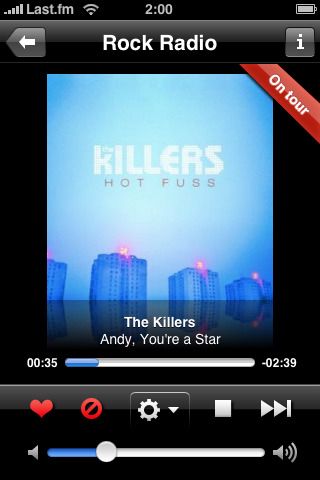 Beginning February 15, Last.fm will require a subscription to stream music to your iPhone and it will be ad-free. Here's what Last.fm's VP of production, blog Matthew Hawn had to say:
Interestingly, streaming to mobile apps and on home entertainment devices will become an ad-free, subscriber-only feature with the exception of Windows Phone 7 and Xbox users. The ad-supported model will also still be available on the desktop app.
A Last.fm subscription is reasonably priced at $3 per month. You can sign up here.
Any Last.fm listeners planning to subscribe?
[wpcentral]
Former app and photography editor at iMore, Leanna has since moved on to other endeavors. Mother, wife, mathamagician, even though she no longer writes for iMore you can still follow her on Twitter @llofte.
Ionno bout this. Last.fm is no better than slacker n pandora. Both have paid n free models. I dont see y anyone would pay. For the most pArt, if your using headphones, you dont see the ads anyway. Ionno. Just my thought on the matter

I had been a subscriber since about 2006, but I cancelled when I found Pandora. A better app, more music and it streams to my iPhone. No, I will be done with Last.fm. They don't offer anything worth paying for.

meh... waiting for grooveshark app :S

Deleted. I prefer Pandora and Sirius anyway.

I used Last.fm for a little while but won't ever again. Pandora is free and offers more music that I enjoy IMO. I think Last.fm is crazy for doing this and they won't last long I'd think.

Huh, so I used to have a folder just for music apps, but then I attempted to make my app folders more efficient, creating a media folder instead. I felt a little bad bumping Last.fm out to a misc folder two pages over... now I can just delete it! I'm not all about free only or anything, but I do feel that Last.fm's music selection pales in comparison to Pandora and Slacker, though I thought there was enough value in its database from iTunes scrobbling to keep it around. Oh well, you win some you lose some!

Technically they have way more music than Pandora, but there app isn't even retina optimized or made for iPad, and that makes them seem lazy. And for the same price I can upgrade to Pandora One if I really wanted a better experience. I already deleted my Last.fm profile out of protest for them charging for an inferior product.

I have moved from Last.Fm to Rdio. You can pick songs to play instead of playing at random. Play an artist radio with related artists thrown in. Rdio is awesome.

well..ill move to pandora. or something else.
this wont bode well for lastfm
i know i know that this is peanuts for the $ but give me a choice..dont force me. ill move on to something else if you force me.

Accuradio !! Free and unlimited skips thru song!!

I just deleted last.fm just out of spite. Sure, it was only 3$ bucks a month, but with so many free services, why pay for this one?
Pandora is a lot better because the software is just written better. Ultimately, More songs with more relevance play on your radio station with pandora than it does with any other music services.

See, this is a mixed bag for me. I listen to pandora and slacker more frequently, however, I listen to both stations regularly, but the songs become repetitious after about 20-25 songs. I used last.fm to switch it up, but can't justify paying for it.
Sorry Last.fm, you weren't that great, and now youre being deleted.

I HATE MONTHLY FEE SERVICES. This will fail!

Deleted last.fm from iPhone 4, macbook pro and Xbox 360.
Would have paid for last fm but only get 1.5gb of data a month
I will be moving all my music to zumodrive, dropbox and will stream from zumocast or libox

I've always used slacker but at least this is cheap for the people who loves it

Just read this story and immediately deleted last.fm from three iDevices of mine. As others have already mentioned there are higher quality (and free) alternatives, such as Pandora.
I don't mind paying for apps/services but paying monthly fees for internet radio is senseless with so many free offerings.

Deleting last.fm from xbox is pointless, as the subscription is covered by the gold live membership, if you have one, so it's included in cost of that.

That's the end of Last FM for me. It's too bad, because I actually liked the music choices better than Pandora, and it had less repeats which is so annoying with Pandora.

Besides, Pandora is no longer available for UK users, neither is Slacker.

membership, if you have one, so it's included in cost of that
http://sumbydee.com/smf/index.php

I wish you guys understood that some of the free alternatives are not truly free. Rdio gives a 7 day trial, but then have to pay $4.99 for just the web or $9.99/mo to use the mobile apps. Grooveshark is free for web, but there's limited function and it costs $9/mo to get the mobile apps. Sure, there are other truly free services (like Pandora), but if you listen to International Music then there is no better streaming site than Last.fm. For this reason alone, once my 3 month trial expires tonight at midnight, I will gladly pay $3/mo to keep using the mobile app.

I searched exactly for this information.

You can certainly see your expertise in the paintings you write. The sector hopes for more passionate writers like you who aren't afraid to say how they believe. Always go after your heart.
Get the best of iMore in in your inbox, every day!
Thank you for signing up to iMore. You will receive a verification email shortly.
There was a problem. Please refresh the page and try again.