This is Microsoft's Word Flow keyboard for iPhone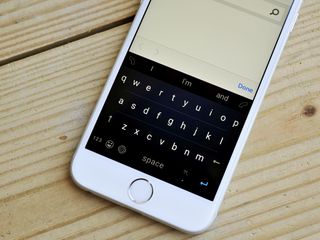 Just a few days ago Microsoft published their Hub Keyboard to the Apple Store only weeks after it initially went to Android. The news was odd if only because we knew that Microsoft's Word Flow keyboard was destined for iOS as well.
Were Hub and Word Flow keyboards one and the same or would Microsoft release two keyboards for Apple and Google?
Tonight, we have our answer as the Word Flow private beta has evidently begun. A reader of the site sent us a copy of the email notice along with a gallery of screenshots from the new iOS keyboard. The Store listing mentions about keeping the test private (sorry) and boasts some of the features of the keyboard, including:
It's Blazing Fast
Whether you're tapping or swiping, Word Flow predicts what you're trying to type and corrects mistakes.
Word Flow intelligently suggests the next word in your sentence and gets better at it over time.
With access to your Contacts, Word Flow autofills the names of your contacts so you can go even faster.
Personalized – just how you like it
You can customize Word Flow background using one of the images included in the app, or use your own favorite image.
All the images included with the app are free, and we'll keep adding new ones.
Best for one-handed typing:
Switch to Arc mode and easily reach keys on larger screens for a more ergonomic one-handed typing experience.
Besides having Microsoft's intelligent typing engine iPhone users evidently get to have customized backgrounds as well through built-in Themes. Looking at the screenshots and it appears there are at least eight themes for now that add a unique and colorful background to the keyboard. Users can also add their own image for added flair.
The keyboard download is 80MB, and it is currently version 1.0 (build 113). The current version requires iOS 9.0 or later and only supports English for now.
The beta expires on June 7, 2016, which may give a hint as to when Word Flow for iOS will officially launch, though we will have to wait and see. So far, Microsoft has not said anything publicly about the new software and whether it would be going to Android as well. Going by Microsoft's past practices, we bet Android fans will get their hands on this keyboard sooner than later.
Any way to get an invite? Sent from the iMore App

There is no public option to enroll/apply AFAIK. Seems to be based off usage of other products/surveys filled out.

I remember when word first came out about it that they were offering it to Windows insiders but I never saw anything about it on the site, but I also didn't have an iPhone yet so I didn't look into it that thoroughly. Maybe they're checking for insider accounts logged in on apple devices and sending invites based on that. Sent from the iMore App

Hey Daniel, I remember awhile back I saw something I believe on iMore regarding this keyboard so I went to microsoft garage and signed up to be notified when the beta would be available. I just recieved an email with my link to start testing the app. I am in the process of downloading it as we speak. I am not sure how to add attachments or I would send a screenshot for legitimacy.

Thanks! No worries though as one of us here (cough, me) just got in too :P

If this works like it works on Windows Phone then it will be excellent and worth checking out. Sent from the iMore App

This would be so cool if third party keyboards were actually implemented correctly.

I'm sorry but what exactly do you not like about something like swiftkey? I used it for years and years on android and have used it on iOS and it seems to work perfectly fine for what it's supposed to do. Some of you people who use apple products need to get off of your high horse and stop thinking that something is crappy just because it's not made by apple.

smh, third party keyboards are horrible on iOS and its Apples' fault. I didn't blame Swiftkey or even mention Swiftkey, but thanks for letting me know your feelings any way.

They work fine for me now, although they were buggy to begin with

It's a keyboard, not a game

I currently use Touchpal. But I definitely prefer Microsoft's offering. Coming from WP, I feel it has better swipe recognition of words. Plus, as seen by the pics, you can add words. Looking forward to it.

Once 3rd party keyboards have voice dictation added then they will be worth using. Sent from the iMore App

As a former Windows phone user, this is great news. Now we just need an iMore app that is as good as the Windows Central app. Sent from the iMore App

Yes! Sent from the iMore App

Microsoft suck, I'll never use any of their stuff again. Sent from the iMore App

You must be a very reasonable person, huh? Posted with the Nexus 6, Nexus 5, or Surface Pro 3

Oh I'm a reasonable person with great products that are made by Apple, heck even Google (through gritted teeth) but Microsoft should keep their crappy "word flow" keyboard on their crappy WP junk of an operating system. Sent from the iMore App

You've clearly never used either. WP or WordFlow. Sent from the iMore App

I used iron WP it was terrible. Sent from the iMore App

Clearly the keyboard you are currently using could use some better autocomplete options... Maybe this keyboard will be something you should try :)

U are just scamming the chat. My middle finger salutes you sir Sent from the iMore App

Having been using it for the last 24 hours on my 6S Plus, I cannot agree that it is crappy. I like it more than the built in keyboard. The autocorrect is better than iOS, for example. And it will only get better.

Try the New Microsoft under Nadella, it's a different company. Not as innovative as Apple but it's still good.

> Not as innovative as Apple but it's still good. LOL! Yep, Microsoft totally copied the iPad Pro with the Surface. Also, Apple invented HoloLens!

The expiry date of a beta is not a clue to the possible launch date. All app betas made available through Testflight have a 60-day expiry from their upload date.

Needs work on the iPad. So much work on the iPad.

I have both 6S and 950XL as daily drivers and imo the W10M Word Flow keyboard is so much better than the stock ios keyboard. It'd be interesting to see how they would integrate the 3D Touch with the keyboard.

Would be interesting to see how the word flow keyboard will incorporate 3D Touch... Sent from the iMore App

I just moved from lumia i was missing this feature please bring it sooner Sent from the iMore App

Another WP refugee here and this is pretty much the last thing I miss from my WP days. It really is a great keyboard. I've been using SwiftKey for now, which is another great keyboard, but the layout and feel of the Wordflow keyboard has always been my favorite. Sent from the iMore App

The layout and prediction of Word Flow was great! I am using SwiftKey on Android and I have to make corrections.

I like how every Windows Phone user had commented on this article. Posted via the iMore App for Android

A lot of people have moved over from Windows Phone, and want to keep this keyboard

Yes! I feel at home in the comments section here, because I am also one of those people.

I really love this. It's much better than on my Nokia 1020 but that's really just a camera for me, lol Sent from the iMore App
Get the best of iMore in in your inbox, every day!
Thank you for signing up to iMore. You will receive a verification email shortly.
There was a problem. Please refresh the page and try again.