ISIS readying to go where Apple won't: NFC tap-to-pay for iPhone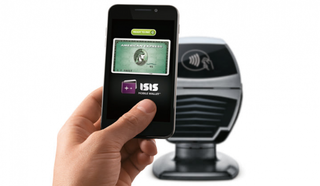 The lack of NFC on the iPhone is a downer when it comes to using it for tap-to-pay purchases. ISIS, however, has long been talking about coming to the iPhone through a tie-up with case maker Incipio. Prototypes have been shown off, but now, the folks at Engadget have received the first concrete evidence that these things might actually go on sale:
The tip was accompanied by a sneaky photo showing off the packaging, which clearly shows an iPhone and makes mention of the ISIS Mobile Wallet application – which of course, isn't yet available in the App Store. So it looks like finally, actually becoming a thing, but is it a thing you're actually interested in?
Editor at iMore, part time racing driver, full time British guy. Follow him on Twitter and Google+
F#&$ isis and the carriers that force it and block google wallet.

This. Carriers shouldn't have a say on what goes on my phone. Posted via the Android iMore app

I'm absolutely interested in my phone replacing my wallet. Unfortunately there's too much money at stake, everyone wants their own proprietary system, and it's slowing down the whole process.

NFC is great. When in waiting in line at Tim Hortons, I just tap my phone rather than fumbling for change or credit card. Posted via the Android iMore App on BlackBerry Z30

That signature is just all wrong lol.

Not really interested until it becomes accepted at more places and can actually replace a credit card. When my Nexus was my main phone I used it a couple of times but after the coolness factor wore off I went back to using credit card. Unless I can use it at every store I either forget to use it or just don't bother. Since I have to carry my cards anyhow it's just as easy to use the card.

That's why I got a Google wallet card sent to me. I like the concept, and I use tap-to-pay when I can, but I can use the card anywhere. I'd love to just ditch my leather wallet completely.

As much as I keep saying "NFC is a chipset, not a feature set", NFC tap-to-pay is everywhere here in Canada. I pay for my gas with TTP, my groceries. Heck, McDonald's works that way! Granted, it only works on payments $60 and under — you need to insert the chip and the pin for anything of higher value — but the convenience is amazing. I do worry about dropping my card and someone filling up, car and stomach, on my dime, but it feels like the future either way. If Apple doesn't eventually enable something similar, using NFC, Bluetooth LE, or whatever, I'll be surprised.

I think it is time that they do. I dont think a case is a solution my bank in Slovakia offers icarte since iPhone 4 - NFC case - payments under EUR 20 without a PIN over 20 PIN that you enter on your phone. I hae to add the bulk of the case to the iphone and change my chargers everywhere to USB. I think apple needs to either come up with iBeacon payments and make sure it gets adopted widely or put the NFC chip in.

These cases have been available in Verizon stores for a good while. $69.99.
They offered me a $30 bill credit if I bought one.

So that's what Archer and his gang are doing now that their old ISIS got shut down! Anyway, still waiting for a universally accepted solution (in terms of stores, phones and providers). Until then, at least credit cards nowadays have NFC chips in them and can be used for quick and contactless purchases under 40$ in some stores. But it would still be nice to be able to just use a phone instead. It would be awesome (and of course also creating new reason for concern) if we could virtualize our various cards (both debit and credit, maybe even other kinds of cards) onto our phone and freely switch between them. A product called Coin does something similar (several credit cards packed into one, though nothing to do with NFC), but it's not yet compatible with European cards (with a chip and magnet strip)... :/

I'm not that interested at this time, but if it becomes universally accepted my thoughts could change! Sent from the iMore App

After-market NFC sounds good, but I wonder how it affects actual phone use. My bank, BMO Harris already offers an NFC stick-on adhesive card to put on the back of the phone. However, it comes with a warning that it may affect your phone reception. Until I hear otherwise from end-users and tech reviews, it isn't worth compromising my iPhone to use it at the few stores or gas stations that actually use it.
Get the best of iMore in in your inbox, every day!
Thank you for signing up to iMore. You will receive a verification email shortly.
There was a problem. Please refresh the page and try again.