Optoma introduces iPhone/iPod dock sporting a pico projector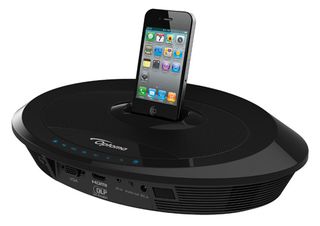 On Monday, Optoma, introduced a new iPhone/iPod dock to add to their line of pico projectors. They showed off their new model titled the Neo-i which will allow you to display your videos at a resolution of 854x480 and support images of up to 120 inches. Another interesting feature is this will support any app that has TV out capabilities, such as Netflix.
To fully take advantage of this unit you will need to be in a fairly dark room and ensure you have ample room between the wall/screen you are using and the projector. You will also be able to output 16W of stereo audio. Included are HDMI and VGA inputs for you to plug your computer or even your brand new Apple TV (opens in new tab)!
The Neo-i is set to debut in mid-December for a price tag of $449. Will the Neo-i be on your Christmas wish-list or are you content with using AirPlay or wires to get the job done for your video needs?
[ iPodNN ]
That doesn't look very "pico" to me. It's huge.

$449 ?!?!? I'd rather use that cash to buy another iPad!

So dump cable/satellite and get this and a new iPad. Streaming over the web keeps getting more attractive.

Here is a super lightweight pico projector,Built-in MHL Cable,3000mah Battery,Portable External Battery Charger for iphone,ipad,smartphone and other devices. http://picowill.com/coolux-q5-100-lumens-portable-hdmi-mini-projector-fo...
Get the best of iMore in in your inbox, every day!
Thank you for signing up to iMore. You will receive a verification email shortly.
There was a problem. Please refresh the page and try again.