Pokémon Go for Apple Watch: Best bands to catch 'em all!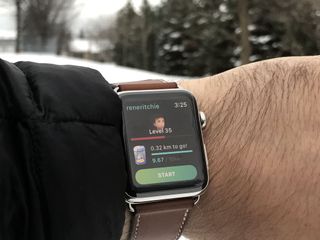 In case you missed it, Pokémon Go is now available for the Apple Watch, which makes tracking those little pocket monsters down a heck of a lot more fun and interesting!
Having a comfortable, good-quality, and super cool wristband to go with your Pokemon-ified Apple Watch is key, so we tracked down a couple of options that should pair perfectly with your new Pokemon hunting tool.
Here are a couple of the best bands to consider for your Apple Watch as you're playing Pokemon Go!
Topgraph leather Band
Designed with a high-quality, durable, genuine leather, the Nato Watch Strap in red/white stripes bares a strong resemblance to the color scheme of a Pokeball, making it the perfect partner for a Pokemon go player on, well, the go!
Though this particular Apple Watch band will only work with a 38mm model, the colorful band is both comfortable and adjustable to most wrist sizes, making it perfect for Pokemon Go players both young and old.
While this type of band comes in a number of vibrant colors, the best pairing for a Pokemon Go user would probably be the red and white stripes. Simply set your Watch Face to a Pokeball, and presto: you have a match made in Poke-heaven.
See at Amazon (opens in new tab)
FanTEK soft silicone sport replacement band
Are you on team Valor? Mystic? Instint? Want a super comfortable watch band that reflects your team-choice? How about one that fits both 38mm and 42mm Apple Watch models?
Okay, enough with the questions: check out the FanTEK soft silicone sport replacement band!
Built to pair perfectly with the Apple Watch, this comfortable and adjustable wrist band comes in three shades of blue, two shades of red, and one vibrant bright yellow, meaning you can show off your team colors as you're out and about, catching them all.
Oh, another option is to go and pick up a red band and a white band and attach one of each color to each side of your Apple Watch, which will give you those super bright and awesome Pokeball colors. Plus, the band is only $9.98, so you're spending around $20 for two interchangeable bands.
See at Amazon (opens in new tab)
Pokemon Pokeball custom leather strap replacement
If you're looking for an Apple Watch band that truly speaks the language of the Pokemon master, then look no further than the Pokemon Pokeball custom leather strap replacement.
Designed with an easily-adjustable metal clasp and crafted from top quality, durable leather, this Pokemon-irific watch is covered in tiny little Pokeballs of every type, showing that you truly are the ultimate Gym leader/Poke-master as you're out and about.
This watch band comes in both 38mm and 42mm sizes, and can be easily removed and installed so you can show off your sick Pokeball-throwing skills to the world in style.
What's your Poke-pick?
Is there a watch band that you think is absolutely Pika-perfect for your Apple Watch/Pokemon Go hunting obsession?
Let us know what your choices are in the comments below, and we'll be sure to check them out!
Get the best of iMore in your inbox, every day!
Cella writes for iMore on social and photography. She's a true crime enthusiast, bestselling horror author, lipstick collector, buzzkill, and Sicilian. Follow her on Twitter and Instagram: @hellorousseau