Pokémon Go for Apple Watch Guide: Tips and Tricks!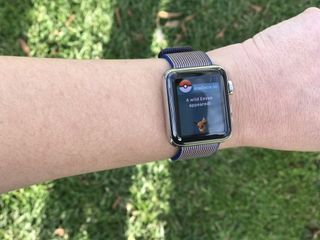 (Image credit: iMore)
Update: Pokémon Go is updating to support wheelchair workouts on Apple Watch. Apple added wheelchair workouts and "Time to Roll" for Activity Rings with watchOS 3. It's fantastic to see that coming to Pokémon Go now as well!
Pokémon Go on the Apple Watch is more than just a companion that pings you when a PokéStop is nearby (though, it does, and that's awesome). It also keeps track of how many steps you've walked, your distance, and how many calories you've burned during your adventure. You can find out about Pokémon that are nearby, loot PokéStop, and add your Poké workouts to your daily activity rings in the Activities app on Apple Watch. Let's go!
New: Latest Pokémon Go Updates | Next Pokémon Go Event
Hot: Best movesets | Best Power-Ups | Find rares | Catch bonuses
Guides: Pokémon Go tips + tricks | Pokémon Go cheats
How to start a workout in Pokémon Go for Apple Watch
The Pokémon Go app on Apple Watch is basically a workout app. You can't do anything without starting a routine. When you launch PG on your Apple Watch, assuming you've already gave permission to access your health data, tap Start to begin.
Pokémon Go will begin tracking your distance, total time on the workout, active calories, and steps. The calories and steps will switch back and forth on screen (no room for both!).
Next: start walking. Just like in Pokémon Go on iPhone, you get a buzz when a PokéStop or 'Mon is nearby. You'll also get a buzz on your wrist when you win an achievement and are about to hatch an egg.
Thanks to Pokémon Go on Apple Watch, if you are near a PokéStop, you don't even have to touch your iPhone to loot it. Check your Apple Watch for the notification, scroll down and tap Get Items, which is right below the picture. Then, swipe the PokéStop disc to collect the goodies. Tap Close when you're done.
Rinse and repeat throughout your entire walk.
You can pause your workout at any time by swiping on the screen from left to right. Don't tap the X. Just leave it on the Pause/End screen until you are ready to return to your workout. Then, swipe from right to left to go back to the workout tracking screen.
When you've finished your Poké workout, swipe the screen from left to right to access the Pause/End screen. This time, you do want to tap the X to end the session. You'll see a summary of your total distance, total time, active calories, and steps. You'll also see how many items you looted from PokéStops on your Apple Watch.
Because Pokémon Go is tied to your health data, your workout will also count toward your Activity rings in the Activity app, so you're getting doubly rewarded for having fun!
How to loot a PokéStop in Pokémon Go on Apple Watch
You could, potentially, never take your iPhone out of your pocket if you are playing Pokémon Go on your Apple Watch. You won't be able to catch Pokémon, but you will be able to loot PokéStops and move toward hatching those eggs.
If you're on a tear to hatch that 10km egg and don't have time to dilly-dally, catching Pokémon, start your workout and just ignore the Pokémon Nearby notifications. When you come across a PokéStop, you can loot it right on your Apple Watch and keep moving.
When the PokéStop Nearby notification pops up, tap it. Then, scroll down just under the notification and tap Get Items. Swipe the PokéStop disc to collect the loot. Then, tap Close when you're done.
How to see nearby Pokémon in Pokémon Go on Apple Watch
In addition to getting a notification when a Pokémon is right in your circle (and therefore, catchable), you can see other 'Mons that are in your immediate vicinity.
Pokémon Go calls them "Nearby" but they don't function like "Nearby" on iPhone, which shows you Pokémon attached to PokéStops in your area. Instead, Nearby on Apple Watch is more like "Sightings" on iPhone, which shows you spawn points within a few meters. The big difference is range. Nearby on Apple Watch will only show you Pokémon that you're right on top of, and will likely spawn the moment you pull out your iPhone.
And yeah, you can't catch on your Apple Watch. You have to pull out your iPhone and open the Pokémon Go app there to catch anything.
You can add the Pokémon Go complication to your watch face!
You can add the Pokémon Go complication right to your watch face, which shows you how close you are to hatching your eggs. Depending on the complication, you'll either see a little egg icon with an activity ring around it showing a graph of your percentage to your goal, or a small line of data showing how many kilometers you've walked and what the egg's goal is.
My personal favorite complication is on the Modular watch face. If you set it in the middle, it actually shows data for multiple eggs. The other complications have to fit into smaller areas, so they don't provide quite as much data.
You can't use Pokémon Go on Apple Watch without your iPhone
Pokémon Go for Apple Watch requires data fed from Pokémon Go on iPhone. So, if you leave the range of your iPhone, your workout session will just end, unceremoniously, without even a summary of your movement. It doesn't even pick up where you left off when you have your iPhone back in range.
That being said, if you are, say, running around a track and on the local Wi-Fi, you can start a Pokémon Go on Apple Watch workout, even if your iPhone is sitting in your locker or on the bench, since the two devices are still tied to each other.
Pokémon Go on Apple Watch tips and tricks
Loot PokéStops while catching 'Mons! - That's right, you can do both at the same time. If you are catching a Pokémon on your iPhone when you get a notification that a PokéStop is nearby, you can swipe the disc to get the items, even if you're in the middle of trying to catch a Charmander.
Nearby Pokémon notification helps you catch 'em all - Has this ever happened to you: You're catching a Pidgey, and it's a particularly fussy Pidgey – it doesn't want to be caught – when you get another buzz, signifying that there is another Pokémon within catching range. What to do? Do you keep throwing balls to catch that darn Pidgey, or do you tap the Run button to see what's waiting for you. Well, you don't have to make that decision anymore. Now, you can see on Apple Watch whether it is the elusive Jinx, or just another Pidgey.
Nearby Pokémon notification helps you decide whether to play or pass. - Sometimes, when you're actually trying to get somewhere, you don't want to be bothered with catching, yet another, Ratatta. When you check your Apple Watch to see what Pokémon is in catchable range, you won't feel as obligated to catch common ones because you don't have to actually pull your iPhone out to see what it is.
Pokémon Go on Apple Watch doesn't have to be a true workout. - On my first trip out with Pokémon Go on my Apple Watch, I walked about 2 miles. I also stopped at the store to pick up some candy canes and waited in line for about seven minutes. I never paused my workout. I kept it running the entire time. It pinged me when a Pokémon was in the store, and tracked my steps, even if I was only walking a few feet. So, don't feel like you can only use Pokémon Go on Apple Watch when you are going for an epic walk. Hit the Start button whenever you are out-and-about to track those steps and get those notifications!
You don't have to have Pokémon Go on Apple Watch open for it to work.- You can close the app and keep your regular watch face on screen. The Workout icon will appear at the top of the watch face where the red Notification dot usually is.
Conserve battery power on long workouts- As I mentioned above, you don't have to actively be working out in order to start a workout in Pokémon GO. You can, basically, set it and forget it, but this brings up the issue of battery usage. From my personal experience on launch day with Pokémon GO on Apple Watch, I drained about 10 percent of my watch battery during an hour workout. If you won't have a means to recharge your Apple Watch right after a long Pokémon GO workout session, you might want to consider ways you can save your battery life while playing.
Any questions?
Do you have any questions about playing Pokémon Go on your Apple Watch? Put them in the comments and we'll help you out.
Get the best of iMore in your inbox, every day!
Lory is a renaissance woman, writing news, reviews, and how-to guides for iMore. She also fancies herself a bit of a rock star in her town and spends too much time reading comic books. If she's not typing away at her keyboard, you can probably find her at Disneyland or watching Star Wars (or both).
So does the Pokémon go watch app work off of steps for distance or gps still? Reason I ask, if I am on the elliptical at the gym and do 5k on it, will the watch app then register that or do I still need to be moving for it to log my gps position? Sent from the iMore App

I can't yet confirm a full workout, but I walked in-place for about 3 minutes and Pokemon Go on my Apple Watch showed an increase of steps and distance.

All I want is to be able to wear my watch and the steps that it already tracks gets counted toward hatching my eggs. Why must you make me start some workout to be able to gain KMs toward hatching a egg?! Pokémon GO just keeps disappointing me. I'm gonna catch this first 150 and be done with it.

I think it is a bummer that the Pokémon workout doesn't include all the same info as a regular workout. For example, I like reviewing the map of my workout after going for a walk or run and seeing the areas I was running faster or slower. The normal watch workout app keeps track of this, but the Pokémon workout doesn't.

I also noticed the calories aren't accurate. I did a workout on the tread climber, avg heart rate of 146 for 40 mins and all i burned was 145 calories... This app is a waste if you actually want your workout info :| not to mention - my green ring didn't fill in!

Hi, If you app on your iwatch is open and also the app on your iphone, what does it measure? the steps on your watch or the distance on your iPhone?

Can someone tell me why when I ran this app for 41 mins on the tread climber with an average heart rate of 146 - I only burned 145 calories... Is this app even remotely accurate as a workout app or is it solely for hatching eggs... Because my green activity ring didn't even fill in with a heart rate that high... can we run the 'other' workout app as well when we use this?