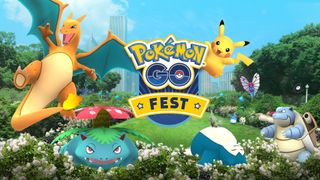 Pokémon Go held it's first real-world event — Pokémon Go Fest Chicago. It took place Saturday, July 22, 2017. While tickets sold out almost instantly and the event had serious issues, Niantic and the Pokémon community managed to come together in the end for a Legendary night in Chicago.
May 7, 2018: Pokémon GO Fest returns to Chicago from July 14 to July 15
Despite the problems last year, Pokémon Go Fest is returning for 2018. Because of the problems last year, it's getting a new format.
From Pokémon Go:
Sounds like fun. For more information, check out:
July 27, 2017: Pokémon Go Fest bonuses are over!
Following the original 48-hour post-Pokémon Go Fest bonuses and the additional 72 hours of extensions, the double XP, stardust, and candy, and other bonuses, ended shortly after 5 p.m. PDT.
Wow, but they were good while they lasted.
July 25, 2017: John Hanke, CEO of Niantic, comments on Pokémon Go Fest failures
John Hanke, CEO of Pokémon Go developer, Niantic, can shared his thoughts on the network and in-game failures at Pokémon Go Fest Chicago, and the company's plans going forward.
From Niantic
Hanke was amazing in that regard. He walked the event in the morning and then sat for hours beneath the pounding sun signing autographs, chatting, and handling an enormous amount of frustration from attendees.
I had a mix of both problems. In the media area, everything worked fine on T-Mobile. If I tried any other carrier or If I walked 10 feet out of the media area, either carrier service or Pokémon Go ground to a halt.
Grant Park is set up to handle the much, much bigger crowds of Lalapalooza. Pokémon Go was maybe one quarter or one fifth that size. My guess is they didn't properly account for the difference in data use between an average Lalapalooza-er and a Pokémon Go player, the networks got hit like a freight train, and they went down hard.
Both the carriers and Niantic should have known better. (And, obviously, Niantic had problems of its own as well.)
This part was truly amazing. A batter event, perhaps, than the one Niantic originally had planned. (I wrote about it here: Pokémon Go Fest Chicago: The fun, the failure, and the legendary)
I sincerely hope they do.
July 24, 2017: Pokémon Go Fest Chicago: The fun, the failure, and the legendary
Pokémon Go Fest Chicago brought almost 20,000 players together for the game's first real-world event. And it failed. Hard. But from that failure a real Pokémon Festival in Chicago emerged.
This was my experience:
Read Pokémon Go Fest Chicago: The fun, the failure, and the legendary
July 22, 2017: Pokémon Go Fest fallout: Lugia unlocked, all bonuses unlocked, Articuno on deck
Plagued by massive cellular data and Pokémon Go server issues, Pokémon Go Fest Chicago ended more with relief than fanfare. Thanks to the players in Chicago, all bonuses (XP, Stardust, Candy, etc.) have been unlocked. Thanks to players around the world, those bonuses will be active for 48 hours. And... the first Legendary Pokémon has been unlocked.
Because of the server issues, Pokémon Go Fest couldn't do a Legendary Raid on-site. Instead, everyone registered for the event will get Lugia added to their account.
Lugia will also start to appear in Legendary Raids around the world in the next 48 hours.
Articuno, one of the Legendary Birds, will be released shortly thereafter. That's thanks to Team Mystic, the team associated with Articuno, "winning" the day by virtue of catching the most Pokémon. (Valor was second, Instinct third, so Moltres and Zapdos are good guesses for the Legendary to follow).
For everyone in Chicago, the radius for "rare" spawns (i.e. Heracross and Unown letters C, O, and W) has been expanded to 2 miles around Grant Park. Special Pokémon Go Fest 2 KM Eggs have also been extended for 2 miles, as has the QR code sign-in process for the small percentage of players who haven't yet been able to register.
That'll last until Monday. Refunds, $100 Poke Coin credits, and Lugia will all be tied to registration, so make sure you get that done if you haven't already.
July 22, 2017: New Special Boxes in the Poké Shop just in time for Go Fest!
Pokémon Go Fest is about to kick off in Chicago and new Special, Great, and Ultra Boxes have appeared in the Pokémon Shop to go along with it. Inside are Premium Raid Passes, so you can battle in more Raids, Pinap Berries, so you can get double Candy for your catches, and Lures, so you can attract more Pokémon to PokéStops to catch. That's a lot of stuff for a few little boxes but, the big questions remain: are they worth your Poké Coins? And which box is best?
Read: Should you buy the new Poké Shop Boxes: Which ones are worth your coins!
July 21, 2017: Pokémon Go Fest will be broadcast live on YouTube!
I'm on the ground in Chicago and will be covering the event as it happens, but if you want to watch the full stream, Pokémon Go Live is making it available on YouTube.
Happy catching!
What's Pokémon Go Fest?
Pokémon Go Fest Chicago is the first major real-world event for Niantic's incredibly popular augmented reality, geo-hunting game. It takes place this Saturday, July 22, at Grant Park. Players on location in Chicago will be able to unlock bonuses that people around the world can then help extend for longer periods of time.
The game has provided a helpful infographic with the details:
Can you text that up for us?
Trainers at Pokémon Go Fest in Chicago will have three half-hour challenge windows where they can:
Catch Fire types to unlock a Candy bonus.
Catch Water types to unlock an XP bonus.
Catch Grass types to unlock a Stardust bonus.
Catch Electric types to unlock an Egg hatching bonus.
Catch Ground types to unlock a Buddy distance bonus.
Catch Normal types to unlock an encounter rate bonus.
So, um, which ones are best to catch?
Grass types. Stardust is seriously hard to get and, while there have been several XP and Candy events over the last year, there's only been one Stardust event.
What can players outside Chicago do to help?
Players around the world can then catch Pokémon to extend the duration of the bonus by:
Bronze: 24 hrs.
Silver: 48 hrs.
Gold: Mystery Challenge unlocked.
What's the mystery challenge?
We don't know yet — it's a mystery! And it'll be unlocked back at Pokémon Go Fest in Chicago from 6 p.m. to 7 p.m. on Saturday. If it's completed, a global reward is unlocked for everyone.
So, it'll be catch-a-palooza on Saturday and, hopefully, a lot more to follow over the weekend.
Has Pokémon Go said anything else about Pokémon Go Fest?
Here's the original announcement from Pokémon Go:
And from Pokémon Go Fest:
See above for more on that!
What about Legendary Raids?
The Legendary Birds are the big rumor!
How to prepare for Legendary Raids in Pokémon Go
What else do you need to know about Pokémon Go Fest?
As the event approaches, we'll hopefully get and share more information. Until then, let us know if you have any questions!
Get the best of iMore in in your inbox, every day!
Rene Ritchie is one of the most respected Apple analysts in the business, reaching a combined audience of over 40 million readers a month. His YouTube channel, Vector, has over 90 thousand subscribers and 14 million views and his podcasts, including Debug, have been downloaded over 20 million times. He also regularly co-hosts MacBreak Weekly for the TWiT network and co-hosted CES Live! and Talk Mobile. Based in Montreal, Rene is a former director of product marketing, web developer, and graphic designer. He's authored several books and appeared on numerous television and radio segments to discuss Apple and the technology industry. When not working, he likes to cook, grapple, and spend time with his friends and family.
Thank you for signing up to iMore. You will receive a verification email shortly.
There was a problem. Please refresh the page and try again.