Pokémon Go's pandemic rollbacks show the disconnect between Niantic and players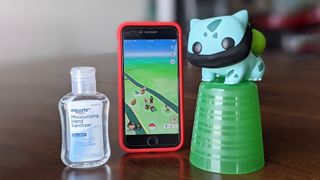 (Image credit: Rebecca Spear / iMore)
There are many good reasons why Pokémon Go has consistently been one of the best iPhone games. Until recently, many praised Niantic for the changes made to Pokémon Go in response to the pandemic. However, that's all changed over the past month as Niantic has pushed forward with removing some of these features despite the threat of the Delta variant. In response, players are petitioning, calling for a boycott, and even deleting the app, but this just scratches the surface of a deeper conflict between Niantic and the players.
Niantic's COVID response
As someone who is disabled and immunocompromised, I was overwhelmed with the changes Niantic made in response to the pandemic. The Pokémon Go Community Day: Play at Home Edition, the virtual global formats for Pokémon Go Fest 2020 and Pokémon Go Fest 2021, and the addition of Remote Raids meant anyone could participate in events and Raids from the safety of home.
The changes Niantic made included:
Doubling the radius for PokéStops and Gyms
Increasing efficacy of Incense while stationary
Increasing the duration of Incense from 30 minutes to one hour
Adding Remote Raid Passes
Boosting damage for remote players to match in person Raids
Buddy Pokémon bringing up to five gifts three times a day
Switching real-world events to virtual global events
Doubling the length of Community Day
Offering affordable paid Special Research for events
Adding Team GO Rocket balloons
Additionally, Niantic's social networking team has been far more prevalent online during events than ever before. While nothing can recreate the feeling of being at a live event surrounded by countless other players, the social network team did manage to create a sense of community during these events, and in many ways, that sense of community was far greater because virtually every player was allowed to participate.
These changes were met with glowing praise from the community, and it's honestly hard to imagine Niantic would have survived without them. While many businesses struggled to stay afloat in 2020, Niantic earned over $1 billion dollars — 11% more than the year prior. Niantic even launched a small and local business recovery initiative in the final quarter of 2020, providing 1,000 small businesses tools to boost traffic when reopening. Truly, Niantic set an example for how to evolve in the face of adversity.
Pokémon Go COVID rollbacks
After more than a year enjoying these new features, Niantic announced it would be rolling back some features in select areas under the guise of adding new bonuses to encourage players back to pre-pandemic play. Currently, the following features have been rolled back in New Zealand and the U.S.:
PokéStop radius has reverted to 40 meters
Buddy Pokémon bring fewer gifts
Incense efficacy when stationary has been reduced
Additionally, Niantic has specified that the radius for interacting with Gyms will also be reduced, but so far, that does not appear to be the case.
When they were first implemented, Niantic made clear these features were temporary, and, at least in New Zealand, it makes sense that players no longer need all the features to continue playing. With a total of just over two dozen COVID deaths in the entire country, New Zealand has continued to demonstrate how to responsibly handle a pandemic.
On the other hand, the U.S. has done virtually everything wrong in response to COVID. From the former President downplaying its severity to nearly 150,000 new cases in a single day this week, it's no surprise that mask mandates and vaccine passports continue to be hot topics. Of the countries in which Niantic could choose to roll back these features, it's hard to find the logic with the U.S.
Still, it's unsurprising that Niantic would roll back these features eventually. Niantic's CEO, John Hanke, has made many, many statements about his company's mission, but his explanation in a recent NianticLab blog post sums it up:
While that is an admirable goal, it has led to tone-deaf responses on Hanke's part, such as pushing players to go for "safe" socially distanced walks during the height of the pandemic, ignoring the fact that many living in busy cities like New York couldn't safely leave their apartments, much less walk the streets. However, even outside of the context of the pandemic, Pokémon Go has been inaccessible for much of the disabled community, as well as many players living in rural areas.
When Niantic announced that Pokémon Go Fest 2020 would be a virtual global event, I was ecstatic. Despite having played Pokémon Go since the beta, I had never been to a live Pokémon Go event, in large part due to my disability. Pokémon Go, like much of the rest of the world, has been more accessible for me, as well as countless other disabled people during the pandemic.
Although I have held out hope that even a fraction of the accessibility we have gained would persist in the post-COVID days, it seems Niantic is instead choosing to go back to a world where accessibility is an afterthought.
The players push back
As expected, players have pushed back against these changes. Social media is full of calls for a boycott and accusations that Niantic doesn't care about the players' safety. A petition on Change.org pleading with Niantic to keep these features had over 150,000 signatures as of August 4.
However, while some have rightfully pointed out that Delta surging should have caused Niantic to delay rollbacks and that these features made the game more accessible for disabled players and those in rural areas, the responses from other players haven't been reasonable either. I've lost count of the number of tweets from players insisting they would need to cross highways or trespass just to reach PokéStops.
However, the focus on the extended radius of PokéStops, as opposed to the rest of the changes, seems misdirected. PokéStops, unlike Gyms, don't ever require players to camp around them, and the extended radius was only 80 meters, which has now reverted to 40 meters. If it was safe to reach a stop 80 meters away, most players should still be able to safely reach it from 40 meters. Of course, players in high population areas may not be able to leave their apartments safely, but those areas also have far more PokéStops than anywhere else. During my trips to New York, I had to constantly throw out items to keep spinning PokéStops because there are just so many of them.
It's also important to note that all PokéStops and Gyms are supposed to be safely accessible to the public. It's a rule when submitting waypoints to Niantic. If a spot isn't safely accessible to the public, there are ways to report it and have it removed from the game — I would know because I've done it multiple times. These spots shouldn't have been PokéStops in the first place. Nobody should be engaging in dangerous or illegal behavior to play a game.
Others have complained about only being able to reach one or two stops instead of several, which is an insult to players with legitimate concerns. Many of us simply cannot go out at all some days. Others live in towns with only one PokéStop at all and next to no spawns. These new features didn't just make Pokémon Go accessible for us during the pandemic; they made Pokémon Go more accessible than it ever was before.
But hey, quality memes.
Going forward
Although many players have overreacted to the rollbacks, as I said before, these features have made the game so much more accessible for disabled players and players in rural areas. It shouldn't take a global pandemic to make the world accessible to disabled people. Niantic, along with every other company that made changes during the pandemic, should look at how these changes have benefited people who are so often overlooked and excluded.
As a disabled person, I know we aren't at the forefront of most company's plans. Although more than a quarter of the adult population in the U.S. live with a disability, we have always had to advocate for ourselves to even have a seat at the table, much less basic accommodations. I hardly expect Niantic will lead the way where most refuse to go. There is, however, something Niantic could and should change if it wants to retain the majority of its playerbase, and that is communication.
The biggest problem here isn't the rollback or the pushback from players. It's poor communication on Niantic's part and an apparent unwillingness to listen to players. Niantic has to know the players make these games successful, but it certainly doesn't show it. From the initial rollout of these new features to the way they were removed, Niantic has failed to clearly communicate what metrics have been used to come to these decisions or offer players the ability to provide feedback.
One of my favorite games currently is Genshin Impact. The game is beautiful and a ton of fun, but what has impressed me most isn't the game itself but rather how the developer handles its playerbase. Every single update, event, new character, and new weapon is featured in regular surveys sent out to every player. Players are rewarded with a decent chunk of in-game currency for taking the survey, but more importantly, the developer responds to the feedback, both in public statements and in making actual changes to the game.
If Niantic wants to show that it values the players who make its games so successful, it would do well to follow miHoYo's example and start making a public effort to take feedback and make changes based on that feedback.
Final thoughts
I have played Pokémon Go nearly every day since the beta launched. Like many others, I have invested so much time and money into this game, but that investment was well worth it, not because the game is amazing, but because of the community. Don't get me wrong, it's a solid game, but the players are what keeps me and so many others playing.
As more players petition, boycott, and quit Pokémon Go, I sincerely hope that someone at Niantic is listening and willing to make the changes necessary to keep this game going for many more years.
Master your iPhone in minutes
iMore offers spot-on advice and guidance from our team of experts, with decades of Apple device experience to lean on. Learn more with iMore!
Casian Holly has been writing about gaming at iMore since 2019, but their real passion is Pokémon. From the games to the anime, cards and toys, they eat, sleep, and breathe all things Pokémon. You can check out their many Pokémon Go and Pokémon Sword and Shield guides and coverage here on iMore.