Pokémon Go: Throwback Challenge Champion 2020 Special Research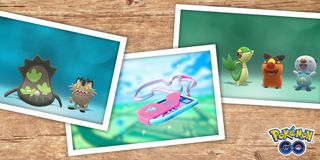 (Image credit: Niantic)
Pokémon Go's latest event, the Throwback Challenge 2020, is here, and it's going to be a busy month for all you Pokémon Trainers! Each week featured new Timed Research and, if you completed all four weeks or purchased a ticket, you can now begin the final Special Research. Fortunately, we here at iMore have all the details for this final Special Research!
What is a Throwback Challenge?
Throwback Challenges are kind of like Special Research, only with the added difficulty of being timed. When you log in during a Throwback Challenge week, you will gain the Timed Research line in your Today View. From there, you can complete the research over a set period of time, after which anything left incomplete will disappear.
Each week in May 2020 featured a different Timed Research line, and completing them all (or purchasing a ticket) unlocks an additional line during the first week of June. The final week has arrived, but unlike the previous Throwback Challenges, this reward week is not timed. There will be bonuses that will help to complete the Special Research during the week, but even if you don't complete it now, the Special Research stays until you do complete it.
Throwback Challenge Champion 2020 Research
This week's Special Research line includes a lot of Pokémon from Gen V in the Unova region. We have Pokémon reward encounters for every step, as well as for a few of the individual tasks. Unlike the Timed Research lines of the previous weeks, this Special Research is going to require leaving home. In particular, winning 15 Raids and hatching 15 Eggs. However, as previously mentioned, you do not have to complete it this week.
Asterisk denotes Pokémon with the potential to be Shiny
Make 15 Great Throws for a Galarian Meowth Encounter.
Catch 15 Pokémon for an Incense.
Transfer 15 Pokémon for 30 Ultra Balls.
Completion Rewards: Gothita encounter, 500 Stardust, 500 XP.
Evolve 5 Pokémon for five Rare Candy.
Hatch 15 Eggs for an Oshawott encounter.
Win 15 Raids for ten Max Revives.
Completion Rewards: Darumaka encounter, 500 Stardust, 500 XP.
Make an Excellent Throw for 30 Rare Candy.
Battle another Trainer 15 times for Tepig encounter.
Power up Pokémon 15 times for 500 Stardust.
Completion Rewards: Zebstrika encounter, 500 Stardust, 500 XP.
Give your Buddy Pokémon 15 treats for a Golden Razz Berry.
Catch a Dragon type Pokémon for a Snivy encounter.
Take 15 Snapshots for a Silver Pinap Berry.
Completion Rewards: Audino, 500 Stardust, 500 XP
Autocompleted for a Charged TM.
Autocompleted for a Galarian Stunfisk encounter.
Autocompleted for a Fast TM.
Completion rewards: Genesect encounter, five Rare Candies, Professor Willow's Glasses,
Bonuses
While players have to earn or purchase tickets for the special research, all Trainers can enjoy the following bonuses:
Galarian Stunfisk will appear in the Wild and in Raids.
Galarian Meowth, Galarian Zigzagoon, Galarian Darumaka, and Galarian Stunfisk will hatch from 7 KM Eggs.
Pokémon originally discovered in the Unova region will be appearing more frequently in the wild.
These bonuses will be available beginning at 1 PM local time on Wednesday, June 3 until 1 PM local time on Monday, June 8, 2020.
Questions?
Do you have any questions about completing the Throwback Challenge Champion research? Did you earn your way in, purchase your ticket, or perhaps even both? Let us know in the comments below, and be sure to check out our Complete Pokédex, as well as our many Pokémon Go guides so you too can become a Pokémon Master!
Master your iPhone in minutes
iMore offers spot-on advice and guidance from our team of experts, with decades of Apple device experience to lean on. Learn more with iMore!
Casian Holly has been writing about gaming at iMore since 2019, but their real passion is Pokémon. From the games to the anime, cards and toys, they eat, sleep, and breathe all things Pokémon. You can check out their many Pokémon Go and Pokémon Sword and Shield guides and coverage here on iMore.