RunKeeper Pro free until the end of January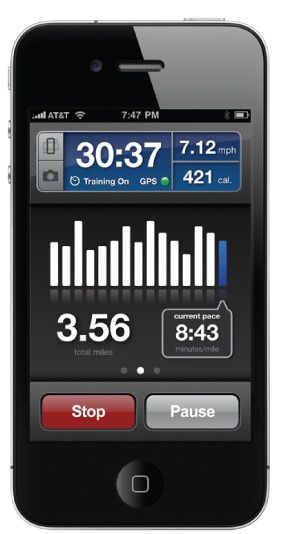 RunKeeper Pro has been made available to everyone for free today. The offer lasts until the end of January 2011 so don't delay, go and grab yourself a copy of this fantastic app for free.
RunKeeper Pro uses your iPhone's GPS to track your fitness activities, some of the features include activity tracking, personal online dashboard, map views, activity sharing on social networks and email as well iPod music integration and loads more.
What more do you need to kick-start your fitness goals for 2011!
[iTunes Link (opens in new tab)]
Get the best of iMore in in your inbox, every day!
UK editor at iMore, mobile technology lover and air conditioning design engineer.
Being in Minnesota, I don't plan on running outside anytime soon so I'm stuck on the treadmill for now lol

@ Frank, I just downloaded it and it has an option for Elliptical instead of running. Is has all sorts of options.

Hey buddy - I live in Minneapolis and just got back form a nice 3 mile run around Calhoun using this app! GET OUT THERE!

Just downloaded. I've been using the free version for a while and love it. I used it while I trained for my first half marathon. Even used it during my run at the race.

Ok so it's hard to knock something that's free but let's be realistic about why they have done this offer. Just read any recent review and you will see that runkeepers reputation has gone down the drain; poor updates, awful customer service and monetization of any significant updates made in the last year. This is simply a way to improve their ratings and gain more subscribers to their optional extras.
Also made me laugh to read "as a show of appreciation to the RunKeeper community for your terrific support for the last two and a half years" well the community who supported you have ALREADY paid for the app so if u want to reward them fix the bugs, improve ur customer service and make some of the extra premium content free or cheaper. There's nothing wrong with given away the app for free but don't try give a pig lipstick and call it miss universe. Call it what it is ... An incentive to get NEW PRO SUBSCRIBERS.

Someone sounds bitter...
Runkeeper Elite subscriber here, I think it's awesome what they're doing. Already told all my friends!

Wow, a ten dollar app that hasn't even updated for retina display yet, that's some quality development guys, seriously...

Use it and love it on the Evo. The website integration is really one of the top features.

I think it's a fine product. I also paid for the yearly subscription this past year, but given my lack of exercise, I don't know if I'll be renewing that part. But free is a darn good price for this software. I paid the full amount earlier this and don't regret it.

I'm not sure if I will use it, but thanks!

Apple should have this app implemented on the new iPod nano. The new iPod nano will be perfect to have this app on it. Don't need to carry you phone with you..

@Kay-this is by far the best running, swimming, biking, etc app out there. The online subscription is great for training and sharing.
If you are mad that you paid and now it's free, move on and go run. The developers (all 3 or 4 of them) would.

I've had the free one for a while and I love it, I used it for my bike rides and it's so detailed it can tell when I do small donuts :)

@ Trent Morgan and Ken.
Appreciate ur comments guys but maybe I was a little unclear in my previous post. Free is a brilliant price and any developer who gives away their product for free has to be given some respect. However my issue is the statement they made claiming it's to reward existing RK community members. How can that be as the most vocal supporters are those who purchased it already. If the statement was we want to encourage new users to try our product then I would have applauded them for a great business strategy.
@ken. It's only £5, it really does not bother me, if it £500 then it may be a issue. It no longer is the prime running/biking/walking app in my opinion I think runmeter has far better functions,data support and a cleaner UI. 2 of the killer features which it has is the ability to use the button on the handfree kit to start/stop a run. It also has auto stop when for instances when u stop at a traffic light.
Runkeeper was a brilliant app unfortunately it seems they got complacent and let others overtake them.

stunning! I think it's worth to leave a piece of words here!

Question from a new user: I'm hiking the northeastern Cascades on a daily basis, and I have discovered on numerous occasions that the program has paused, much to my frustration. I carry the iPhone in my jacket pocket, or my shirt pocket. It's not tight clothing. Sometimes, if I'm not paying very close attention while putting the iPhone into the pocket, I will inadvertently "touch" the pause button, and then I'm aware of it. But sometimes, after beginning the hike and hearing the lady give her 5 minute report for awhile, she seems to have run out for a cup of coffee, and I've discovered that the program has been paused for 20 minutes or so. Any ideas?

A lot of thanks for your own work on this blog. Debby take interest in engaging in investigation and it is simple to grasp why. My spouse and i learn all regarding the lively manner you convey both useful and interesting techniques by means of the web site and as well as recommend contribution from some others on that area of interest and our favorite princess is actually starting to learn so much. Enjoy the remaining portion of the new year. You have been carrying out a brilliant job.
Thank you for signing up to iMore. You will receive a verification email shortly.
There was a problem. Please refresh the page and try again.