Steve Jobs cast in carbonite, an iPhone case for Star Wars and Apple fans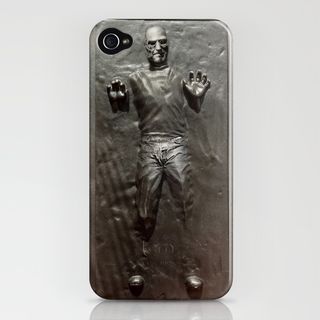 If you are a huge Steve Jobs fan and also can't get enough of the Star Wars film franchise, then your dreams may have just come true. Society 6 has just released a rather unique iPhone case that has Steve Jobs cast in a carbonite case.
The case is meant to resemble Han Solo being frozen and imprisoned in carbonite by Darth Vader, in the film "The Empire Strikes Back", this time however, it is Steve Jobs instead of Han.
The case is available now from Society 6 and comes in iPhone 4, 3GS and 3G flavors. It is manufactured in one piece from impact resistant flexible plastic. Society 6 also do a few other similar products including t-shirts and laptop / iPad skins.
Now if anyone fancies picking one of these up, they should do so quickly. We can't see Apple or Steve being too impressed with these!
[TUAW]
UK editor at iMore, mobile technology lover and air conditioning design engineer.
Classic internetz lulz, just what I needed this morning.

Um.... No thanks. I just need Rene to mail me the Steve Jobs doll!

Looks more like Freddy Kreuger trying to come through a wall. Creepy.

What the heck are you talking about?!?!?!? I bet Steve would LOVE to be frozen in carbonite while they find a cure for his cancer!!

Considering health issues this is fairly tasteless IMO. surprised it got posted here.

:shock: Well, you've certainly lost me. Are you having health problems, Scatabrain?

Oooo! They've encased him carbonite! He should quite well protected...

Please, the guy is a CEO - that is all. He wants your money...but, I suppose there are some rabid fans that will buy this.
I wonder if he has his likeness trademarked - impending lawsuit?

Tasteless? Really, Do you understand the tech world? Have you ever watched Star Wars? Lighten up!
Hilarious. Very cool item.

Exactly! Too many people seem to worship Jobs. That is tasteless, in my opinion!

Agreed! It's basically two great taste that taste great together, to a site like this. Sort of a nerd perfect storm!

It wasn't Vader who actually froze him.

Perhaps the author of this article should've indicated that Han Solo wasn't dead in this state. It seems to have confused and offended the Trekkies. :lol:

I find it funny you can see the casemate logo. I hope casemate knows that...
It's kind of cheap that they aren't making their own cases but overlaying someone else's.
Maybe I'm wrong, but I sure see the CaseMate logo right by Mr Jobs shoes :O

Looks like apple has already taken action. Or this item has flooded the website. I went to order one as I got home from work at 3pm, got side tracked with the duties of home ownership, came back at 10:30 and now am receiving an error page.

Also clicking on the "skins" version sans case just reloads the page.

yep - got the dreaded C&D .... thanks for the writeup on the site! Wish I could fight it, but being an unemployed graphic designer makes it a little tough.

Bummer. I was ready to buy one of these...

can you make more of these cases now that the witch is dead?
Get the best of iMore in in your inbox, every day!
Thank you for signing up to iMore. You will receive a verification email shortly.
There was a problem. Please refresh the page and try again.