TiPb TV 19: The iPhone 4 Case Rocket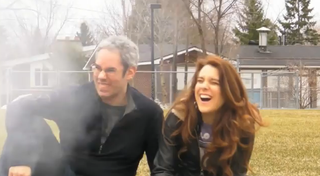 If they're going to call their iPhone 4 case "Bombproof", Incipio had better bloody well mean it, because you know we're going to test it... by putting it up against the new Verizon iPhone-friendly Otterbox Defender in another Amazing Case episode of TiPb TV!
Fortunately, real bombs bring with them real jail time (and not the kind you can break) so we tried to figure out what else we could do that involved smoke and fire and explosions and power written all over it?
Hit play above and find out!
Oh, and to be continued...
Senior Editor at iMore and a practicing therapist specializing in stress and anxiety. She speaks everywhere from conferences to corporations, co-host of Vector and Isometric podcasts, follow her on Twitter @Georgia_Dow and check out her series at anxiety-videos.com.
Yep - http://www.amazon.com/Nady-Wireless-Lavalier-Transmitter-Condenser/dp/B0...

That was awesome. The end reminded me of the classic "You're going to need a bigger boat" line from Jaws. OT a bit, does it ever get warm or green in Canada? :)

This looks like it will be fun but you gotta remember to turn on the video camera function on the iPhones so we get "in flight" footage...
--Rob Terry
@RobT43

Why don't you just shoot a rocket AT the cases like they do in that verizon commercial? Set up a horizontal wire to guide the rocket directly to the cases, and voila! Just be sure to leave your iPhones inside! I think that would be a better test than actually trying to launch iphones into the hundredfootosphere.

Time to cal in Myth Busters. They will test it with a big boom.

Like how they just gave up but the best part of the video has to be Georgia's reaction to the first missile she's in hysterics I can't beleiv they didn't actually test it but it's still awsome video!

This is great. The reaction is priceless.
I'm not sure why they thought it would fly.
However...
What would be cool is making a new version of the weather balloon video. This time, use several weather balloons and have the camera balanced a little better.

I would have tried some fireworks. ;)

this made me laugh so bad.....pretty good job guys, KEEP IT UP !!

Hahaha, this reminds me of some Top Gear would do. If you haven't seen that show, check it out, guys. They do all kinds of stunts like this...but with cars LOL. Might give ya some fresh new ideas to destroy those iPhones too :)

one of the rocket clips they showed was from Top Gear.

You were probably better off just throwing it up in the air or off a building hahaha.

I think I'm in love with Georgia

As usual, TiPb TV continues to entertain. You folks are great. Keep it up, please.

Hello my favorite Canadians! That was great can't wait to see it when u guys get a bigger rocket.

doesn't gerogia look like an older more beautiful Emma Watson?

No, I don't see any resemblance. I wanna marry a girl like Georgia someday... :D

Do the phones belong to u guys????

Yes these are our iPhones and I was scared to death that I was going to lose it!
Whew

Did you really say you were looking for something that "said disaster" and then cut to a video of the Space Shuttle? lol Really?

When I worked at AT&T, several years back, we used to play "hacky-sack" with phones that had this case on them. It is a very good case, and a very big one. It'll protect the screen, as long as you don't drop it on some sharp object, like a rock.

Get a bigger rocket! More proof that SIZE DOES MATTER! ;)

Gotta love Georgia's reaction to the shenanigans.

Georgia looks great at 360p =) She has lovely and awesome red/brown hair too =)

Why not use fireworks instead?

You need to use a water rocket - that would definitely have enough power to do the job.Something like this:http://homepage.ntlworld.com/telescope/Rocketweb/Launcher.htm

LOL!!!! WTF?! Those cant do shit! Even an A engine has 1000000 times more power than a bottle with water and a few psi of air

You don't strap an object to an aerodynamic rocket hoping it will take off. Even if that worked, it's not an explosion test. It's a drop test. Your more likely to injure someone in that park than just going a few miles into a bushland clearing and strapping it to a sparkler/deodorant bomb to get the results your looking for. Trust me I'm a ninja.

Learn your and you're you idiot.

NASA just took your 2 iPhone to their real ROCKET :))

I am using kindle device last five years my country is Pakistan i have some problem hard ware problem our country engineer don't know about this device can you advice me which brand used local and country with complete installation, advice me.

hey, it looks like very thick? isn't it ? http://www.iphone4cases-outlet.com
Get the best of iMore in in your inbox, every day!
Thank you for signing up to iMore. You will receive a verification email shortly.
There was a problem. Please refresh the page and try again.