TomTom's iPhone Car Kit Delayed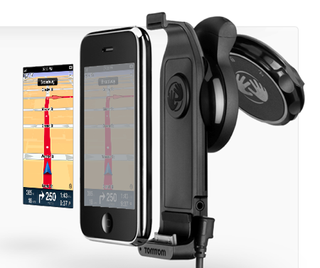 Well it's official, TomTom's much anticipated iPhone car kit accessory will not make it out this summer like the company initially had planned. Rather, it has been delayed until October according to their website's FAQ page (opens in new tab).
We suppose it is best to delay the accessory for a few weeks in order to insure you the consumer, can purchase the very best TomTom has to offer. It could have been worse and the kit could have been delayed until next year, right?
Sucks a bit as I was waiting on this before buying tomtom. Seems an all too common excuse that they needs a few more weeks to make sure everyone has the best experience. But hold on hasnt it passed the FCC shenanigans for you guys in the states, so basically its finished? im confused.
I presume this delay is worldwide?

OMG I can't believe Tom Tom would so something like this. They said they would have it out this summer and summer is over. First I'm going to start using Garmin as soon as they come out with an app and them I'm going to sue for breach of contract. I can't use maps. Not all of my friends have cars with maps. Everyone has GPS not, even crappy old cars why can't we?
Tom Tom Should burn to the ground!

I for one like the fact that they are waiting to bring out a better product.Some of the iphone holders i have bought for the car are crap,maybe this one will be good.I hope they will make it adjustable so it can be used with a case.

@Idave-
According to FCC doc, it is adjustable vertically. Probably works with thinner cases like those neoprene ones.
Price better be under $100...any confirmation on this?

Typical: I hope your response was a joke. Otherwise you need a life! Regarding the delay, i don't much care. The gps app is very unimpressive and extremely basic. There isn't anything that this kit is bringing to the table that is going to change my mind. Speaker? Meh. Better gps fix? Meh. Fancy looking cradle? No thanks.
Change the software and maybe I'll bite.

Does AT&T own TomTom? Sounds like they use the same people to draft their press releases.

Was ATT in charge of picking the release date?? Seems like October has become the "new" late summer........

@XM_JDM: Yes it was completely sarcastic. Just making fun of the complete over reactions and ignorance of the people that had posts just like this about the MMS stuff.

It would be nice if the delay was due to TomTom wanting to put the new SirfStar IV chipset in the car kit. Sirf says their new SirfStar IV chipset would be available beginning in October. Just wishful thinking on my part. :)
http://www.electronista.com/articles/09/07/28/csr.sirfstar.iv.gps.chip/

Does this have an FM Transmitter or does it just use an output/input to play the music over your stereo?

I bet $10 their UL/FCC testing went sour and didn't get the necessary approvals. End of October is roughly 8 weeks away which falls in line with usual UL certification process of 8 weeks.
Nice marketing spin - if they were telling the truth, it should have read "Our engineers screwed up and its pushed back our delivery date"

I recently blogged about this application saying that it is more affordable to down the $100 application than to buy a whole system for your car. Depending on what they end up charging for the car kit (realistically the only place you'd use the TomTom) you may end up paying just as much!

Maybe TomTom wants to see if apple has a new product coming out and to ensure that it will work as planned...

Hell, it'd be nice if they redesigned the thing where it would be adjustable. I seriously doubt any iPhone in a bulky case is going to fit in it.

"But we have decided to take some extra weeks in order to deliver the highest quality on this innovative product."
....equals
"We've found a serious flaw and would prefer a delay rather than a recall"

I am extremely disappointed with this very basic and flakey app, it cannot hold a gps signal for more than 3 seconds and frequently takes longer to "aquire" a signal than it takes to complete the journey!!!. I wish i had never tried this app as it is clearly not fit for purpose and the iphone assisted gps is not capable of running such an app, this should have been sorted before the app was released!! VERY POOR EFFORT TOMTOM, YOU SHOULD BE ASHAMED FOR RELEASING SUCH AN IN INFERIOR PRODUCT!!!!!. DAYLIGHT ROBBERY!!!!!!!!!!.

Maybe they just wanted to build more hype for their product?

Yeah, maybe they should have taken extra time to deliver a proper app in the first place. Seems fairly half assed by all accounts. Here's hoping for an update at the same time as the cradle is released.

I hope tom tom are reading these posts and recognise the requirement for the car kit to be adjustable. It will need to accomodate iPhones with cases. Sitting on the daily commute, I havent seen anyone with the phone out of a prophylactic case, they are just too expensive to risk unprotected use.

I bought the tomtom US&Canada app from appstore just before going to the US for three weeks as I figured it would work out cheaper that hiring a garmin from avis at $10 per day (You do the maths) Best purchase ever. Although it sometimes took a while to acquire a GPS signal, the directions were, with one exception, faultless. I bought a belkin windscreen mount to tide me over, and will be buying the tomtom mount and UK & Europe software as soon as I get home. Good work fellas!

I bought the tom tom app and I wish I hadn't.
I live near the m25, drove round the motorway to Surrey with loads of gps towers around and it kept losing gps signal.
Add to the fact that when I di get a signal the route took me up a hill and the road was literally a dirt track surrounded by bushes touching my car.
The kids got terrified because the road was getting narrower and the surface less drivable on and you have a driving expeience from hell.
I want my money back and unless this shirt app has one hell of a major update I ain't using it again.
Bottom line, tom tom rushed the app out to Market to beat the competition but in the process have let customers down with the delay on the overpriced cradle and have a crappy app that a basic iPhone developer could make.
Crap.

I would never buy another TomTom. The unit I have turns itself on, randomly. Apparently, they knew the cause of the problem, had me download a "fix" that didn't fix it. Then, they wouldn't take it back because I didn't have the receipt.

Pete - GPS towers lol Gps uses satelites which u should bear in mind when mounting the phone on the windscreen i.e a good view of the sky.

Pete, GPS towers? LOL - GPS signal is from a satellite in geosynchronous orbit, not a tower.

hmmm, works fine for me everywhere i've been, i thought at first it used 3G, but apparently the 3com chip they have has some sort of gps functionality? Don't know tho.

Just wanted to say thanx allot for this tip i have been trying everything but didn't work and then i read this and wow it just worked perfectly. thanx again
Get the best of iMore in in your inbox, every day!
Thank you for signing up to iMore. You will receive a verification email shortly.
There was a problem. Please refresh the page and try again.