5th Avenue Apple Store Closed: 3G iPhone Commercial?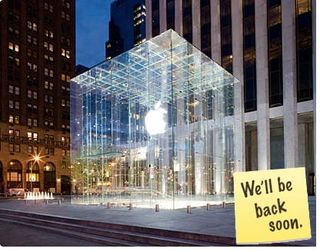 24 hours. 7 days a week. 365 1/4 days a year.
That's how often the Apple Store on 5th Avenue in New York City is open. Don't know which one I'm talking about? The big glass cube on the most expensive street in the world! This flagship store is perhaps the brightest jewel in Apple Retail, often hosting performances from the likes of Maroon 5 & Linkin Park and becoming a new landmark for tourists to visit in the city that never sleeps. It's open all day, everyday.
Well, if you don't count today.
The Apple Store on 5th Ave. is closed from Thursday, May 29 3:00 p.m. to Friday, May 30 9:00 a.m. Apple Store Employees have been telling customers that a commercial is being filmed and reports are floating around saying its a 3G iPhone commercial. Remember, Apple doesn't close this store for any old reason, the only times it has been closed before: the original iPhone launch and the release of Leopard. Hmm..
What do you think?
Read
Get the best of iMore in your inbox, every day!
Very interesting... Very interesting indeed...

Probably a roach problem, fumigation.

some one get a look inside...its glass right, shouldn't be too hard.

Maybe Bill lost his Zune mp3 player while visiting and the staff have offered to find it for him.

The glass cube isn't the actual store; it's just a decoration, and you go down a flight of stairs/escalator to the actual store which is totally underground.

That is true, but it is pretty easy to see down into the store from outside the glass cube.

Rumours say Borat was hanging around the cube with his fly open......

Who cares about the commercial, I just want the darn phone itself. I have never been one to be influenced by commercials. That being said, I do love the commercials thus far for the 1st gen iPhone. I'm sure that commercials for the 2nd gen Iphone will be even better. However, more important than the commercials is the product itself. I don't want a stinkin' commercial, I want the product!! June 9 cannot come quick enough!!

Wonderful put up, very informative. I wonder why the other specialists of this sector do not notice this. You must continue your writing. I'm sure, you've a huge readers' base already!|What's Happening i'm new to this, I stumbled upon this I have discovered It absolutely useful and it has aided me out loads. I am hoping to give a contribution & assist different customers like its aided me. Great job.