Android phone makers should be nervous about the $699 iPhone 11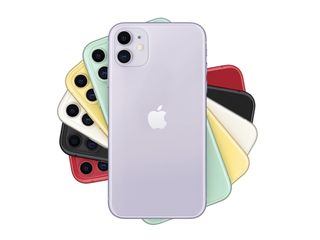 (Image credit: Apple)
Apple regularly gets criticized for the high prices of its iPhones, but in 2018, the company shook up its formula of only offering high-cost flagships with the introduction of the $749 iPhone XR. The XR quickly became Apple's most popular and best-selling iPhone, but when compared to the XS, things like the single rear camera, worse water resistance, and 720p HD LCD display made it look like a tough sell when compared to similarly-priced Android devices.
This year's iPhone event has wrapped up, and along with the flagship iPhone 11 Pro and Pro Max, we were also introduced to the XR's spiritual successor in the form of the base iPhone 11.
Along with a greatly simplified naming scheme (thank God), the iPhone 11 adds a few welcome features that were missing from the XR while also lowering the price by $50. It's still not a perfect "budget" iPhone, but Android OEMs that are also trying to make a dent in the affordable flagship space should be shaking in their boots right now.
The iPhone 11 gets a lot of things right. We're still working with an aluminum and glass design just like we had with the XR, but there are a few new colors to choose from this year — specifically a lavender-esque Purple and minty Green color. Unique colorways have been big in 2019, and this is something Apple has proven yet again to be really good at.
We can't really talk about the design without mentioning the huge camera hump on the back, and whatever you think about the way it looks, Apple's making some big promises for the sensors' performance.
Along with the 12MP main sensor, there's now another 12MP ultra-wide camera. Apple's far from the first company to offer an ultra-wide camera on a phone, but the usefulness of this type of sensor is objectively better than the telephoto one Apple's been so keen on for the last few years.
Apple's also pushing its new Night mode to improve low-light photography, improved Smart HDR, and 120FPS slow-motion video for the 12MP selfie camera.
Last year's A12 Bionic processor was already faster than anything else on the market, and the new A13 Bionic in the iPhone 11 aims to offer even better CPU and GPU performance. Battery life is also rated to last an hour longer compared to the XR, and the weak IP67 water resistance from last year has been upgraded to a proper IP68 rating.
As for everything else, it's mostly unchanged. The LCD display remains at 6.1-inches with a resolution of 1792 x 828, wireless charging is still onboard, and you get all of the intangibles that iOS offers over Android — such as iMessage, AirDrop, the infamous Apple Card, and a free year of Apple TV+ (a $60 value).
All of this makes the iPhone 11 a modest upgrade over the iPhone XR, but it's still an upgrade nonetheless. You'd expect Apple to slightly increase the 11's price or at least keep in the same, but in a very unexpected move, the company actually lowered it from the XR's $749 to just $699.
How's that stack up to similarly-priced Android phones? The iPhone 11 is just $30 more expensive than the OnePlus 7 Pro, $50 less than the Galaxy S10e and Pixel 3, and a whopping $250 cheaper than the new Galaxy Note 10.
In a world where phone companies seem dedicated to slightly increasing costs year after year, it's refreshing to see one take the initiative to make its new phone more affordable than its predecessor — especially when that company is Apple.
It's obviously too early to make any final judgments about how the iPhone 11 works in day-to-day use, but at least from what we've seen so far, Apple just made a bold statement to every competitor out there.
People are already crazy about their iPhones, and now that the latest one costs just $699, trying to sell them on an Android phone is going to be more difficult than ever before.
iPhone 11 Pro just played catch up to every Android flagship, but still has the one feature that matters
Get more iMore in your inbox!
Our news, reviews, opinions, and easy to follow guides can turn any iPhone owner into an Apple aficionado
When Joe isn't acting as the News Editor for Android Central, he can be found helping out with articles here and there at iMore. He was last spotted at Starbucks surrounded by peppermint mochas. Have a tip? Send an email to joe.maring@mobilenations.com!