Apple iPhone theft is down drastically thanks to activation lock feature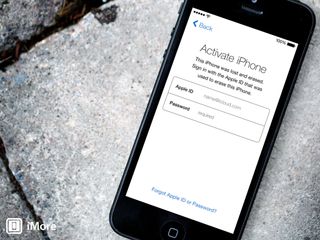 Late last year, Apple added the Activation Lock feature to devices in hopes of cutting down on theft. New York attorney general, Eric T. Schneiderman, and the district attorney of San Francisco, George Gascón are now saying that the "kill switch" that is Activation Lock has drastically cut down on iPhone theft. Police say that robberies have dropped in London, New York and San Francisco after Activation Lock was added to iOS 7. London thefts fell by 24 percent, New York by 19 percent and San Francisco by 38 percent when compared to the same period last year.
Activation Lock works by requiring you to enter your Apple ID and password before you can turn off Find My iPhone, sign out of iCloud or erase and reactivate your device. This greatly deters thieves, knowing they won't be able to access the device with the proper credentials. Starting in 2015, all smartphones will require the same type of feature. Apple, Samsung, Google, HTC, Microsoft and others will all have built-in anti-theft tools standard.
Source: NY Times; Via: Engadget
Get the best of iMore in your inbox, every day!
Editorial Director - High Yield
Getting his start writing about BlackBerry in 2008, Adam is the Editorial Director of High-Yield content at Future. Leading an outstanding team, he oversees many of the articles the publisher produces about subscriptions and services – VPN, TV streaming, and antivirus software. From buying guides and how to watch content, to deal news and in-depth reviews. Adam's work can be seen on numerous Future brands including TechRadar, Tom's Guide, T3, TTR, Android Central, iMore, and Real Homes.
ive said this before but i think having to enter a pass code to power down from the lockscreen would help this that much more

That would be a good feature to have. If you can't turn off the phone, then GPS stays on.

I wholeheartedly agree. This would potentially stop theft in it's tracks as thieves couldn't just power down the device to prevent tracking. I get lots of support calls on people that lock themselves out however so there needs to be a workaround for that...possibly a recovery mode restore, which would hopefully increase the number of cloud backups in use as well.

I like this idea in theory. My worry would be that the software is flaking out (where I couldn't input the passcode) and I wouldn't be able to hard re-start my phone (which I need to do every couple of months or so).

That bad part is most of these dumb criminals don't know/care.. My iPhone was still stolen .. Even offering a reward through the message feature of 'Find My iPhone' couldn't bring it back... And the police were a joke to say the least... Sent from the iMore App

I am for just about any feature that would lock someone else out of my phone and render their efforts worthless. I wish there was more enforcement of selling secondhand devices on ebay and craigslist too, so that you had to enter in the IMEI and ESN numbers that are tied to the phone before you can list it so if it's stolen and not otherwise clean for sale, it won't be listable. I've had one stolen and it jacked up my entire account when they kept using it after we moved my number to another phone. This was prior to locks, and prior to the GSM carriers really instituting any sort of security measures after a phone was stolen like the CDMA carriers did. I ended up porting my number to Google Voice to mostly solve the issue and getting a new number.