Apple stores may soon accept iPhone sales through AT&T Next, T-Mobile JUMP and Verizon Edge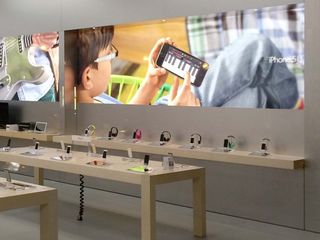 While there's plenty of arguments for and against carrier upgrade programs such as AT&T Next, T-Mobile JUMP and Verizon Edge it looks as though there's at least enough traction there to garner some attention from Apple. According to new information, Apple appears to be readying a significant upgrade to their retail sales plans by firing up a pilot program for customers to be able to purchase a new iPhone through such carrier upgrade programs.
The pilot program is said to be starting in late August, in time for it to be fully ready for the iPhone 6 launch as Tim Cook does not want to miss out on any possible sales for that device, and will skip over the current rules wherein any iPhone purchased at an Apple retail store must also come with a two-year contract or be purchased unlocked at full price.
Previously, Apple was noted be looking to boost iPhone sales through pre-paid and month-to-month phone plans in Apple Stores with the help of AT&T and T-Mobile, so to see them move into using the carrier upgrade programs as well to boost sales wouldn't be any stretch of the imagination. At this point though, it remains unconfirmed.
Source: 9to5Mac
Get the best of iMore in in your inbox, every day!
Editor-at-Large at Mobile Nations, gadget junkie, energy drinker, ranter.
I'm surprised this didn't happen sooner. Now one less reason for those who use those to go to a carrier store Sent from the iMore App

Maybe I'll be able to wait in the iPhone 6 launch line at an Apple Store this year, after all.

So, is this Apple's version or just allowing you to use AT&T, Verizon, etc. in he Apple Store? And it should be noted that you still have to be eligible for an upgrade before enrolling in any of the monthly payment plans. Basically if you own an iPhone 5S (or upgraded within the year or so) you won't be eligible and your best shot is to sell your current device and pay the difference. That's what I'm planning to do anyways. I have AT&T and although the Next plan is enticing (who doesn't want to walk out with an iPhone 6 and only pay the taxes the day of?!) in the long run it sucks and you have to switch to the service as well - and AT&T is going to have to pry my unlimited data from my cold, dead hands! Haha Sent from the iMore App

I've never purchased an iPhone on launch day, I've always waited a few months because it's never really mattered to me to have it from day one. I've also never purchased an iPhone from an Apple store, I just go to my carrier (T-Mobile). I have an upgrade that I'm saving for the iPhone 6, and I'd like to get it on launch day and if Apple does indeed implement this new service i'd possibly get it from the Apple store that's near my house. What I want to know is: What's the difference between buying an iPhone from an Apple store and buying from a carrier store on launch day? Sent from the iMore App

Launch-day at Apple Store: fun environment, meeting new people, donuts, coffee and juice, Apple employee excitement (like they even cheer you out the door), better selection of accessories and, personally, a better way to make sure everything is backed up, etc. to the new phone. Carrier: none of that (haha I really don't know but I'd imagine everything on a smaller scale). Personally I think it's about experience. You are about to shell out some major mula for a new phone, may as well have some fun and meet new people with food and drink in the process. Sent from the iMore App

Great reply and explanation, thank you. You've just made me more excited for the iPhone 6, I definitely want that experience. Sent from the iMore App

I'll probably do it at the carrier, less people to deal with. Sent from the iMore App

As of today, August 18, 2014, Apple is allowing AT&T Next upgrades through its online store.
Thank you for signing up to iMore. You will receive a verification email shortly.
There was a problem. Please refresh the page and try again.