Apple now offering free next day shipping on all iPhone models in the U.S.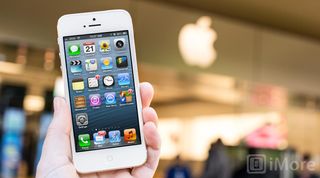 Apple has launched a new promotion to entice would be iPhone buyers by offering them free next day shipping. The new promotion ony appears to be available in the U.S. Apple Store and no where else. The offer covers all models of iPhone from the iPhone 4, iPhone 4S and the latest iPhone 5 models.
This is nothing really that unusual as Apple already offers free next day shipping whenever you order more than $50 worth of accessories from its store but it is the first time we have seen free next day shipping being offered on iPhone models.
Apple has been pushing the iPhone of late especially since the launch event for the Samsung Galaxy S4. We have recently seen Apple sending out emails pushing the iPhone and telling us why we love the iPhone as well as launching a dedicated page over at Apple.com. This could just be another subtle push to help potential buyers sitting on the fence to make a decision favoring a new iPhone rather than one of the latest Android handsets.
Source: Apple Store (opens in new tab)
UK editor at iMore, mobile technology lover and air conditioning design engineer.
Now that is commitment! If only they could offer the same service here in the UK.

I didn't even know about the free next day shipping for accessories over $50 either! Glad to read this and will DEFINITELY be using that option in the future. As for the iPhones...great marketing scheme. At least for those who want to order their iPhone directly from Apple. Even better for those who want the phone unlocked.

Well that's nice to know/that they do that. I am sure once they have a new iPhone out that will probably be hard to do....if not then kudos even more to them. It's like going to a real Apple store without having to wait a whole week for your phone for not wanting to go out into the crazy. Thank you Apple, again. :-)

Wow if I win that iPhone giveaway I can get free next day shipping. I wonder why Apple seems to be in scared mode which I have never really seen Apple do. I understand the Samsung Galaxy S4 is on its way but don't panic Apple it is a plastic Android phone. Just keep doing what you do make a splash in July with a new phone and don't skimp this time.

I think the competition it's getting closer. Apple must launch something revolutionary as they did with the iPhone and iPad. Those devices changed the world as we knew it! Apple must not fall into conservatism. On the other hand, this kind of strategies (the one that this post is talking about) only adds a small number of costumers, on my opinion, the strong point is the innovation.

Revolutionary? You do know iPhone and iPad were pretty much already done before Apple did them. While Apple combined concepts for the iPhone, the iPad was already done by Microsoft in 2002 (failed due to shitty presentation by Gates), and IIRC, Samsung had something in 2005. Apple only made it feel like the first and greatest thing ever due to their superior marketing.

Keep an eye on the Nexus 4 in the Play Store. Google charges $12 for two day shipping as the only option. Lets see if they match the free 1 day.

Wish they'd have done that last week when I bought mine...

Now this is kinda exciting! Winner of the ole' iPhone 5 contest could have their prize in 24 hours!

If they could do this for the Macs, that'd be great!

They should do this for all their big ticket and often stolen items anyway, for security alone.

apple should have always allowed free shipping, after all you are paying hundreds of dollars for a product

That is a nice touch! When you order a phone you typically want the next day and not 5 to 7 days later. Great added value!

That seems like a weird move. Why didn't they not already have same day shipping ? Lack of supply? Maybe this means they're in a better position to fill orders rather than adding convenience vs android.
Probably also losing traction vs apple stores.

A great idea and another marketing step for Apple to get their phones in the hands of the consumer faster. Good job Apple.

I hope they keep this going when the 5S releases. I live pretty close to an Apple Store but if I can just have it waiting for me when I get home, even better.

Glad they are doing this, sometimes shipping costs and time make you think twice about how/where you buy something. This would benefit people that don't have a retail store nearby.

The first company to offer free Later-Tonight shipping will take the cake.

Nice to know about the $50 in acc will use that next time I buy in the online store

Uau free shipping for phone that cost 649$....This should be from the start

There is no way this will continue for the iPhone 5S. Simply too much of a demand will crush this possibility. Even though this is great and everyone loves getting their stuff much sooner. I really don't see the big deal over it. Perhaps it's because of my laid back stance on the subject, but having to wait a week isn't really the end of the world.

It's a good deal if you want you're phone fast.

To anyone with their hopes up; I am almost certain this wont be offered to other countries.

It's about time! For the price you pay you should receive next day for free.
Thank you for signing up to iMore. You will receive a verification email shortly.
There was a problem. Please refresh the page and try again.