Apple in talks with Indian carriers for CDMA iPhone?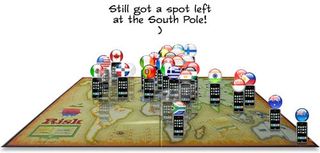 The Wall Street Journal is claiming that Apple is in talks with 2 Indian carriers over a CDMA version of the iPhone. The two carriers in question are Reliance Communications and Tata Teleservices. No time frame was mentioned except "near future".
CDMA iPhones are apparently all the rage lately, especially since Verizon iPhone rumors won't die. Although GSM may be considered a worldwide standard these days, the CDMA market still caters to around 550 million users. Adding them into Apple's pool of customers should definitely be something they're interested in doing. India's mobile phone market has exploded in recent years. Nearly 20% of mobile phone subscribers are CDMA customers. That averages out to around 130 million CDMA subscribers in India alone. It's logical Apple would have an interest.
India's phone market has been a heated competition between top manufacturers like HTC, RIM, and Nokia. Perhaps Apple wants a piece of the CDMA subscriber base to increase their extremely low market share in India. Could all these CDMA iPhone rumors be misplaced or do you think we'll see a CDMA iPhone sooner rather than later?
[WSJ via AppleInsider]
iMore senior editor from 2011 to 2015.
Tata teleservices? Don't they feature the boobie phone?

Guess one should expect that if Apple's gonna take the time to develop a CDMA flavour iPhone, they're going to shop it around to the CDMA providers.
Even places like Canada, where Telus and Bell have migrated to HSPA, there are still some CDMA pockets that could be serviced by such a device.

Here in India, mostly all CDMA phones are popular among cheapskates, for their low tariff plans.. Gsm is the only way forward. Gsm Iphone4, ipad is still not here and Instead apple is busy with their CDMA plans? WTF ?

The rumors could die.... If you'd just stop perpetuating this nonsense.

The average Indian lives on $1.35 a day. Yes, there are wealthy Indians but they are few and far between. Add in the hassle of getting a cell phone when you live there due to security checks because of terrorism concerns... I don't see how it would be a good investment.

@Michael
If you didn't notice, we are a tech blog which typically consists if news, reviews and speculation. Sorry next time I'll write about the unicorns in my backyard ;)

Hey Apple, could you possibly try bringing the iPhone to Sprint? Why not feed the starving here at home before you go abroad.

@Meg that has to be one of the most insensitive and dumbest things that's been said. You say because of terrorist threats people won't buy a phone?? The 'average' Indian has the capacity to buy an iPhone. Sure they aren't rich, but neither are most iPhone owners. Most iPhone owners are middle to upper class.

It truly is pleasant appropriate here. outstanding examine. I have been searched this details for rather a reality. thanks

Utterly indited subject material , Really enjoyed studying.
Get the best of iMore in in your inbox, every day!
Thank you for signing up to iMore. You will receive a verification email shortly.
There was a problem. Please refresh the page and try again.