Apple puts up the banners for the Let's Talk iPhone event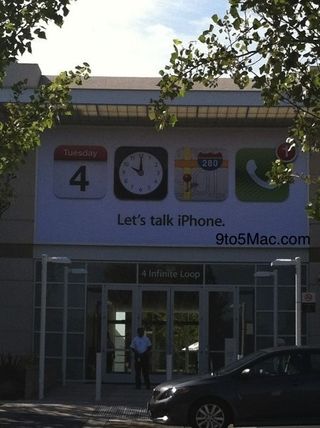 Apple has begun its preparations for its upcoming "Let's Talk iPhone" event on Tuesday October 4th. The banners reflect the invitation that was sent out last week. It shows the four iOS icons which are Calendar, Clock, Maps and Phone.
We are still unsure what exactly Apple will reveal at the event, most now believe it will be the iPhone 4S rather than an iPhone 5. I am still holding out for a completely new design for the iPhone 5 although that now looks highly unlikely.
Source: 9to5Mac
UK editor at iMore, mobile technology lover and air conditioning design engineer.
I wanna new iphone design, if tney releasing 4S and have same design as 4 i will never buy it and waiting for 5....
I don't need 8 mp camera, i don't need facetime HD, i don't need a5 cheap, i wanna new desigen with new feauters......
If they release 4s, i don't upgrade my 3g iphone, so i will jist update my ipad 2 ios, and also update my brothers iphone 4.

What new features would that be? An OLED screen is all its missing at the moment. If the 4S comes out now then you won't see the 5 until this time next year.

I hope it's will be the iPhone 5 not the 4S

I just want iOS5 for my iP4.

I hope it goes on sale this week, I have to mail mine to ebay instant sale by the 8th, they offered $339 for a iphone 4 32 gig.

Ehh same thing thay do every year!!!! New iPhone next year a iPhone S it's kind of like a upgrade every other year! Next year will mostly be the iPhone 5 And bacho get the hell away from here haha

I look at the one on the phone icon as an extra phone.. Think about it the phone icon already means a phone the 1 is kind of like oh wait one more thing.. Boom a new iPhone 5 with a 4 inch display :-)

Will they be broadcasting this live?

Where can I log in and watch the event live?

here: www.watchapplekeynoteforfree.com

you can watch the live blog cast on engadget.com they give the info. As apple shows their new stuff.

In my opinion if it was just upgraded iPhone 4 why did they wait until October to announce it? It just doesn't make sense to me.

1 over the phone = Sprint Exclusive on iPhone 5?

Me cago en la resinga' de tu madre maricon

y la puta de tu madre me da free bj
Get the best of iMore in in your inbox, every day!
Thank you for signing up to iMore. You will receive a verification email shortly.
There was a problem. Please refresh the page and try again.