Apple's online store goes offline ahead of iPhone 6s and new Apple TV launch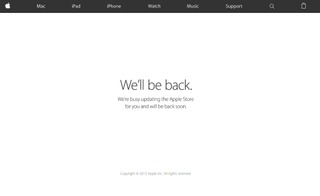 The Apple online store is down. We repeat, the online store is down. This can only mean we're approaching the iPhone 6s event. The company tends to pull its store down ahead of product launches and updates (as well as the occasional maintenance and outage). We're expecting to see the iPhone 6s, iOS9, a new Apple TV and perhaps even the iPad Pro today.
The iPhone 6s event, which iMore are attending, will kick off at 10am PT, 1pm ET. You'll be able to follow along with our live blog!
iPhone 6s Event Liveblog
Should you require to do some homework before the show kicks off, check out our coverage for more details on what we expect today:
What are you be looking forward to the most?
Coming from the 6 plus I don't really know what or how they could convince me to upgrade. The push on the screen for shortcuts is not a deal breaker to have the 6. Guess we will find out in 3 hours..... Or 3.5 hours bc they have the boring stuff first. Sent from the iMore App

It's nice to see they're taking it down, even just for ceremonial reasons since they don't have to with the new website. Sent from the iMore App
Thank you for signing up to iMore. You will receive a verification email shortly.
There was a problem. Please refresh the page and try again.