AT&T Planning to Make iPhone Work With U-Verse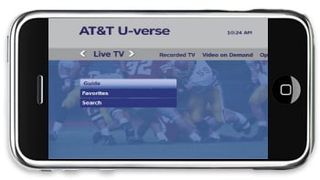 AT&T has high hopes for their U-Verse service, which is AT&T's fancy term for their high speed internet, TV, and voice telephone package. It all works over the Internet and some believe that this is the direction that television is headed. So how does the iPhone fit into all this?
Well, obviously we all know that AT&T is the exclusive carrier for the iPhone, so some high ranking suit probably thought it'd be a great idea to create synergy with their most popular phone and their next big money maker. How well will they play together? The iPhone's U-Verse features will include having Visual Voicemail play through your TV, the option to download shows from your DVR to your iPhone, using the iPhone as a true remote, and even for giggles like hurling virtual tomatoes at the screen.
Sure, it may sound gimmicky but it looks to be good business for AT&T. And hey, throwing tomatoes? That's always fun.
ReadVia
Get the best of iMore in in your inbox, every day!
Sounds interesting. Will I have to use AT&T as my telephone provider or will this work with my current provider?

This should be interesting... I hope it works with EDGE and 3G instead of the typical Wi-Fi only that Apple loves to pull with most of their apps. I also hope this isn't a web app and is a stand alone app in the app store instead.

I'm only guessing here but my senses is that you'll have to get the entire AT&T stack (phone, wireless, internet and TV service). While it's probably going to cost it may have some benefits. Today, if you subscribe to AT&T for DSL 3.0 or above you get free WiFi at all AT&T hot spots and some free online content like ESPN 360 (which gives you access to live and recorded sporting events which are not covered in your area over the web). I'd look for more synergies between services for subscribers of all services besides this and I'd be shocked if this were an iPhone exclusive.

Will they let you make free VoIP calls over WiFi while at home with this package? :)

Now this has pique my curiosity. I was a bit worried when I didn't see this in the App Store. Looking forward to it. Thanks for the update :)

I'm intrigued by the phrase "it all works over the Internet".
Do you have reason to believe that any of this works over the Internet, as opposed to only within AT&T's own private infrastructure between AT&T's own servers and their own customers?

I'll wait for Slingbox to come out with their iPhone s/w Thank you. After you buy the device (for under $150), the rest is free. And you can even see your Tivo'd shows.
at&t, thanks but no thanks.

You should dump everything AT&T has.They are a greedy company and don't care abut the average consumer.They would rather pay fines and close departments than put anything into customer service.

Is there a way to become a content writer for the site?

AT&T is doing good now, you should try it. They even offer a 30-day money back guarantee. And their new iPhone application is working miracles on my DVR.
Thank you for signing up to iMore. You will receive a verification email shortly.
There was a problem. Please refresh the page and try again.