Attack of the iClones: Verizon not Getting iPhone, just Microsoft "Pink"?!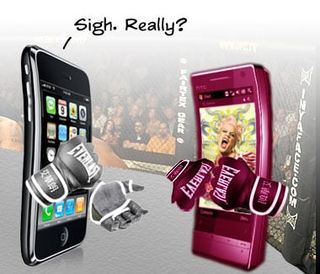 "Pink" iPhone Killers, from the folks who brought you "Blue Screens" and "Brown Zunes". Mmm, taste that rainbow... Sigh. Maybe Pink is the XBoxPhone we've always dreamed of. Maybe it really is just a candy-coated Diamond 2 with pop-tart trademarks. Dunno. Nobody does. Giant mystery in puzzle pastry with enigma frosting. Until we know for sure, however, there's no danger in speculating, is there?
WMExperts links to a Wall Street Journal story that makes it seem like something Microsoft and Verizon think could might possibly take on the iPhone with such killer features as "multimedia" and "App Store".
Wow, never heard that one before.
(And really Verizon, you haven't even gotten Apple to go out on a date with you yet and already you're chatting up Microsoft? What happened to your "iPhone Killer" with Nokia...?)
Seriously, isn't it time ya stopped skating to where the puck was?
Rene Ritchie is one of the most respected Apple analysts in the business, reaching a combined audience of over 40 million readers a month. His YouTube channel, Vector, has over 90 thousand subscribers and 14 million views and his podcasts, including Debug, have been downloaded over 20 million times. He also regularly co-hosts MacBreak Weekly for the TWiT network and co-hosted CES Live! and Talk Mobile. Based in Montreal, Rene is a former director of product marketing, web developer, and graphic designer. He's authored several books and appeared on numerous television and radio segments to discuss Apple and the technology industry. When not working, he likes to cook, grapple, and spend time with his friends and family.
Could micro$oft be any further behind. It's gonna be hard to play catchup.

I don't understand why microsoft hasn't come out with a phone like the iPhone and I home verizon never gets the iPhone.

Could we stop with the lame attack of the iclones thing already.

Knowing how behind-the-times Microsoft is with everything, it'll probably be a shoe phone.

I think it is sad that Microsoft has gotten to the point that the expectation level has gotten so low from consumers

I get tired of all this news about other crap vaporware can we just concentrate on iPhone/apple news?

If it were a shoe phone Steve would stand around for HOURS talking about how anyone who disagrees with his Holy opinions is an idiot before realizing he's talking into a shoe.

BusinessWeek has a different take on this in a far more in-depth article,
http://www.businessweek.com/technology/content/apr2009/tc20090427328264.htm?chan=top+newstop+news+index+-+temp_news+%2B+analysis
(WARNING annoying auto-launching media with sound).
Quoting:
One device is a smaller, less expensive calling device described by a person who has seen it as an "iPhone lite." The other is a media pad that would let users listen to music, view photos, and watch high-definition videos, the person says. It would place calls over a Wi-Fi connection..

Oops, Link broke, here us TinyUrl equivelent: http://tinyurl.com/cc9bvg

Thanks for the link, @icebike!

Fanboys much? The iphone lacks some crucial functionality that can only be had by jailbreaking. Even then it's sorely lacking.
Microsoft doesn't need an iphone...their os is on millions of smartphones.

Pink! Cool! I'm tossing my iPhone and switching......... Think again.

There's nothing wrong with informed people disagreeing with me. But that certainly wouldn't include self-righteous clowns like zeagus. He enjoys coming here and calling people's comments "nonsense," and somehow expecting no response, then is SHOCKED and APPALLED because his Holy opinions are actually countered. How dare we!
Sounds like he's the one who is upset with others not agreeing with him, huh?
I'm sure he'll come back with more insults (that I'll never see) because he feels nobody shall dare ever call him out. Everyone should always allow The Almighty Zeagus to say anything he wants to anyone while just taking it because he just started leaning a few things in college last year. Zeagus must not be challenged!
The truth is, he's nothing short of an arrogant, loud-mouthed scumbag. :lol:

I thought there was a zune phone in the making???

Please keep the comments civil and directed at the subject, not each other.
Also, if you don't like this post, or the iClones series of posts, please feel free to skip it, and them, and check out the many, many other posts. Some of which we hope you do enjoy.
If you do like them, or enjoy variety, the occasional bit of snarkiness, and competitive news analysis -- keep reading.

Can we stop with iPhone killer label nothing will ever compare not even the pre

Forget Pink v iPhone. I'm jazzed to read the following line on TIPB.
"Seriously, isn't it time ya stopped skating to where the puck was?"
Someone grew up on the ice! Cheers!

the zune phone will be way better than the iphone.
first it will be on verizon who will sell this thing like crazy because of how many customers it has. 2nd, it will be able to multi task and will have a killer multimedia suite like the zune which is far better than the ipods inerface.
that is just two reasons it will be better than the iphone.

@Steve - the truth is you have no facts to back up your opinions and so you result to name calling. I asked you to back up your opinion with facts and you called me names and refused to respond. Grow up.

As a sidenote, informed people will always disagree with you, Steve. By definition they would have to.

@zeagus - just ignore Steve, everyone else does. Eventually he'll go back to whatever he does when he's not irritating people by posting here.

While I'm sure Verizon would like to offer have a device as popular as the iPhone, I don't think they feel it's critical to their long term success. Even without the iPhone "killer" they are adding more subscribers each quarter than any other US carrier. AT&T and Apple better hope Verizon never discovers the secret sauce that would be that killer device...

@ ATT Your service sucks way worse than the iPhone. If verizon had an iPhone you would lose millions of customers. We get great service on the network. All your customers get is crappy service and outages in a lot of places

@Verizon - Your lies are not only evident, but silly. Your customer service is horrible, your service is only so-so, you talk about open networks while locking phone functionality down and nickel and diming your customers to death, you are way behind the curve (no pun intended) on having up-to-date smartphones, and your insistence on ramming your contentdecks and "styling" into every phone that passes through your doors is silly.

@Verizon - most of your phones are nothing but poppy "fad" phones that look better in the commercials. Nobody ever buys the same one twice because their last one sucked and fell apart. I've never met a verizon customer who didn't hate their phone.

i love AT&T. excellent service. however, what's up with Verizon's new 4G network?

Thanks a lot, wonderful post.

I WANT THE IPHONE ON VERIZON... I HATE MICROSOFT THEY'RE STUCK IN THE 90's WITH THEIR LAGS AND BUGS. ITS ALL CUZ VERIZON IS TOO GREEDY TO GIVE UP THEIR STUPID VCAST CRAP. NO ONE BUYS THAT STUFF ANY WAYS CUZ ITS WAY OVER PRICED... THE ONLY WAY SOMEONE WOULD GET VCAST CRAP IS BY MISTAKE, YOUR DRUNK OR SOMEONE STEALS YOUR PHONE...

Thanks for the information. I'll send it to others
Thank you for signing up to iMore. You will receive a verification email shortly.
There was a problem. Please refresh the page and try again.