Best Buy offering $150 trade-in credit for your old iPhone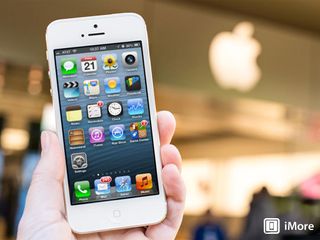 (Image credit: iMore)
Best Buy is offering a trade-in deal on iPhones this week, letting anyone with an iPhone 4s or iPhone 5 potentially get an iPhone 5s for free. Customers trading in working devices will be given a guaranteed minimum $150 credit, allowing them to get a 16GB iPhone 5s, which Best Buy currently sells for $149.99 with a contract, for free. If your old phone is determined to be worth more than $150, Best Buy will cover the difference.
Will you be trading in your old phone for a new 5s at Best Buy? Let us know below in the comments.
Source: Best Buy
Joseph Keller is the former Editor in Chief of iMore. An Apple user for almost 20 years, he spends his time learning the ins and outs of iOS and macOS, always finding ways of getting the most out of his iPhone, iPad, Apple Watch, and Mac.
Is this just a promotion during the "slow time" (i.e. between major new iPhone launches) to drum up business? It is nice for people that don't want to eBay their phone to have options. But eBay will always give you much more than any of these other deals will (albeit with possibly more hassle than everyday people want to deal with).

Aw yea! Time to trade in the old iPhone 4s! Sent from the iMore App

Yeah, 90$ for my perfectly working 4s with no single scratch on it. Seems legit. Sent from the iMore App

I wouldn't even give you that much. lol the 4S is really old.

Its only 2 years old and worth around 250 on ebay

I think this is a great deal for a 4S, especially if it is the 16Gb or 8Gb variety, $150 is more than you'd get on Craigslist, probably more than you would on Ebay and zero hassle on your part this way.

If this included the 3GS I'd be all over it (I'm not still USING it, we just have one).

I don't know where you guys live but in Germany a 16 GB 4s (excellent condition) is about 200-250€ on ebay. Sent from the iMore App

Run this deal when iPhone 6 comes out!!!, I want the bigger screen, it better be 5 inches or I might switch to that sweet HTC One M8 that came out. Sent from the iMore App

These trade in options are a complete ripoff. Especially at the carrier stores. In Canada they will offer up to $250 but in order to get that you are basically looking at trading in a mint condition 64gb iPhone 5 lol. The 4S would probably get you $100 despite them consistently still selling online used here for $250. The trade in option may work for some but the majority of the time they offer you a fraction of what the phone is actually worth. Posted via the Android iMore App!

What a rip off, sell it on eBay or swappa and make atleast double that back. The iPhone 5 is still worth around 400 used depending on storage now. No doubt "best buy" will just refurb these devices and sell them back to people for more then double the 150 in credit (credit don't mean jack, its not cash) they gave you. Stay away from this scam, its like trade ins at car dealerships. You will get screwed over. Also you don't get a free iPhone 5s, you are just not paying the upfront fee. You are still paying off the rest of the phone which is around 350-450 off with your subsidized contract monthly handset repayments.

I got $185.00 for my IPhone 5 from AT&T. It pays to take care of your phone. Also they did not want the charger or box or manual they just wanted the phone! Sent from the iMore App
Thank you for signing up to iMore. You will receive a verification email shortly.
There was a problem. Please refresh the page and try again.