Buy an iPhone for $249 & $349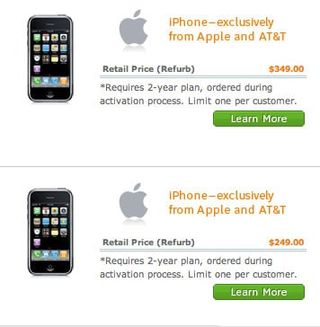 Get the best of iMore in your inbox, every day!
I'd count this to at&t trying to get as much as they can out of the current iPhone before the 3G iPhone plummets sales of the old one. I'd wait for a massive price drop, maybe sub $200 after the release of the 3G iPhone.

It says it requires 2 year contract required to be purchased along with it. Anyone know if they actually enforce that?

I called AT&T customer service because their website would not allow me to upgrade my existing phone to one of the refurbished iphone. After holding for serveral minutes for the CSR to locate the refurbished iphone on the public website (because she couldn't find it in her own system), she told me the reason it did not give me the option to upgrade to a refurbished iphone is that they are only available to new customers... She also said "there are better phones" and "I wouldn't sign a new contract for a refurbished phone". For some reason, I don't think she knew what she was talking about.

Getting 8GB for $249 and 16GB for $349 is a great deal.

havent u all heard, the refurbished iphones are off every at&t and apple website

There exists clearly a new bunch to help identify about it. I consider you have made certain decent items through functions even.