Check out this nostalgia-inducing 'Back to the Future' DeLorean iPhone case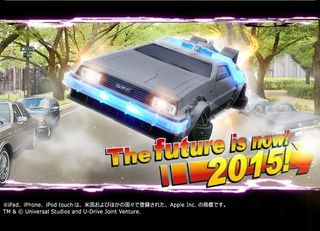 If 2015 is rustling up your Back to the Future nostalgia, you can now make your love for the film known to the world through none other than an iPhone case. Bandai recently unveiled a case for the iPhone 6 that is fashioned after the time-traveling DeLorean from the hit movie trilogy.
Though the video (or is that trailer?) above comes off as a bit cheesy, one can't help but admire the enthusiasm that harkens back to toy commercials from our childhood. As the video shows, the case features a slide-out compartment to reveal your phone's camera (CAMERA!), fully-functioning doors to access your power and volume buttons (OPEN!), and it even lights up when you're on a call.
If you're interested, you can pre-order the case directly from Bandai for 5,940 yen (about $50), and the company expects it to ship sometime in June. Now if only everything else Back to the Future promised for 2015 would come to fruition (there's still time, right?).
So bummed they didn't make one for the Plus. Darnit!!!

i just can't fathom how anyone would want that.

For fun Sent from the iMore App

Awesome, love BTTF, if they don't make changes to the iPhone 6s when it comes out I'm gonna get this case. Hope they come out with more stuff like this, not just for phones. Sent from the iMore App

I must try haha. That looks awesome Posted via the iMore App for Android

Ha... Awesome. I just want those self-lacing shoes from the movie, those Air Mags. If Nike can make that happen, I'll buy them if they're not too absurdly expensive.
Get the best of iMore in in your inbox, every day!
Thank you for signing up to iMore. You will receive a verification email shortly.
There was a problem. Please refresh the page and try again.