Comic: Button-Free iPhones?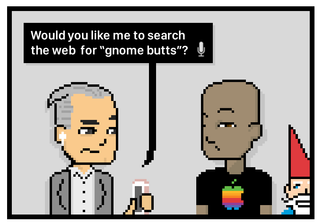 Read more comics from The Pixel Project.
Get the best of iMore in your inbox, every day!
Pixel lover and cartoonist. Still have my original Apple IIgs. See more at clango.org or follow him on Twitter @rstevens.
Didn't apple learn their lesson with the disaster that was the buttonless iPod shuffle, buttons are a useful thing.

Buttons certainly have their place. They are much easier to find in the dark or when you don't want to look at the screen. In some instances, this will be a deal breaker. For example, I refused to buy the button-less shuffle because I use those types of devices while running and don't want to hassle of looking at the mp3 player and trying to find the skip area on a touch screen.

Very nice. Also, kidding aside, I believe that this year, I'm going to do the 7s plus and give it a year for any potential issues or shortcomings with all the "newness" to be ironed out.

I'm wondering how it will work. They'll need a soft button, since you can't force press the back of the phone easily.