Enter here for a shot at winning one of two iPhone SE and Spigen case bundles!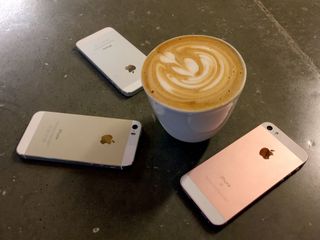 (Image credit: iMore)
iMore has partnered with Spigen this week for a fantastic iPhone SE and case giveaway!
What's better than one winner? Why two winners, of course! And this time each winner will take home an iPhone SE plus a bundle of new cases from Spigen.
Spigen already has several cases designed for iPhone SE (opens in new tab) in a variety ranging from simple snap ons to a handy wallet case. They also have a brand new program which gives you the opportunity to test out a new case in exchange for an honest review. It's called the Super5tar Review Program and, if you're interested in joining, you can fill out a quick application for consideration.
The contest
The Prize: Two super-lucky iMore readers will take home a brand new iPhone SE and a bundle of Spigen cases for their new phone!
How to Enter: Head down to the widget at the bottom of this page. There are multiple ways to enter, each with varying point values. Complete all of the tasks for maximum entries and your best shot at winning! The giveaway is open until April 25th and winners will be announced on right here on iMore shortly after the close date.
Please note that service is not included with the phone.
Good luck everybody!
Enter here for a shot at winning one of two iPhone SE and Spigen case bundles!
Get the best of iMore in in your inbox, every day!
Not a worldwide contest? :-(

Spigen loves these USA only ones.

Who won the last contest? I never saw an announcement.

I would love to win one of these since my daughter has taken mine over. lol

I do them even though I never win.

I would love to win this for my mom! :)

I MUST HAVE THIS POR FAVOR!!!!

Not available in my region :(

Would love to get one as a gift! :)

Yes, the small phone is back! Thanks for running the contest!!

Sorry, this promotion is not available in your region = </3

Why this is not worldwide?

Spigen makes a great iPad mini case. Got one for my son's iPad Mini 4 last week. Would love a win the SE or Spigen. Thanks iMore for the chance.

I want to win this for my Mama! She dropped her Samsung Galaxy Core face down :( Sent from the iMore App

Not World wild contest....:(

I would love to win and swipe out my 5s for iPhone SE and have it protected. Best of luck to all.

As a SuperFan of Spigen, upgrading, Yes, I said upgrading, to the iPhone SE would be tremendous. But decking my idevice out with Spigen products would top it off. So, thank you for this contest.

Have a good case to protect a mobile device is key to enjoying a trouble free experience. Spigen cases not only provide protection and are also very stylish.

Wow it would be nice to win this.
Thanks for the offer.

Omgggggggg I'm so excited for this I just hope that I get this a lot has been going on . I just really need this right now to give me some sort of reassurance. Good luck I to everyone and thanks so much for this opportunity win or lose

I really need a new phone

Did I miss the winners of last contests?

Anyone know if they've drawn for the SE giveaways yet?

I hope I can win this one I really need a new phone , but good luck to everyone!!
Thank you for signing up to iMore. You will receive a verification email shortly.
There was a problem. Please refresh the page and try again.