Despite fast charging being available in iOS devices since the iPhone 8, it isn't widely used because it previously required Apple's own USB-C to Lightning cable to achieve. Now that third-parties can make these cables, we're seeing a bunch of affordable options hit the market. One such option is the Choetech USB-C to Lightning cable. It regularly sells for $14, which is already less than the first-party option, but you can get it for only $7.99 thanks to a price drop to $9.99 and code YI7XR2RS taking a further $2 off during checkout.
0 to 100 real quick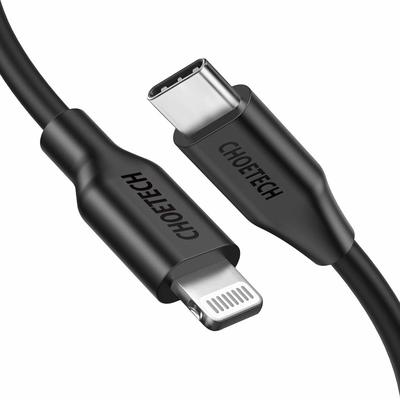 Choetech USB-C to Lightning Cable
Enter the below code to get this 6.6-foot MFI-certified cable at its best price yet. With it and a compatible USB-C wall charger you can make the most of fast charging in your modern iPhone or iPad.
$7.99 $13.99 $6 off
Choetech's cable is 6.6 feet in length — twice as long as Apple's cable — and is MFi-certified meaning it has passed Apple's tests for safety and functionality. It can be used to sync data to your iPhone or iPad as well as charging. If used with a compatible USB-C wall charger, you can make the most of fast charging which can take your iPhone from 0% to 50% in just 30 minutes. The Choetech cable should last longer than Apple's version too with a 10,000 bend lifespan and reinforced connectors. Over 460 Amazon reviewers give these cables a stellar average rating of 4.3 out of 5 stars.
If you don't already have a USB-C wall charger, you may want to pick up Choetech's discounted option while you're shopping. The 18W USB-C wall charger with Power Delivery usually sells for $14, but right now you can grab it for only $7.19. To get it at almost half off, all you need to do is clip the on-page coupon and then enter code ZES8NI4N during checkout. Doing so will snag you this fast charger for its best-ever price.
Fast charge
Choetech USB-C Wall Charger
The on-page coupon and below code drop this 18W wall charger down to its best price yet. This universal charger works with smartphones, the Nintendo Switch, newer iPads, and more. With Power Delivery support, it will match your device's ideal speeds.
$7.19 $13.99 $7 off
This universal charger will work with your iPhone or iPad using the above Lightning cable, as well as with your Nintendo Switch and other USB-C devices. It has an 18W output and supports Power Delivery so won't take hours to top off your gear. There are built-in safeguards to prevent things like overheating and short-circuiting, and you also get an 18-month warranty.
We may earn a commission for purchases using our links. Learn more.